STAGE
1.
One-Man Star Wars Trilogy
One man — Canadian actor and "uber geek" Charles Ross — tells the entire
Star Wars
trilogy in 60 minutes … BY HIMSELF. And he does this with no costumes, props, or sets. May the force be with him.
Thu., Sept. 12-Sun., Sept. 29. Pittsburgh CLO at Greer Cabaret Theater, 655 Penn Ave., Downtown. $31.25-59.75
pittsburghclo.org


EVENT

2. Hilltop Food Truck Round-Up
All summer, nonprofit 25 Carrick has invited visitors out for nights spent eating at food trucks, hearing live music, and hanging with neighbors. Now, as summer comes to an end, so does this series. Come out for a final hurrah and food from Steer + Wheel, Brisketburgh, and Revival Chili.
4:30-7:30 p.m. Thu., Sept. 12. 25 Carrick Ave., South Hills. Free.
25carrickave.com
STAGE
3. A Few Good Men
"You can't handle the truth!" is how a lesser publication would introduce this Aaron Sorkin-penned play coming to Pittsburgh Public Theater. But since we're journalists of the people, and the people are from Pittsburgh, we'd like to highlight the fact that both Steelers-great Rocky Bleier and KDKA-great Larry Richert are part of the terrific cast. Yinz gonna order that code red?
Thu., Sept. 12-Sun., Oct. 13
.
The O'Reilly Theater, 621 Penn Ave., $30-80.
ppt.org


STAGE

4. True West
Sam Shepard's classic play chronicles the sibling rivalry between two estranged brothers who come together in their mother's suburban home. It's also a favorite of Patrick Jordan, barebones productions' founder and artistic director, so expect this to be directed with no shortage of passion and intensity.
Continues through Sun., Sept. 29. barebones productions, 1211 Braddock Ave., Braddock. $35-40.
barebonesproductions.com


MAGIC
5. Dennis Watkins in The Magic Parlour
Chicago-based entertainer Dennis Watkins describes himself as a "third generation mind-reader and magician," which might be more impressive than any trick he could pull during his run at Liberty Magic. Touted as downtown Chicago's longest-running magic show,
The Magic Parlour
is an old-fashioned, elegant night of up-close trickery.
Thu., Sept. 12- Sun., Sept. 29. 811 Liberty Ave., Downtown. $40-75.
trustarts.org

ART
6. In-Formed by Nature Art Exhibit
Join the Frick Environmental Center for an exhibit of mixed-media artworks inspired by nature and created in a workshop designed for seniors to explore their creativity and memories of nature.
Continues through Wed., Oct. 16
.
2005 Beechwood Blvd., Squirrel Hill. Free.
pittsburghparks.org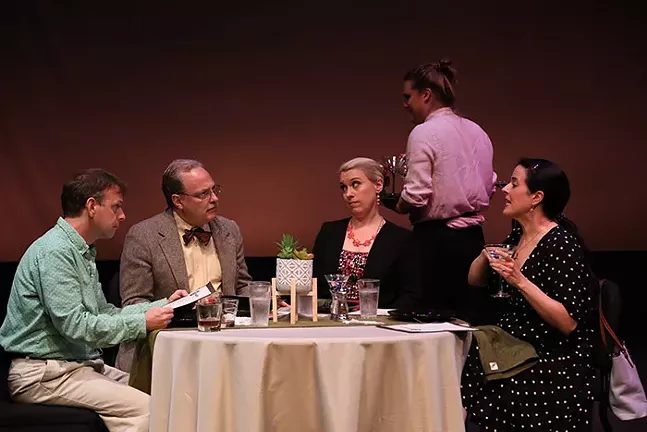 STAGE
7. Pittsburgh New Works Festival
Four weeks of adventurous new one-act plays are being produced by 12 regional companies, ranging from talented local college theater groups to seasoned pros.
Thu., Sept. 12-Sun., Sept. 29. Genesius Theater, Duquesne University, 600 Forbes Ave., Uptown. $15-20 single tickets; $50 festival pass. pittsburghnewworks.org
ART
8. Resurgence — Rise Again: The art of Ben Jones
and
Amani Lewis: Subjective Nature
Two exhibits of contemporary African-American artwork are opening simultaneously. Ben Jones creates colorful, large-scale work "inspired by African spiritualism and ritual, and revolutionary struggles;" Amani Lewis' gorgeous mixed-media portraits frame the people closest to her in an intimate, affectionate light.
Fri., Sept. 13-Sun., Dec. 15. August Wilson African American Culture Center, 980 Liberty Ave., Downtown. Free.
aacc-awc.org
DANCE
9. Some Assembly Required
. Performed in over 25 different museums and galleries since 1995, this still-evolving performance piece from modern dance company Attack Theatre merges dance with art, music, and improvisation.
Fri., Sept. 13-Sat., Sept. 14. Andy Warhol Museum, 117 Sandusky St., North Side. Pay what you can. attacktheatre.com
FESTIVAL
10. Renaissance Festival
There are only two weekends left to rollick through medieval times with your favorite wenches while biting into a gigantic, roasted turkey leg. Added bonus: on the last weekend, the festival doubles as an Oktoberfest celebration.
10:30 a.m.-6:30 p.m. Sat., Sept. 14-Sun., Sept. 15 and Sat., Sept. 21-Sun., Sept. 22. 112 Renaissance Lane, West Newton. $10-23.
pittsburghrenfest.com