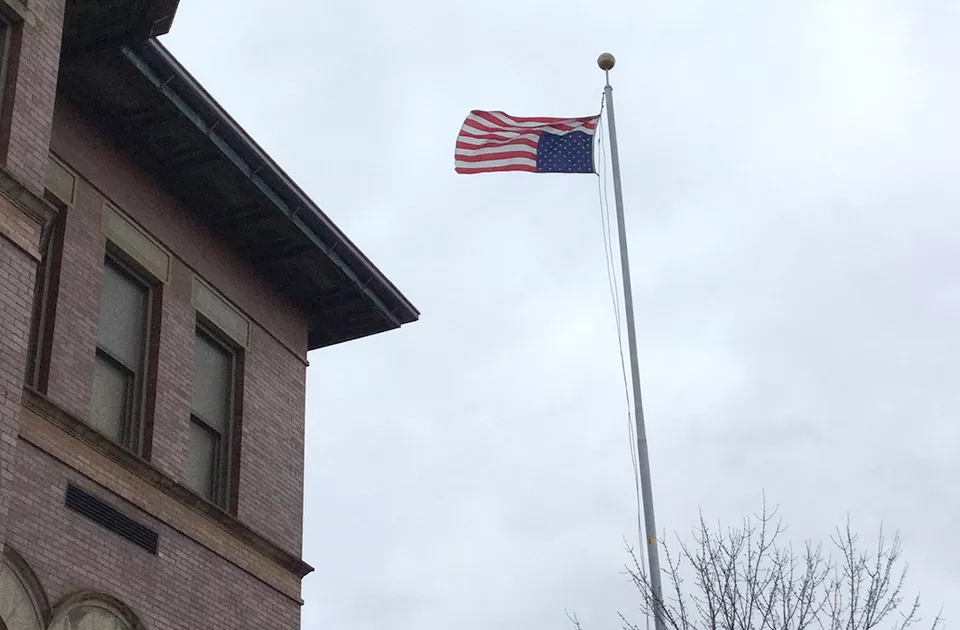 WEEK THREE
Day 15: Fri., Feb. 3
• James Robart, a federal judge in Seattle, grants a nationwide temporary restraining order that blocks Trump's executive order on immigration.
• Internet music hub Bandcamp pledges to donate 100 percent of its profits today to the ACLU.

• A Texas boy finds a rattlesnake in the family toilet.
---
Day 16: Sat., Feb. 4

• The Justice Department files a request to "immediately stay" Judge Robart's ruling blocking the immigration order.

• A likeness of Trump's face is found on bags of heroin, nabbed in a Florida drug bust. "Big mistake by putting the president's picture on this," says Florida Attorney General Pam Bondi.
• LOCAL: Large sign in Wilkinsburg depicting Lady Liberty punching Trump is stolen.
• Actress Melissa McCarthy debuts her Sean Spicer impression on Saturday Night Live.

---
Day 17: Sun., Feb. 5

• "There are a lot of killers. We've got a lot of killers. What do you think — our country's so innocent?" — Trump on Fox News, responding to host Bill O'Reilly saying Putin is a killer
• In the same Fox News interview, Trump picks New England Patriots by 8 points in Super Bowl LI. The final score is Patriots 34, Atlanta Falcons 28.
• Locally based 84 Lumber runs a TV ad during the Super Bowl depicting the journey of a Latin American mother and daughter north to a U.S. border wall. It creates immediate confusion among viewers split on whether it is pro or con immigration.

• 84 Lumber clarifies: "Our complete Super Bowl story. See a mother & daughter's symbolic journey toward becoming legal American citizens."
---
Day 18: Mon., Feb. 6

• "SNL used to be really funny. There's a streak of meanness now that they've crossed over to mean." — Sean Spicer reviews the late-night show
• The New York Times reports that CNN declined to book Trump adviser Kellyanne Conway on one of its Sunday-morning current-affairs shows, citing "serious questions" about her credibility.
• Trump speculates that the media is covering up terrorist attacks. White House provides a list of 78 "largely underreported" terrorist attacks to back up the president's claim. They include the mass shooting in San Bernardino, Calif., and the massacre at Orlando's Pulse nightclub.
---
Day 19: Tue., Feb. 7

• Betsy DeVos is confirmed as secretary of rEducation, with Vice President Mike Pence casting the tie-breaking vote.


• The New York Times covers the infrastructure politics of Breezewood, a familiar and frustrating way station for traveling Pittsburghers.
• The Ninth Circuit Court of Appeal holds a hearing by telephone on whether to reinstate the travel ban suspended on Friday. Hundreds of thousands listen to the live stream.

• Scott Pelley, opening the CBS Nightly News, has had enough: "It has been a busy day for presidential statements divorced from reality. Mr. Trump said this morning that any polls that show disapproval of his immigration ban are fake. He singled out a federal judge for ridicule after the judge suspended his ban, and Mr. Trump said that the ruling now means that anyone can enter the country. The president's fictitious claims, whether imaginary or fabricated, are now worrying even his backers, particularly after he insisted that millions of people voted illegally, giving Hillary Clinton her popular-vote victory. There is not one state election official, Democrat or Republican, who supports that claim."
• During the debate for Sen. Jeff Session's nomination to be attorney general, Massachusetts Sen. Elizabeth Warren is formally prohibited from speaking after she reads a letter by the late Coretta Scott King regarding Sessions into the record.

• "She was warned. She was given an explanation. Nevertheless, she persisted." — Senate Majority Leader Mitch McConnell, on Sen. Warren
---
Day 20: Wed., Feb. 8

• "Nevertheless, She Persisted" memes go viral.

• The Senate confirms Jeff Sessions as the U.S. Attorney General.

• "I can only hope that if Coretta Scott King was still with us, that she would support Senator Sessions' nomination." — White House Press Secretary Sean Spicer, on the previous night's Senate kerfuffle
•LOCAL: Pittsburgh students walk out in protest over Betsy DeVos confirmation and head toward Sen. Pat Toomey's office.
---
Day 21: Thu., Feb. 9

• During a live broadcast of Fox & Friends, Trump adviser Kellyanne Conway, from the White House briefing room, says of Ivanka Trump's clothing line: "It's a wonderful line. I own some of it. I fully — I'm going to give a free commercial here. Go buy it today, everybody. You can find it online."
• The Atlantic Monthly reports on a survey from BetterWorks which claims that 29 percent of respondents say they've been less productive at work since the election.
• Trump affirms the U.S.'s One China Policy after a phone call with Chinese President Xi Jinping.

• Reuters reports on an internal Homeland Security report that estimates Trump's proposed border wall would cost as much as $21.6 billion.
• The Washington Post, citing nine unnamed "current and former officials," reports that national-security adviser Michael Flynn privately discussed U.S. sanctions against Russia with Russian ambassador Sergey Kislyak in December.
• In a unanimous decision, a three-judge panel on the Ninth Circuit throws out the so-called "travel ban."


Keep clicking below for more weeks:

Keep clicking below for more weeks: