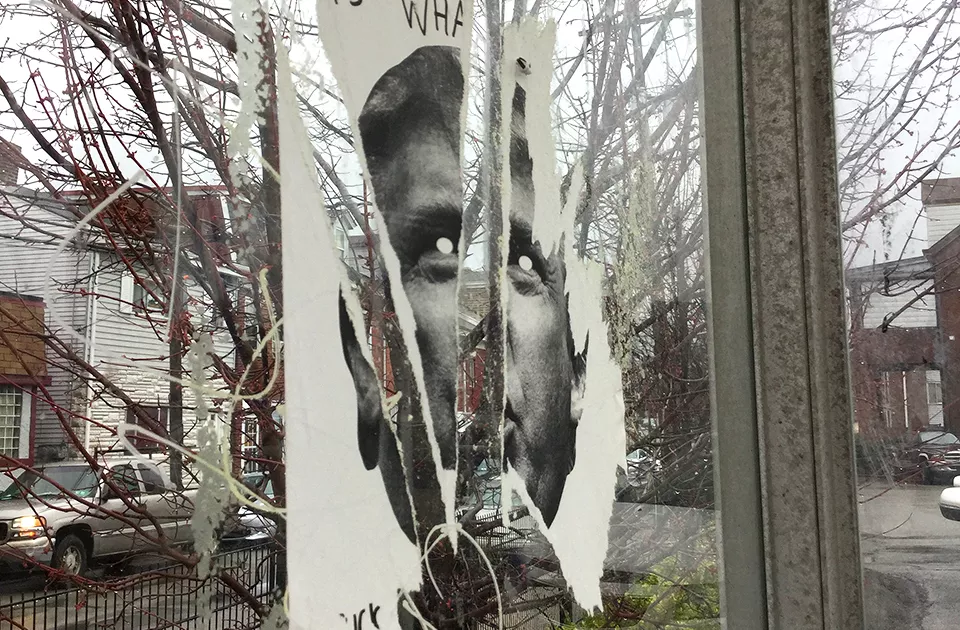 WEEK ELEVEN
Day 71: Fri., March 31

• The Senate Intelligence Committee reportedly turns down Michael Flynn's immunity request.

• U.S. District Judge Gonzalo Curiel approves a $25 million settlement in Trump University fraud cases.

• The Washington Post analyzes financial-disclosure documents released by the White House and determines that 27 White House officials had assets worth at least a combined $2.3 billion when they joined the administration.

• LOCAL: Allentown coffee shop Black Forge talks to City Paper about its controversial loyalty punch cards.
---
Day 72: Sat., April 1

• The New York Times reports that five women have received settlements totaling $13 million after accusing Fox News' Bill O'Reilly of sexual harassment and other complaints.

---
Day 73: Sun., April 2

• "Still, nothing prepared us for the magnitude of this train wreck." — The Los Angeles Times begins a four-part editorial series, "Our Dishonest President," criticizing Trump
• On ABC's This Week, Sen. John McCain continues his fanciful metaphor about the Russian investigations: "Every time we turn around, another shoe drops from this centipede."
• The 2017 baseball season begins.

---
Day 74: Mon., April 3

• The White House confirms that Jared Kushner is in Iraq, traveling with Joint Chiefs Chairman Gen. Joseph Dunford.

• Abdel Fattah el-Sisi, the president of Egypt, visits the White House.

• Trump donates his first-quarter salary of $78,333 to National Park Service.

• ProPublica reports that Donald Trump's trust has been revised, allowing him to take business profits and not report it.
• Mercedes pulls its ads from Bill O'Reilly's Fox News show, The O'Reilly Factor.

• Trump signs into law a bill that rolls back consumer-privacy protections banning ISPs from selling user browsing data.

• Attorney General Jeff Sessions orders the Justice Department to review all police-reform agreements.

• Senate Democrats have enough votes to filibuster Supreme Court nominee Neil Gorsuch.

• LOCAL: City Paper reports on constituents calling for U.S. Rep. Tim Murphy to support investigation into Trump ties to Russia.
• North Carolina beats Gonzaga 71-65 to win the NCAA championship.

---
Day 75: Tue. April 4

• LOCAL: City Paper looks at how Southwestern Pennsylvania reps voted on the internet-privacy bill.
• At least 58 Syrians, including children, die in a suspected gas attack believed to have been carried out by the Assad government.

• The White House issues a statement on the suspected gas attack in Syria: "These heinous actions by the Bashar al-Assad regime are a consequence of the past administration's weakness and irresolution. President Obama said in 2012 that he would establish a 'red line' against the use of chemical weapons and then did nothing."
• More companies, including Hyundai, Lexus and Allstate, pull their ads from The O'Reilly Factor. By day's end, the total is 18.

• North Korea fires a ballistic missile. Secretary of State Rex Tillerson issues a terse three-sentence response: "North Korea launched yet another intermediate range ballistic missile. The United States has spoken enough about North Korea. We have no further comment."
---
Day 76: Wed., April 5

• Trump's chief strategist, Steve Bannon, loses his permanent seat on the National Security Council.

• Pepsi's new ad featuring Kendall Jenner and faux protesters doesn't last 24 hours before being pulled.

• LOCAL:We're here to help: City Paper publishes "Real News About Fake News," a package of stories about media literacy.

• In White House interview with New York Times reporters Maggie Haberman and Glenn Thrush, Trump defends Bill O'Reilly ("I know Bill. Bill's a good person") and suggests, without evidence, that former Obama National Security Adviser Susan Rice may have committed a crime by improperly leaking names of Trump associates picked up in ongoing surveillance of foreign officials.

• By day's end, 42 advertisers pull their ads from The O'Reilly Factor.
---
Day 77: Thu., April 6
• House Intelligence Committee Chairman Devin Nunes recuses himself from the Russia investigation. Nunes is now under investigation by the House Ethics Committee for his handling of classified information.
• Comedian Don Rickles, famed for his insults, dies.

• Republicans fall short on the 60 votes needed to end debate on the nomination of Neil Gorsuch.

• Senate Republicans invoke the "nuclear option" and kill the judicial filibuster. The threshold to end debate is now 51 votes.

• Dustin Johnson, the world's top-rated golfer, withdraws from the Masters after falling down stairs.

• "I think we've had one of the most successful 13 weeks in the history of the presidency." — President Trump, on board Air Force One, in his 11th week of office
• Chinese President Xi Jinping arrives at Trump's Mar-a-Lago resort for a two-day visit.

• From Navy ships in Mediterranean, the U.S. launches 59 Tomahawk missiles into Syria, striking the al-Shayrat military airfield believed to have been where the week's earlier gas attack originated.

• "We see these beautiful pictures at night from the decks of these two U.S. Navy vessels in the eastern Mediterranean. I am tempted to quote the great Leonard Cohen: 'I am guided by the beauty of our weapons.'" — Brian Williams, on his The 11th Hour show on MSNBC

Keep clicking below for more weeks: