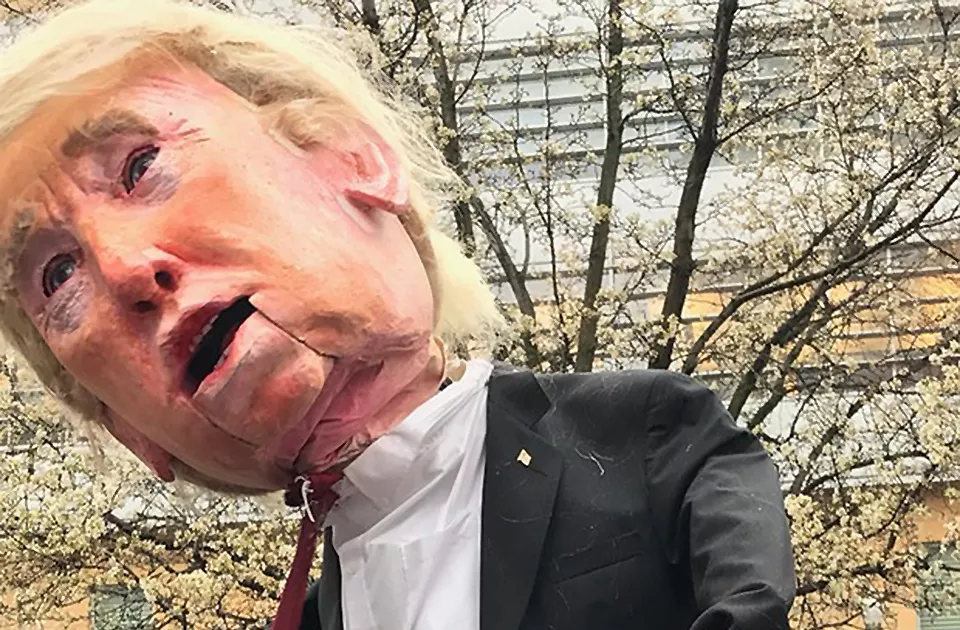 WEEK TEN
Day 64: Fri., March 24

• The vote on AHCA is scheduled for today.

• Trump administration approves the Keystone XL pipeline.

• Republican Rep. Devin Nunes, chairman of the House Intelligence Committee, cancels upcoming open hearings with former Attorney General Sally Yates, former Director of National Intelligence James Clapper and former CIA Director John Brennan.

• "He's got perfect genes." — Treasury Secretary Steve Mnuchin, on Trump's health, in an interview with Axios
• Democrats in Congress introduce new legislation — The Making Access Records Available to Lead U.S. Government Openness, a.k.a. the MAR-A-LAGO Act — mandating more disclosure about who meets with the president.

• "Hello, Bob. So, we just pulled it." — President Trump, calling Washington Post reporter Robert Costa to say the AHCA bill is dead
• At a press conference, Rep. Paul Ryan says: "I will not sugarcoat this. This is a disappointing day for us."
• Trump tells reporters at the White House: "I never said repeal it and replace it within 64 days."
---
Day 65: Sat., March 25

• Uber suspends testing of self-driving cars, including its fleet in Pittsburgh, after a crash in Tempe, Ariz.

• After Trump tweeted to watch Justice With Judge Jeanine tonight, the Fox News host opens her show stating, "Paul Ryan needs to step down."

---
Day 66: Sun., March 26

• An exchange on CBS This Morning:

---
Day 67: Mon., March 27

• Uber's "robot cars" return to the streets.

• Trump taps his son-in-law Jared Kushner to lead the White House Office of American Innovation, charged with overhauling bureaucracy and fulfilling campaign promises.
• The NFL says the Oakland Raiders can move to Las Vegas.
• "If I wanted to, I could have snuck onto White House grounds at night when nobody would have seen me." — House Intelligence Committee Chairman Devin Nunes, on CNN, about his meeting with sources, during which he saw reputed surveillance documents

• House Intelligence member Rep. Adam Schiff says Rep. Nunes should recuse himself from the committee Russian investigation.
---
Day 68: Tue., March 28

• On NBC's The Today Show, Republican Sen. Lindsay Graham says that House Rep. Devin Nunes is running a "sort of an Inspector Clouseau investigation."
• "I didn't hear a word she said, I was looking at the James Brown wig." — Fox News' Bill O'Reilly, on Fox & Friends, speaking of Rep. Maxine Waters
• House Intelligence Chair Devin Nunes cancels all hearing meetings for the week.
• House Intelligence Chair Devin Nunes says he will not step down from the investigation.
• LOCAL: Giant Trump puppet debuts at Tuesdays With Toomey, and City Paper is there.
• The Washington Nationals baseball team says Trump has declined an invitation to throw out ceremonial first pitch on Opening Day.
• A study in the Science of Nature journal estimates that spiders could eat every human on earth in less than a year.

• With an audience of coal miners, Trump signs an executive order rescinding Obama's Climate Action Plan, and lifting the moratorium on federal coal leasing.

• "If the president puts Russian salad dressing on his salad tonight, somehow that's a Russian connection." — White House Press Secretary Sean Spicer
---
Day 69: Wed., March 29

• Britain formally triggers Article 50 Wednesday, setting into motion a two-year separation from the European Union.

• Ivanka Trump will be a federal employee; her title is assistant to the president.

• "Wherever women are diminished, the entire world is diminished with them." — First Lady Melania Trump, presenting International Women of Courage Awards at the State Department
• LOCAL: Despite losing a nest in a storm and having to rebuild, the Hays eagles have hatched an egg.

---
Day 70: Thu., March 30

• A shark washes up in the street after a cyclone in Australia, a.k.a. a "sharknado."
• The Washington Post reports that Secretary of State Rex Tillerson remains aloof, and that some career diplomats at the State Department have been instructed not to make eye contact with him.
• "The man who promised to 'Drain the Swamp' now appears to be the 'Creature from the Black Lagoon.'" — Mark Meckler, co-founder of the Tea Party Patriots and president of conservative group Citizens for Self-Governance, told The Hill
• The Wall Street Journal reports that former National Security Adviser Michael Flynn told the FBI and Congressional officials he would testify in exchange for immunity.
• Vice President Mike Pence breaks tie to advance bill allowing states to withhold federal funds from Planned Parenthood.

• The New York Times reports the source of the "surveillance" documents that Rep. Devin Nunes briefed President Trump on last week was two White House officials.

Keep clicking below for more weeks: