WEEK ONE
Day 1: Fri., Jan. 20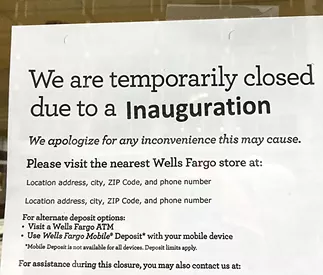 • Donald J. Trump is inaugurated as the 45th president of the United States. His 16-minute inaugural address includes the words "American carnage" and "tombstones." It also rains briefly.
• Netflix announces season 5 of House of Cards: "We make the terror."

• The Senate confirms retired Marine Gen. James Mattis as secretary of Defense, and retired Marine Gen. John F. Kelly as secretary of Homeland Security.

• City Paper live-blogs the events of the day locally.

---
Day 2: Sat., Jan. 21
• "We will not go away / welcome to your first day." Hundreds of thousands of people turn out in Washington, D.C., for the Women's March, and another estimated 4 million amass at more than 600 sister marches nationwide.

• President Trump visits the CIA and complains about the media and the misrepresentations of crowd size at his inauguration.

• At his first press conference, White House press secretary Sean Spicer declares: "This was the largest audience to ever witness an inauguration — period — both in person and around the globe."

• CNN convenes a panel of eight men and one woman to talk about largest women's march ever.

• City Paper covered the two local marches, plus the Washington, D.C., event.
---
Day 3: Sun., Jan. 22
• Squabbling over the number of people who attended Friday's inauguration and Saturday's Women's March continues.

• On Meet the Press, Trump adviser Kellyanne Conway dismisses the disputed attendance counts. "You're saying it's a falsehood, and Sean Spicer, our press secretary, gave alternative facts."
---
Day 4: Mon., Jan. 23
• "Trump Repeats Lie About Popular Vote in Meeting With Lawmakers" — New York Times headline
• Trump issues executive orders to withdraw from the Trans-Pacific Partnership. He also reinstates the Mexico City Policy, banning U.S. aid to foreign organizations that use funds from other sources to perform or discuss abortions.
• Trump declares his inauguration day, Jan. 20, a "National Day of Patriotic Devotion."
• The Trump campaign sends an email to supporters touting discounted merchandise: "Celebrate this new era of leadership and take 20% OFF Official Inauguration merchandise when you enter Promo Code: PRESIDENT at checkout."

• U.S. Rep. Ted Lieu, of Los Angeles, starts a "Cloud of Illegitimacy Clock" to track how long Trump has been in violation of Article I of the Constitution.
• Ethics group Citizens for Responsibility and Ethics in Washington (CREW) sues Trump, claiming the president is violating the Foreign Emoluments Clause of the Constitution.

• The Washington Post debuts a new weekly podcast about the expected unconventional nature of the Trump presidency called "Can He Do That?"
• Gallup releases approval poll finding that 45 percent approve of how Trump is doing and 45 percent disapprove. Trump is the first president to begin below 50 percent approval
• LOCAL: Pittsburgh man's ear bitten off in dispute over Trump.
---
Day 5: Tue., Jan. 24
• Trump asks FBI director James Comey to stay on.

• "I would urge the president to knock this off." — Sen. Lindsay Graham, on Trump's claims that millions voted illegally
• LOCAL: Mayor Bill Peduto talks with City Paper about moving forward under the Trump administration.
---
Day 6: Wed., Jan. 25
• Trump signs an executive order for "immediate construction of a physical wall" along U.S./Mexico border.
• Mexican President Enrique Peña Nieto rejects Trump's proposal that Mexico pay for a wall along the U.S. border.

• Trump announces date (Feb. 2) for Supreme Court pick.

• The initiation fee at Florida's Mar-a-Lago club, owned by the Trump Organization, doubles to $200,000.
• Trump tells ABC News: "You have people that are registered who are dead, who are illegals, who are in two states. You have people registered in two states. They're registered in a New York and a New Jersey. They vote twice." Some top Trump associates, including Steve Bannon, Steve Mnuchin, Jared Kushner and Sean Spicer, are revealed to be registered to vote in two states.
• LOCAL: City Paper looks at a report revealing Trump's infrastructure priorities; two Pittsburgh-area projects make the list.
• Mary Tyler Moore dies.

---
Day 7: Thu., Jan. 26
• Mexican President Enrique Peña Nieto cancels the meeting scheduled for next week with Trump.

• The administration floats a 20 percent tax on Mexican imports to pay for wall, then walks it back. Jokes about avocadoes and Coronas subside.

• "I want you to quote this. The media here is the opposition party." — White House chief strategist Steve Bannon in an interview with The New York Times
• Trump cancels ads promoting Affordable Care Act sign-up, which were scheduled to run through Jan. 31.

• Scientists move Doomsday Clock, which represents the end of human civilization, 30 seconds closer to midnight. It is now 2.5 minutes to midnight.
Keep clicking below for more weeks: