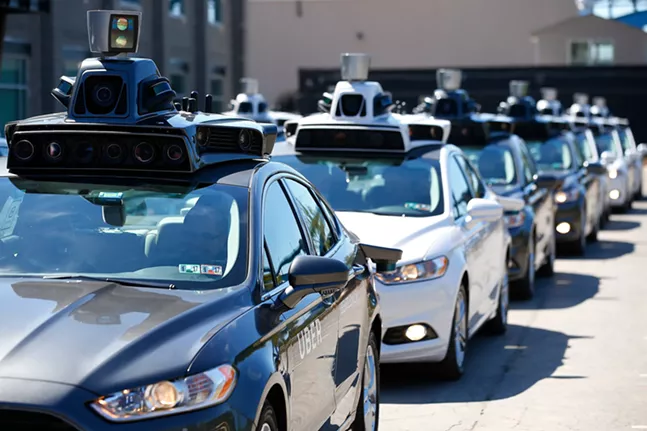 According to a
new report from the National Transportation Safety Board
, Uber's autonomous vehicles, aka driverless cars, were not designed to detect pedestrians who cross the street outside of crosswalks.
Most state laws require pedestrians to only cross at intersections and marked crosswalks, but that doesn't necessarily mean they're always followed. And in Pennsylvania, where some of the
Uber AVs
are being tested, there are no laws saying that pedestrians only have to cross in marked crosswalks or intersections, except in business districts.
Title 75 of the PA code
says pedestrians must yield to cars when crossing without crosswalks, but this leniency has led to people regularly crossing the street outside of unmarked crosswalks.
The NTSB report was part of an investigation after an Uber AV fatally struck pedestrian Elaine Herzberg outside of a business district in Tempe, Ariz., last year. It also noted that Uber instituted a one-second response delay into the AVs since the company was worried about the cars responding to too many false alarms. The Uber AV in Tempe, which was a Volvo SUV, also had its built-in automatic braking system disabled before the crash.
To get in front of this, last week Uber announced a Self-Driving Safety and Responsibility Advisory Board, filled with industry reps. Guess who's missing? A rep from a bike-ped org, despite the first fatality being a person walking a bike #safetythird https://t.co/ozjMn80o1g

— Eric Boerer (@ErokEric) November 6, 2019
Bike-and-pedestrian advocates have
long been wary of Uber testing AVs
in the city, and this report has only deepened their skepticism of the technology's safety. Bike Pittsburgh's Eric Boerer posted on Twitter last week that this report shows the AVs were likely not ready for road testing before they were approved to test by the Pennsylvania Public Utilities Commission.
And today, Uber CEO Dara Khosrowshahi has apparently downplayed the Uber AVs' flaws and, in a bizarre turn, compared them to the death of
Washington Post
journalist Jamal Khashoggi, who was killed by the government of Saudi Arabia.
Uber CEO on Saudi Arabia's killing of Jamal Khashoggi: "It's a serious mistake. We've made mistakes too, right, with self-driving ... So I think that people make mistakes. It doesn't mean that they can never be forgiven" pic.twitter.com/EvinRrh3SE

— BNO News (@BNONews) November 11, 2019
In a statement released before Khosrowshahi's comments were made public on HBO, an Uber spokesperson said the company "regrets the 2018 crash" and that its Advanced Technologies Group, which has offices in Pittsburgh, has made changes to the safety program.
Uber and other AV companies in Pittsburgh have been working to temper expectations of driverless car technology.
Uber officials told
Pittsburgh City Paper in January
, "There's too much to perfect to enable a 100 percent autonomous future, and we really do need the skilled expertise of drivers to handle the more challenging scenarios that are not ideal use cases for AVs."
Argo AI
, an AV company that is partnering with Ford and has offices in the Strip District, said in September that its autonomous vehicle won't be available for personal ownership, and will only operate in confined areas in certain cities at low speeds.
Uber also recently announced
job cuts totaling 350 employees
, some at its Advanced Technologies Group, though it didn't specify how many of those affect Pittsburgh.
U.S. Secretary of Transportation Elaine Chao told
KDKA
last Thursday the "technology is not perfect" and urged AV makers to improve safety features.
"In her memory and for her, our country and the developers need to come up with new technology that will be better, that will prevent this kind of thing from happening again," said Chao, in reference to Herzberg's death.