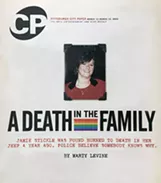 At the time City Paper wrote this story, Jamie Lynn Stickle had been dead only about a year. In February, 2002, she was found burned to death in her Jeep, which was parked at a local scrapyard. Her apartment and other clues indicated there was a struggle, but the cause of death was ruled undetermined because she had been so badly burned. Stickle worked as a bartender at several LGBT clubs over the years and was active in raising money for programs in the LGBT community. Stickle's mother said what caused her the most pain was not "knowing why they did it and how she died. I honestly can't get answers from anybody." The case still remains unsolved; anyone with information can call the city's homicide squad at 412-323-7161. (March 12, 2003)
Playing with themselves (March 30, 1994)
Writer John Hayes profiles Mark Adkins and Mark Phillips, a couple of music enthusiasts who built a home recording studio to make their own tapes for no other reason than "it feels good." Nowadays any 4-year-old with a cell phone can make a recording that doesn't sound half bad, but back in the 1990s, there were fewer options for musicians who wanted to record just because. "This equipment … changes the music we can make," said Phillips.
Special bonds (March 29, 1995)
Writer Maryan Eidemiller looks at local adoption agencies that work to match parentless children with special needs with loving families. "These kids have all suffered a variety of significant losses of significant people in their homes," said adoption coordinator Sherry Anderson. Said adoptive parent Joe Schumacher: "These special-needs kids have a lot of gifts and they are just waiting to be given out."
Stadium seating (March 27, 1997)
Writer Rich Lord reports on a meeting whose purpose was to sell Mayor Tom Murphy's plans for new stadiums on the North Side to young Pittsburghers. More than 100 members of the Pittsburgh Urban Magnet Project showed up for the session entitled: "New Stadium Developments: Blackmail or Economic Development." Turns out, it was actually a bit of both.
Waving the Anti-Flag (March 27, 2002)
The September terrorist attacks were barely six months old when writer Justin Hopper went on the road with local anti-establishment punk band Anti-Flag. The band and its music were never shy about addressing how fucked up this country was and the problems it faced. Onstage, they hung flags upside down. But the tone in America had changed. It seemed like everyone was "patriotic," and most didn't look at protest and anarchy as proper behaviors. But the band, although cognizant of the times, kept doing its own thing. "I definitely don't like it here," said lead singer Justin Sane. "I just look around and see so many problems."
Let them eat snack cakes (March 30, 2005)
Writer Marty Levine tells the story of Stephanie Adair, a Pitt student on a work-study program tutoring in Pittsburgh Public Schools. Adair was appalled at the pre-packaged, high-fat, high-calorie lunches served to district grade-school students. She began bringing in healthy food for kids to eat and took her concerns to the school. When that didn't work, she reported the district to the state Department of Education. Then when the district found out she was a member of the local Green Party, she was fired allegedly for engaging in political activities on school grounds.
"My change in party will enable me to be re-elected" (April 1, 2009)
Those were the words right out of the mouth of new Democrat and longtime U.S. Sen. Arlen Specter. They appeared in quite possibly one of the greatest political ads ever made. On this date, writer Charlie Deitch examined why challenger Joe Sestak, who was behind Specter by 20 points about 20 days before the April primary, had a real shot of beating the incumbent despite the seemingly insurmountable odds. The difference, however, was an unusually high number of undecided voters. Sestak knew if he could draw half of those, he'd beat Specter. Two weeks later, the ad ran statewide on television and Specter's political career was over.