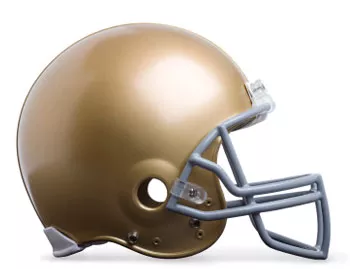 How big of a business is college sports? So big that, even with tuitions rising and state funding being slashed, the University of Pittsburgh is ready to pay $5 million to sever ties with the Big East athletic conference. And it expects to earn that money back -- and then some -- by joining the Atlantic Coast Conference instead.
Charges of hypocrisy are inevitable whenever academia and sports mix. Critics have noted that when Boston College and Miami bolted the Big East for the ACC in 2003, Pitt joined a fruitless lawsuit to stop them. But maybe the real hypocrisy in such cases is this: Everybody is cashing in on college sports -- except the "student athletes" themselves.
That's the argument made in this month's Atlantic magazine cover story, "The Shame of College Sports." As writer Taylor Branch notes, "College athletes are not slaves. Yet to survey the scene -- corporations and universities enriching themselves on the backs of uncompensated young men … is to catch an unmistakable whiff of the plantation." And as Branch notes, Pitt itself has played a small but important role in that history.
It was the late 1930s, and under football coach Jock Sutherland, Pitt was widely hailed as among the nation's best gridiron teams. Sutherland had some help: Pitt and its boosters had been subsidizing players for years. "Several of the Panthers were able to get married [and raise families] with the financial support the university was giving them," writes David Finoli and Chris Fletcher in Steel City Gridirons.
But Chancellor John Bowman's attitude toward college sports "was somewhere between indifference and hostility," writes Pitt historian Robert C. Alberts. Bowman even opposed giving scholarships "to students who have nothing to recommend them but athletic ability."
While other schools paid athletes, Pitt's on-field success attracted special scrutiny. And for Bowman, the fun of college sports "should not be dependent too much on the winning of games." (No doubt he'd have approved of the Wannstedt Era.) In a policy that came to be called "Code Bowman," he cracked down on scholarships, and even prohibited alumni from supporting athletes directly.
It was one of the most stringent rules of its day, and while alumni payoffs were later banned everywhere, few commended Bowman at the time. Alberts reports that local business leaders lobbied him to change the policy; he later publicly denounced them as a "damned nuisance." And by the autumn of 1938, the players themselves were threatening to strike.
In a list of grievances, students were shocked when the school expected payment of tuition bills: The bills, they said, "were supposed to be just a formality." And while they acknowledged being required to hold down campus jobs, "We were told we would work only 15 or 20 minutes a day." A compromise smoothed things over until March 1939, when Sutherland resigned, calling conditions "intolerable."
Students leapt into action. On March 10, roughly 500 of them were seen "battering in doors, upturning desks … and in general turning the Cathedral of Learning into a 42-floor madhouse," the Pittsburgh Post-Gazette reported. (Instructors remained aloof: "Today, I want all students to closely observe mass psychology," one wrote as a blackboard assignment.)
"There's no use in our going out for spring practice until we know it is going to mean something to us," one unnamed athlete flatly told the Associated Press. But many didn't even have the option. At the team's first practice, more than 20 players didn't show, victims of Bowman's academic requirements.
The Panther's managed to finish 5-4 the following season -- not bad for players that reporters predicted would be "little more than stooges for the opposition." Most importantly, Bowman insisted, "The big thing was that the boys themselves had a good time."
Let's hope so: The Panthers went on to nine consecutive losing seasons, dropping a dozen games by more than 30 points. Sports fans have not regarded Bowman warmly, seeing his move as motivated by ivory-tower politics. "Bowman and his administration … got rid of the popular coach whom they considered too powerful," Fletcher and Finoli write.
And despite Bowman's ideals, it's hard to see what he gained. He didn't take money out of college athletics -- he merely helped ensure that students got a tinier cut.
Surely no one would accuse today's chancellor, Mark Nordenberg, of undermining Pitt sports. (He'd be too late in any case: Nordenberg makes less than half the $1.25 million salary earned by Pitt's basketball coach, Jamie Dixon.) Student athletes can now be punished for getting discounted tattoos; their classmates, meanwhile, barely turn over schooldesks to protest the launching of a war.
What hasn't changed is the way Pittsburghers -- business elites and working stiffs alike -- lose all sense of proportion when it comes to sports. And it's still unclear whether that's a good thing for students.
As her classmates rebelled in the hallway outside, the Post-Gazette reported back in 1939, one student posed a question of her own on the blackboard: "Will football pay our tuition, too?"