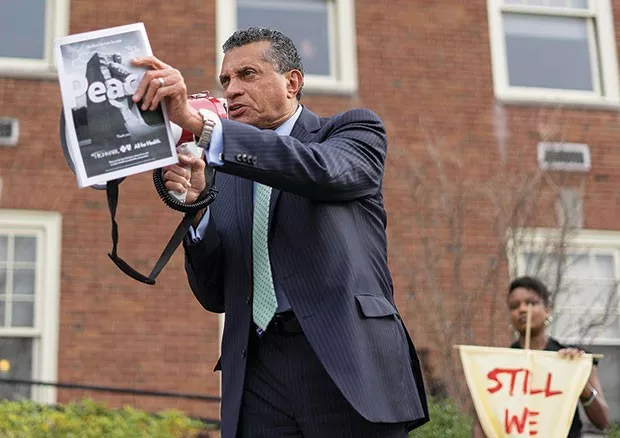 While racial justice issues have existed in Pittsburgh since its earliest days, it's been a particularly stark problem this year. A
recently released report
showed that Pittsburgh is one of the worst and most unhealthy regions in the country for Black people to live. The trial of former police officer Michael Rosfeld, who shot and killed Antwon Rose II, ended in acquittal and
protests followed
. Two Black women
were beaten in an altercation at a gas station
in the North Side. A contentious race for Allegheny County District Attorney had most of the county's Black voters support an independent challenger, who ended up losing to the
incumbent Democrat.
It's been a year.
Next Tuesday Dec. 10, there will be a town hall in East Liberty to discuss these racial justice issues and more. The fourth annual Racial Justice Town Hall will be held during the
Pittsburgh Racial Justice Summit
at the Pittsburgh Theological Seminary.
Summit founder and head of the Black Political Empowerment Project said in a press release the town hall is necessary to hear the voices impacted by the racial injustices.
"The Racial Justice Town Hall is an event like no other," said Stevens. "Pittsburghers of all racial identities are invited to speak, listen, and learn about racial justice."
The town hall will include two panels with more than a dozen participants. Panelists include author
Damon Young
, police-accountability advocate Brandi Fisher, and Bekezela Mguni, of the
Black Unicorn Project
. Elected officials will also be on a panel, such as Allegheny County judges Elliot Howsie and
Mik Pappas
, state Sen. Lindsey Williams (D-Westview), and incoming Allegheny County Councilor
Bethany Hallam
.
Summit volunteer Ghadah Makoshi said in a press release that attendees should expect an "intimate-feeling forum replete with connection, conversation and inspiration."
The town hall is free and open to the public. Attendees can make donations to the Jonny Gammage Memorial Scholarship, which supports "law students of color with an interest in studying civil rights and social justice issues at the University of Pittsburgh Law School or Duquesne University Law School."
Doors open at 5:30 p.m. on Dec. 10, and the town hall will run from 6-8:30 p.m. The Pittsburgh Theological Seminary is located at 616 North Highland Ave., East Liberty.