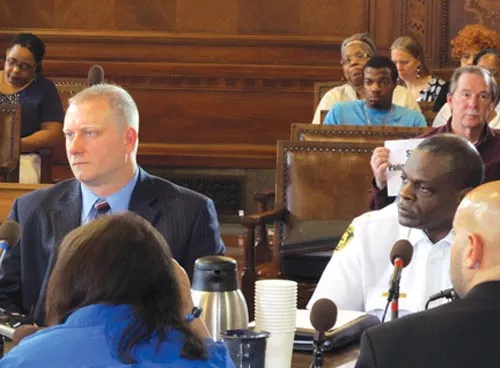 Supporters of a long-debated police-accountability bill say they're fed up with months of legislative delays.
The postponements, they say, are nothing more than a tactic to force Pittsburgh city councilors into watering down the measure or, worse yet, voting against it.
"There is a lot of bullying going on," says Beth Pittinger, executive director of the Citizen Police Review Board, who helped craft the legislation. "The longer things are drawn out, that looks like an opportunity to strong-arm people on the vote."
Born out of the controversial arrest of Homewood teen-ager Jordan Miles in January 2010, the legislation would, among other things, require the police department to release information about citizen complaints against officers. The bill, drafted with the help of legal experts and community activists, would also require the chief of police to "prescribe the on-duty and off-duty conduct of Pittsburgh police officers," as well as stipulate how and when strip searches can be conducted by police.
The seven-page legislation -- amended in June from a much slimmer two-page original version -- currently has the support of three city councilors: Ricky Burgess, who initiated the bill, and co-sponsors Daniel Lavelle and Doug Shields. To pass, however, the bill is likely to require a veto-proof majority of six affirmative votes.
Mayor Luke Ravenstahl has not publicly stated his support of or opposition to the legislation, but officials from the city's police and law departments have expressed serious concerns about some of the provisions.
For now, supporters say they're cautiously optimistic that the legislation has enough votes to dodge a mayoral veto. However, several legislative delays designed to build consensus among all parties have supporters' patience wearing thin. And some worry that threats from the bill's staunchest critics, particularly the Fraternal Order of Police, could influence city councilors currently on the fence.
"Our dream to have a consensus is just not possible," says Brandi Fisher, of the Alliance for Police Accountability. "If we're going to continue to want full consensus with the FOP and the law department, we'll be delaying this bill forever."
City council had planned to vote on the bill on June 15. But after hearing from the public and discussing some specifics of the bill with its authors and city officials, council decided to postpone voting after public-safety officials explained that they had reviewed only Burgess' original two-page bill, not the longer amended measure.
Council rescheduled the vote for a week later. Once again, however, council tabled the measure for another four weeks to allow more time for public-safety officials and the city's law department to meet and discuss their concerns with council and supporters of the legislation.
On July 14, Tim Stevens, chairman of the Black Political Empowerment Project, says he and other advocates were supposed to meet with Burgess and Police Chief Nate Harper. Harper, he says, never showed. During the meeting, Stevens says, Burgess told the bill's supporters that he knew he had the votes to pass a "barebones," three-quarter page piece of legislation similar to the bill he introduced a year ago.
"We said that was unacceptable," Stevens recalls. "[Burgess] then said he would fight for the expanded version."
Before ending the meeting, Stevens says he told Burgess that he expected the councilor to finally convene a meeting with the city solicitor and police officials before the scheduled vote on July 20. "But the ball was dropped," he says.
On July 20, council postponed the vote until September, when councilors return from the summer recess, citing once again the need to meet in a closed-door executive session with members of the law department and police officials.
"It's been frustrating," says Stevens.
Chief Harper and officials from the mayor's office declined to comment for this story. But during debate about the bill in June, administration and police officials expressed concerns about a number of provisions in the legislation.
For example, City Solicitor Dan Regan told council on June 15 that some of the reporting requirements in the bill cannot be disclosed to the public because it is part of officers' personnel files.
The most vocal criticism, however, came from the members of the FOP. "We as a union do not accept this bill as something we can live with," FOP President Dan O'Hara told council during public comment on June 22. "You're going to handcuff [officers]. … There's going to be a lot more guns out there."
O'Hara's threats drew widespread criticism. But it's unclear whether such vocal attacks against the bill could influence city councilors enough to vote against the measure.
"It's always a concern," says Stevens. "In politics, you can't depend on anything."
Most city councilors, who are currently on recess, did not return calls for comment. But Councilor Patrick Dowd scoffs at the notion that his arm is somehow being twisted. He and other councilors recently met with police and administration officials in executive session to discuss their problems with the bill, including those regarding police accreditation.
"I have concerns about council writing policies and procedures for the police," says Dowd, who praised the delays to allow for more meetings. "I don't think council should be legislating management practices."
So would Dowd vote for the bill as it's currently written?
"If it came up for a vote tomorrow," he says, "I'd ask that we hold it."