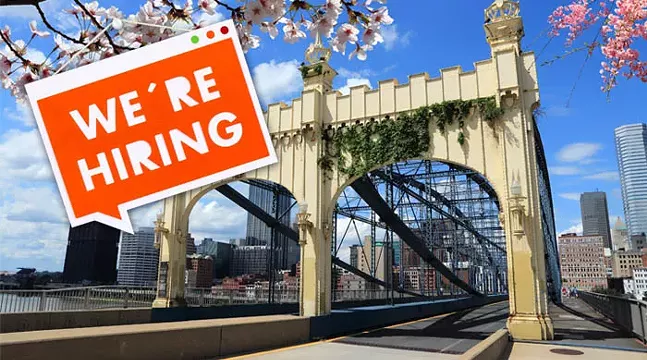 Sponsored
Verland Foundation. Working at Verland, you will have the rewarding opportunity to make a positive impact in the lives of those with physical and intellectual disabilities. You will work closely with these individuals to help them achieve their goals and live as independently as possible through state-of-the art support. This may include assisting with daily activities such as personal care, meal preparation, and medication management. It is a challenging but fulfilling role that requires patience, compassion, and a genuine desire to help others.
Nonprofit
Special Projects Intern. Non-profit The Pittsburgh Foundation is committed to creating a vibrant, equitable and just Pittsburgh region that supports everyone—regardless of race, identity or circumstance—to thrive and fulfill their potential. Their Center for Philanthropy is seeking a part-time special projects intern to assist with giving circles, research proposals, and data analysis. The intern will also prepare materials and coordinate logistics for meetings and events with donors and other key stakeholders. Pay is $15/hour at 15-20 hour per week. Click here for more details
Director of Food Donor Relationships. Non-profit 412 Food Rescue combats food waste by collecting surplus food that might otherwise be thrown away, and delivering it to organizations that serve those who are food insecure. They are seeking a full-time Director of Food and Donor Relationships to lead in implementing the organization's new revenue plan and utilize a multi-channel approach to deliver and close qualified opportunities. Salary is $60,000-70,000/year. Click here for more details
Project T Coordinator. Project T is a transitional housing space for QTBIPOC homeless communities run by non-profit SisTers PGH. They are looking for a Program Coordinator to provide direct service and individualized support to program participants. This position is $35/hour, full-time, at 30 hours per week. Health Insurance benefits are not covered but instead reimbursed to cover a Health Insurance Plan. Click here for more details
Teaching Artist (Ceramics). The Union Project is a non-profit that uses the arts to bridge gaps between communities. They are seeking to grow their roster of passionate, community-minded part-time Teaching Artists for a variety of custom ceramics group programming for youth and adults, including in-school, after-school, camp, private party, and other year-round settings. Union Project Teaching Artists should value diversity, inclusion, community, and creating learning experiences that are student-centered, exploratory, and promote collaborative learning. Pay is $20/hour. Click here for more details
Staff Attorney. The Women's Center & Shelter of Greater Pittsburgh (WC&S) is a comprehensive domestic violence program annually serving over 7,700 adult and child survivors of domestic violence & facilitating an intervention program to nearly 300 people who use abuse. As a part of their Civil Law Project in Downtown Pittsburgh, they are seeking a full-time Staff Attorney whose primary role will be to provide direct civil legal representation to victims of intimate partner violence in family law cases. Click here for more details
Arts + Entertainment
Winter Marketing Intern. Pittsburgh City Paper is seeking a marketing intern for the winter session! This person will report to the Advertising Director and will gain experience in marketing and advertising in the events and media industry. Responsibilities include: planning and assisting at Pittsburgh City Paper events, assisting in coordination and administrative needs for events, and collecting and organizing marketing data for sales representatives. Click here for more details
Production Shop Coordinator. Flyspace Productions is a Pittsburgh Event Management, Event Production and Art Services company looking for a full-time Production Shop Coordinator to join their team and coordinate shop needs from all departments, manage daily work plans and staff, and coordinate equipment maintenance. Previous experience in a shop leadership role and knowledge of event production technology is required. The position is based in the Northside. Starting Salary is $45,000+/year plus benefits. Click here for more details
Office Administrator. Flyspace Productions is also looking for a full-time Office Administrator to join their team and work closely with the General Manager to support the staff and company operations. Previous experience with service with an emphasis on facilities, hospitality, corporate services, property management or equivalent experience preferred. The position is based in the Northside. Salary is $35,000+/year plus benefits. Click here for more details
Greenhouse Production, Retail, Customer Service, Nursery Upkeep. Shadyside Nursery is hiring for a variety of seasonal positions. There is one full-time and two part-time positions available and each involve a weekend shift. Must have some plant & local landscape knowledge, a willingness to learn, must love dogs and have a strong work ethic. Hourly rate starts at $16/hr with profit sharing opportunities. Click here for more details
Exhibitions Installer. The North Side's contemporary art museum The Mattress Factory is looking for a full-time Exhibitions Installer to work closely with exhibiting artists assisting with setup, fabrication and space preparation responsibilities related to the installation and de-installation of exhibitions. This applicant must possess general construction skills and have experience working with a wide variety of hand and power tools. Click here for more details
Food + Drink
Bartender. Homerun Harry's in Station Square is looking for a part-time bartender for their sports bar and restaurant. They offer a good working environment and very good tips. Click here for more details
Servers. Bella Notte Pizza, Pasta and Beer in the Strip District is looking for full-time servers. Must be able to work weekends, manage high volume service, and beer knowledge is a good asset. No late nights required, and free parking is provided. Pay is $5/hour plus tips. Click here for more details
Shop Manager. Commonplace Coffee is opening a new location in the SouthSide Works, and they are looking for a passionate specialty coffee professional to manage their new cafe! Shop Managers are responsible for the day-to-day operations of their cafe and are tasked with training and developing their team members to ensure all Commonplace Coffee guests experience exceptional service and hospitality. Click here for more details
Kitchen Manager. Aslin Beer Co. in the Strip District is hiring for a Kitchen Manager at their PGH taproom. The Kitchen Manager at Aslin Beer Co. is responsible for overseeing day to day operations of the kitchen, making sure food quality is on-par with Aslin's standards and each item is properly stocked for each service. Pay is commensurate with experience and includes benefits. Click here for more details
Assistant Pastry Chef. Lawrenceville's Senti Restaurant and Wine Bar is looking for an Assistant Pastry Chef to join their team. The ideal candidate is an ambitious, engaged, self-starter who can multitask efficiently, listen and communicate effectively, and possesses strong organizational skills. Click here for more details


---
Have a job posting you want to share? Email
Morgan Biddle
for a chance to be featured!