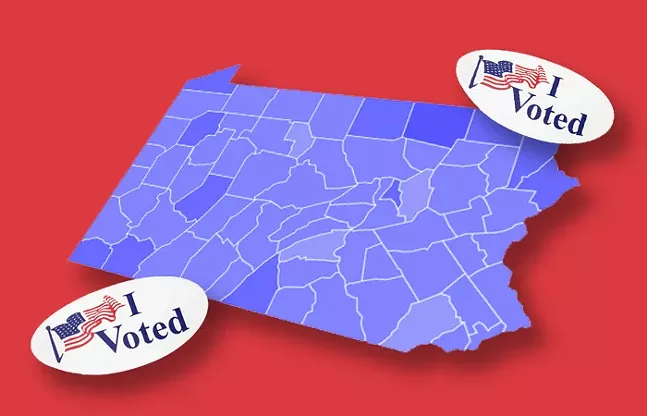 Welcome to
Pittsburgh City Paper
's live Election Night coverage. As votes are counted, we'll continue to update this page with key developments in the major statewide races as well as several local contests.
We'll also have live updates from Democratic Senate hopeful John Fetterman's campaign watch party, as our staff on the ground relay the mood on one of the nation's most hotly contested face-offs.
Scroll down to see live updates listed by race.
When should I expect results?
Polls close at 8 p.m. Each county will process and record results at its own pace. Allegheny County officials say they expect mail-in ballots will be tallied soon after voting stops. In-person votes will be tabulated by voter precinct and will continue to appear throughout the evening and potentially into tomorrow.
---
U.S. Senate: John Fetterman vs. Mehmet Oz

Pundits say that this race presents the best opportunity for Democrats to maintain control of the Senate if they can win this tight contest.

9:58 a.m.: Fetterman claimed victory last night around 1:15 a.m., and according to Politico Oz called Fetterman to concede this morning.
12:44 a.m.: Fetterman pulls ahead again as new ballots trickle in. New York Times now projects a "very likely win" for Fetterman. Fetterman at 2,366,310 (49.4%); Oz at 2,302,801 (48.1%).
12.22 a.m.: Fetterman's lead shrinks further with the latest batch of votes.
Fetterman now at 2,219,541 (48.89%); Oz at 2,209,041 (48.66%).

11:17 p.m.: Fetterman leads by a whisper with just less than 4 million votes tallied. Fetterman now has 1,949,975 votes (49.2%); Oz has 19,15,199 (48.4%)

10:00 p.m.: The race is tightening significantly as more election day votes are tallied, with John Fetterman (Dem) at 819,900 (53.2%) to Mehmet Oz's (GOP) 683,236 (44.36%).

9:30 p.m.: The race is tightening a little bit as more in-person votes are tallied, but Fetterman still showing a sizable lead with 555,535 votes (60.65%) to Oz's 339,418 (37.05%).

9:00 p.m.: Around 400,000 ballots have been tallied across the state, with most of those coming from mail-ins. John Fetterman currently has 308,181 votes in his favor, as compared to Oz at 84,545. We expect this margin to get tighter as the night goes on.

8:55 p.m.: Energy is picking up as partygoers trickle into the venue on Pittsburgh's North Side. The first batch of mail-ins looks positive for Democrats, but that was expected. The campaign will be watching the remaining votes carefully as they continue to trickle in.
Governor/Lt. Governor: Josh Shapiro/Austin Davis vs. Doug Mastriano/Carrie DelRosso

Current Gov. Tom Wolf, a Democrat, has reached his term limit and is not eligible to seek re-election. Incumbent Lt. Gov. John Fetterman (D-Braddock) is not seeking re-election and is currently running for U.S. Senate.
11:15 p.m.: CNN calls the race for Shapiro as his lead remains above 10% with nearly 4 million votes tallied.
10:40 p.m.: Shapiro leads Mastriano by almost 15 percent, with 1,614,716 votes (56.4%) to Mastriano's 1,199,082 votes (41.9%).
9:45 p.m.: Shapiro is maintaining a strong lead over Mastriano in early results, with 710,120 votes (60.94%) to Mastriano's 434,487 (37.29%). These still reflect a high proportion of mail-in votes, which favor Democrats.
9:20 p.m.: Shapiro currently is in the lead with 67% of the vote to Mastriano's 31.31%.
This race will determine who will replace Democratic U.S. Rep. Mike Doyle, who announced his retirement last fall. The Republican candidate running this year against Lee has no relation to the incumbent.
11:25 p.m.: CNN and other major outlets call the race for Lee, who holds a 12-point lead with approximately 94% of votes tallied.
10:11 p.m.: Lee still has a strong lead over her Republican opponent, with 62.41% of the vote compared to Doyle's 37.59%.
9:24 p.m.: Lee is currently leading the (fake) Mike Doyle by almost 39%. Her lead has surpassed Deluzio's, signaling that Deluzio's race may end up being tighter than this one.
8:51 p.m.: Chris Deluzio is outperforming fellow Dem Summer Lee in this batch of mail-ins. Could this combined with the strong Dem mail-in bias indicate what her campaign feared: that voters see Doyle's name on the ballot and assume the GOP newcomer is the longtime incumbent?

8:32 p.m.: Allegheny County mail-ins have dropped, giving Lee a strong lead over Doyle early on. The race will likely tighten as in-person ballots are tallied.

Currently occupied by Conor Lamb, who forfeited his re-election bid to pursue an unsuccessful U.S. Senate race. District includes a swath of suburban Allegheny County and all of Beaver County.
11:35 p.m.: Deluzio claims victory with a five-point lead and less than 10% of uncounted votes outstanding.
10:09 p.m.: The race between Deluzio and Shaffer is getting close, with Beaver County's votes coming in and predictably favoring Shaffer. Deluzio is still in the lead with 55.77% of the vote to Shaffer's 44.23%, but expect this race to get tighter.
9:26 p.m.: Deluzio's lead is narrowing slightly at 66.58% to Shaffer's 33.42%. We're still waiting on votes from Beaver County, which will probably make it even narrower as it is a more conservative, suburban area.
8:52 p.m.: Allegheny County's mail-in ballots and initial in-person results have Deluzio with a sizeable lead. However, keep in mind that mail-in ballots tend to skew heavily Democratic, with both mail-in and in-person votes from Beaver County yet to come.


Incumbent Democrat Lindsey Williams is running for re-election against Republican Lori Mizgorski, a House member who no longer resides in the district she represents because of redistricting:
10:13 p.m.: With 78.71% of precincts reporting, Williams has a strong lead over Mizgorski with 59,381 votes to Mizgorski's 42,307. The Post-Gazette has called this race for Williams.
9:17 p.m.: With 34.54% of precincts reporting, Democratic candidate Lindsey Williams has a sizeable lead on Republican opponent Lori Mizgorski — Williams has 40,547 votes to Mizgorski's 21,542.
Long held by Democratic incumbent Dan Frankel, the district is considered safe territory for his party. It spans several eastern city neighborhoods, including sections of Squirrel Hill, Shadyside, and Oakland.
9:12 p.m.: With 25% reporting and Frankel leading by almost 11,000 votes, we feel relatively confident saying that the Green Party will not be pulling it out of the bag.
8:59 p.m.: With around 10% of precincts reporting, Dan Frankel has a very strong lead over Green Party candidate Jay Ting Walker with an almost 9,000 vote lead.


Once reliably Republican, redistricting has added Democratic constituencies that could make it more competitive.
11:06 p.m.: Venkat calls the race, where he holds a 10% lead with 94% of the vote in.

10:19 p.m.: 79.55% of precincts are now reporting, and Venkat is still in the lead by over 4,000 votes.
9:15 p.m.: Now with 20.45% of precincts reporting, Venkat's lead is narrowing.
9:09 p.m.: With 13.64% of precincts reporting, Democratic candidate Arvind Venkat leads Republican candidate Cindy Kirk by almost 6,000 votes.

The district stretches across a mix of suburban and rural communities in southern Allegheny County and northern Washington County. Incumbent Rep. Mike Puskaric lost the Republican primary.
11:40 p.m. Kuzma holds an 18-point lead with almost all votes tallied.
10:16 p.m.: Kuzma has now taken the lead by just over 400 votes, with 52.08% of precincts reporting.
9:33 p.m.: The race is getting much tighter now, with Self only in the lead by just over 1,000 votes.
9:02 p.m.: Democratic candidate Self remains ahead of Republican candidate Kuzma with 6,929 total votes cast, 4,544 to 2,368.

8:48 p.m.: With 5,382 absentee ballots cast, Rick Self is ahead of Andrew Kuzma.


District has shifted significantly East following 2021 redistricting, when Republican incumbent Lori Mizgorski was eliminated from the district by the new maps.
11:10 p.m.: No official call, although Steele holds a 10% lead with more than 95% of votes counted.
10:18 p.m.: With 86.89%, Democrat Mandy Steele is still in the lead over Ted Tomson with a lead of just under 3,000 votes.
9:28 p.m.: With 37.7% of precincts reporting, Democratic candidate Mandy Steele is leading Ted Tomson with 62.64% of the vote to Tomson's 37.15%.