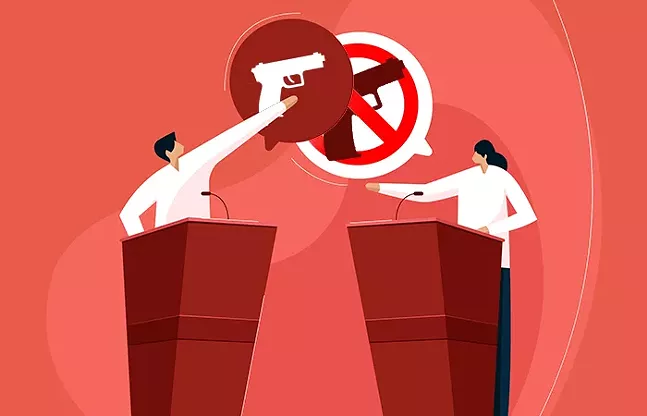 A
string of mass shootings across
the country, including a
Uvalde, Texas
tragedy that took the lives of 19 children, has triggered many community members to wonder what, if anything, public officials are going to do about the recent spike in gun violence. Pittsburgh has its
own history of mass shootings
, including the deadliest anti-Semitic attack in U.S. history at Squirrel Hill's Tree of Life synagogue, which killed 11 people in 2018, and a recent mass shooting at an Airbnb-rented apartment in the North Side, killing two teens and wounding eight others.
With the general election coming up in November and several public offices up for grabs,
Pittsburgh City Paper
is breaking down where candidates stand, as many are making gun control a key issue of their campaigns.
This story will continue to be updated.
Pennsylvania Governor:

Josh Shapiro (D):
Current Pa. Attorney General Josh Shapiro has had a strong record when it comes to supporting gun control. In a recent effort with 18 other attorney generals, Shapiro
helped defend California's restrictions
on the sale of long guns and semi-automatic centerfire rifles.
"I refuse to accept a reality where our children have to fear for their lives every time they go into the classroom," Shapiro told
NBC Philadelphia
. "Every Pennsylvanian deserves to feel safe at home, at school, and in their community – and I know we can achieve that while upholding Pennsylvanians' rights and traditions. As Governor, I will work every single day to protect our children and make our communities safe from gun violence."
Doug Mastriano (R):
Doug Mastriano's history with gun control has been a negative one. In the past, he has
compared
American gun control laws to Nazi Germany. In 2021, he
introduced legislation
that would hinder local governments from creating their own gun restriction laws. For 2022, Mastriano was rated 92% by the NRA.
"This legislation is needed now more than ever. We have a President who has already shown his enthusiasm for using his executive order pen and a Congress that has made gun restriction laws a top priority. Pennsylvania was the first state to address the right to bear arms in its constitution," Mastriano said in a
press release
. "By the time the Second Amendment to the United States Constitution was adopted in December of 1791, PA had already reaffirmed twice the right to bear arms as a fundamental individual freedom. Our legislation will preserve that right and curb federal attempts to infringe upon it."
U.S. Senate:

John Fetterman (D):
John Fetterman claims he remains a strong advocate for common sense gun control. Fetterman says the NRA has a strong hold on Congress which hinders their ability to pass gun control legislation. The NRA has given Fetterman a rating of 0%.
"It's not a radical statement: all of us should agree that we want to make sure that weapons stay out of the hands of people that could use them to hurt others, especially after the tragedies we've seen in Charleston, Newtown, Wilkinsburg and too many other communities," said Fetterman in 2016 in his campaign for the U.S. Senate.
Fetterman released a
campaign video
for his 2022 senatorial campaign and still expresses a strong need for gun control.
However, Fetterman has faced controversy
over an incident
that occurred in 2013, where he chased a Black jogger, Chris Miyares, and
detained him with a shotgun
. Fetterman claims he did not point the gun, but Miyares reported he did. Despite disagreeing with Fetterman on what occurred, Miyares told
The Philadelphia Inquirer
that he hopes Fetterman wins his race for the U.S. Senate.
Mehmet Oz (R):
Mehmet Oz has claimed to be a strong supporter of the second amendment, despite
conservative media calling out
his history of supporting red flag laws, which are strict gun control legislation.
In a
recent campaign ad
, Oz claims he will fight for constitutional rights if elected to the Senate.
"[O]ur second amendment is not just about hunting, it's about our constitutional right to protect ourselves from intruders or an overly intrusive government," said Oz.

U.S. House District 12:

Summer Lee (D):
Lee has advocated for gun control and common sense gun laws, and has also spoken on the need for campaign finance reform to combat lobbies like the National Rifle Association. Summer Lee was rated 0% by the NRA for the year of 2022.
"We must fight for campaign finance reform so we can go up against the gun lobby, but, also, we have to talk about investments. Gun violence and poverty go hand in hand, not race," Lee said during a
12th Congressional District Democratic debate
.
Michael Doyle (R):
Mike Doyle, who shares the same name with the Democratic Mike Doyle who currently holds the seat and is retiring at the end of his current term, has said little about gun control. Despite his lack of history with gun issues, the NRA has rated him 92%.
Pa. State House District 19:

Aerion Abney (D):
Aerion Abney is running unopposed in the race for Pa. State House District 19 and based on past statements, he's favored the need for gun control.
Abney told the
Pittsburgh Post-Gazette
, "Ultimately, big picture, we just have to get these guns off the streets and out of the hands of kids. I'm really ready to take a long-term approach to the work and fix some of what is broken in some of our communities."
Pa. State House District 24:

La'Tasha D. Mayes (D):
La'Tasha Mayes has long worked towards reducing gun violence in her community. Mayes has frequently advocated for common sense gun laws like universal background checks on all guns, assault weapons ban, gun owner license, and more.
Mayes often takes to Twitter to express the need for gun control in American communities, especially after shootings like Uvalde.
"White supremacist violence killed 10 Black people in Buffalo. We are used to Black people dying by guns," she
said on Twitter
. "White supremacist violence killed at least 19 children in Ulvalde, Texas - a 79% Latinx city. We are numb to children being killed at school. WE CAN'T WAIT TO TAKE ACTION."