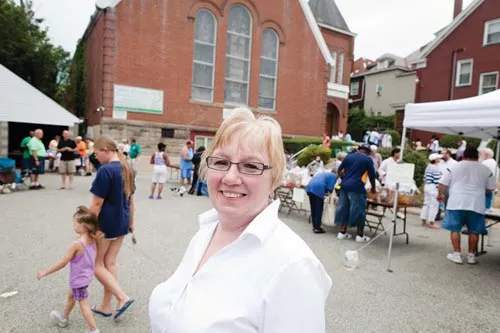 Judy Hackel remembers when she had to chase prostitutes away from the corner of Arlington and Industry streets in Allentown.
For almost 30 years, "johns," she says, would park in front of her house. Even Hackel's granddaughter learned to spot the prostitutes.
"Grandma," Hackel recalls her granddaughter saying, "there's that woman again."
But Hackel hasn't done much chasing in the last three years, since the Pittsburgh Bureau of Police relocated its Zone 3 station from the South Side. On the corner of Arlington and East Warrington, the stucco-colored station sits at the gateway to the neighborhood Hackel calls home.
Since the station opened, crime rates have gone down. And the prostitution, Hackel says, is mostly gone.
"I don't know where they went. I'm just glad they aren't in Allentown," she says.
In addition to curbing crime, neighborhood advocates like Hackel and her band of volunteers at the Allentown Community Development Corporation, have been working to transform their small neighborhood.
Inch by inch, their efforts seem to taking hold. Hackel, president of the ACDC, notes that the number of vacant storefronts along Warrington Avenue -- the neighborhood's three-block business district -- has decreased, with new ventures complementing longtime bastions like Herman J. Heyl Florist. Recently, the high-end Italian restaurant Alla Famiglia upgraded its façade.
New homes are for sale on Climax Street and Beltzhoover Avenue. And during National Night Out, the Aug. 2 celebration of neighborhoods and crime-awareness, 300 people attended Allentown's event.
"This wouldn't have happened five years ago," says Pittsburgh City Councilor Bruce Kraus, who represents the city's South Side and adjoining "hilltop" communities like Allentown, Arlington and Knoxville. Allentown was the only hilltop neighborhood to have a Night Out event, he notes: "There's really good internal community leadership, and that makes success for a neighborhood."
Hackel's pride is evident as she strolls down Warrington Avenue, looking at the ACDC's progress and the tasks ahead. Because of Allentown's proximity to the Liberty Bridge -- and from there to Crosstown Boulevard and the Parkway North -- Hackel boasts that it is just two stoplights away from Erie. Assuming you need to leave at all.
"In these three blocks you can get flowers, your groceries and your junk," she says. She points to the John J. Barry Funeral Home ahead of her. "And in the next block, we'll even bury you."
The story of Allentown, as residents tell it, is similar to that of other city neighborhoods: A once-thriving population died off as younger residents moved to the suburbs.
"They've abandoned the neighborhood," Hackel says.
Properties were either abandoned or sold cheaply, often to absentee landlords. In a Market Value Analysis conducted by the Urban Redevelopment Authority, foreclosure rates were listed as "high," and property values low.
According to the assessment, the median sale price for houses in Allentown is just $6,750. Though adjacent community Knoxville had the same median sales price, other adjacent neighborhood subsections were significantly higher: $21,500 in Arlington; $43,500 in one part of Mount Washington, $166,500 in another; and $109,375 in part of the South Side Slopes.
According to 2010 U.S. Census Data, 20 percent of homes in Allentown are vacant, and nearly 57 percent are renter-occupied -- up from nearly 43 percent in the 2000 Census.
The new landlords "live outside of the neighborhood and it's become all rental properties," says Helen Baney, an 87-year-old resident who lives on Excelsior Street and is a volunteer with the ACDC. "The fact [that] we lost businesses on the front street doesn't incentivize more businesses to move in and I don't think this [rental population] subsidizes what we have here."
Things have improved in at least one critical quality-of-life indicator: crime.
City crime statistics suggest that since the police station relocated from its outmoded former home on the South Side, crime in Allentown has dropped by 31 percent. Violent crimes have been reduced by 45 percent.
"There were a number of crimes occurring on the highly visible corner of Warrington and Arlington avenues … in 2008," a neighborhood public-safety report reads. "2010 data reveals that crimes in this vicinity have … diminished."
"We're working very hard every day to improve the quality of life," says Zone 3 community-relations officer Christine Luffey. "I do think it's getting better and we can take some credit."
Indeed, during the National Night Out event, some residents agreed that seeing more officers on the street helped deter crime. As Hackel spoke with Lt. Cathy McNeilly, Luffey came over and pointed to two children dancing on a rooftop across the street "Should we be worried about that?" she asked. The two officers crossed the street, prompting the children to scurry down.
Hackel's group hopes to build on the public-safety improvements. Her volunteers plan to work with Mount Washington Community Development Corp. to eliminate dark spots, trim brush and fence vacant lots -- all to help eliminate other high-risk areas.
But while the neighborhood has become safer, people still aren't buying homes there -- a challenge Hackel still finds vexing.
She points to several single-family homes on Climax Street and Sylvania Avenue, owned by the Urban Redevelopment Authority, that just won't sell despite their proximity to Warrington, South Hills Junction and Mount Washington.
"I don't understand it," she says, as she points out the proximity to Grandview Park. "This whole neighborhood is about taking a chance."
Part of the challenge is that volunteer labor can only take you so far.
Hackel is herself unpaid, and Allentown lacks a "master plan" -- a comprehensive planning document that spells out a vision for a neighborhood. Such plans can include everything from design principles for sidewalks and storefronts to plans for attracting businesses and development.
Hackel says that while "[m]aster plans are nice … those take money." In any case, she adds, "Neighborhoods change so much that the plan has to change." Still, the lack of a plan can be a problem: "When you go for funding, they want to see that you have one."
Advocates have managed to undertake projects funded by small grants -- from Kraus' office and federal community-development funds. The URA also authorized a $25,000 contract to the nearby MWCDC to help Allentown and Mount Oliver improve their business districts.
"The main street is one's first and last impressions of a community. If Warrington looks bad, it doesn't matter if you have the most beautiful residences blocks away," says Greg Panza, program manager at the MWCDC. "It gets people believing again."
Last year, with the help from the MWCDC, community advocates fixed up Warrington. Trash receptacles received fresh coats of paint, banner poles displayed new signs, and upgraded lighting now lines the main drag.
"When someone drives through and sees [the revitalization], they think, 'Wow, this is a nice little neighborhood. Maybe I should park my car and get out,'" Panza says. "When it's run-down, they think, 'Roll up the window, don't make any eye contact and drive through fast.'"
At the end of the day, it will be people power, not master plans, that revitalizes Allentown.
"The biggest issue is lack of involvement," says Amy Averbeck, an employee at Progressive-Home Federal Savings and Loan Association on East Warrington. "It's the same people who always volunteer."
But Allentown has at least one thing in its favor: Even when some natives move away, they keep coming back. Averbeck herself now lives in Jefferson Hills with her husband; still, she was on hand to manage the snow-cone machine at the National Night Out celebration. She grew up here, after all. "I feel responsible for my neighbors."
"We need volunteers. It takes all of us," Hackel says. "You've got to go to the people here and say, 'You gotta fight for your neighborhood.'"