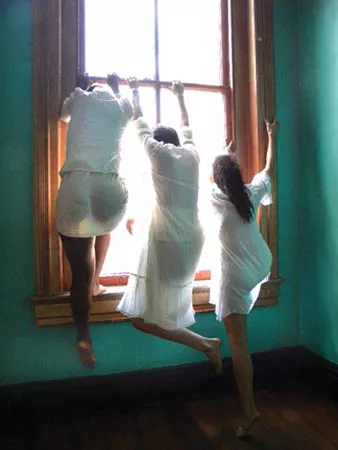 Change is in the air this fall: A new dance season begins without Dance Alloy Theater, the city's oldest contemporary/modern dance troupe. The Alloy recently merged with the Kelly-Strayhorn Theater, and its future as a performance troupe remains uncertain.
Still, fall has much to offer, from a botanical dream world to a hip-hop Pinocchio. A sampling:
Improvisational dancer/choreographer Gia T. Cacalano and friends take a trip down memory lane in Collectables, a multi-media performance Sept. 16 and 17, at Space Gallery. Also Sept. 16 and 17, Pittsburgh Dance Council opens its season with Momix and choreographer Moses Pendleton's fantastical nature-themed work Botanica, at the Byham Theater. And on Oct. 22, the Council welcomes modern-dance vanguards the Paul Taylor Dance Company.
Local favorite Attack Theatre opened its season with What?, a two-part journey from creation to finished performance; the show runs through Oct 1. On Dec. 9 and 10, Attack's family-friendly Holiday Unwrapped returns to its Strip District studio.
Duquesne University's Tamburitzans continue their reign as the country's longest-running multicultural song-and-dance company with a free performance Sept. 30, at Duquesne. Also that day, Point Park University's Conservatory Dance Company opens its season with its Student Choreography Project; the student company takes on the works of local and national choreographers in Contemporary Choreographers (Nov. 11-20). On Dec. 9-18, the company reprises Doug Bentz's holiday classic The Jazz Nutcracker.
Pittsburgh vintage-bellydance company Zafira teams with global touring troupe The Bellydance Superstars on Oct. 4, at the Kelly-Strayhorn. The program features the Superstars' new show Club Bellydance.
On Oct. 7, the Guitar Society of Fine Art presents the passionate rhythms of The Omayra Amaya Flamenco Dance Company, at the Pittsburgh Center for the Arts. On Oct. 22, Nego Gato brings its unique mix of Afro-Brazilian music and dance to the Kelly-Strayhorn.
MillerDANCE, Wacongo Dance Company and Nandanik Dance Troupe perform as part of Drum Talk, Oct. 15 and 16 at several Downtown venues. On Dec. 9 and 10, at Space, MillerDANCE presents the art/dance collaboration Out Of Rubble.
It's off to Neverland Oct. 28-30, as Pittsburgh Ballet Theatre presents the Pittsburgh premiere of Royal Winnipeg Ballet choreographer Jorden Morris' whimsical Peter Pan. And PBT artistic director Terrence Orr's Pittsburgh-themed The Nutcracker returns Dec. 2-23.
The August Wilson Center helps celebrate the FISA Foundation's 100th anniversary with former Bill T. Jones/Arnie Zane Dance principal dancer Heidi Latksy's GIMP, a work performed by dancers with and without physical disabilities. On Nov. 4-6, the Center hosts the Black Dance Festival, featuring five nationally acclaimed dance companies, including the Center's own ensemble.
Kuchipudi Indian dancer Shantala Shivalingappa performs at the Byham on Nov. 10. And on Nov. 12 and 13, at the Kelly-Strayhorn, Bodiography opens its 10th-anniversary season with Multiplicity, featuring works by company members.
Fresh off scheduled performances in Paris, The Pillow Project presents "The Memory of Paper" (Nov. 11 and12), the final chapter of its critically acclaimed performance-installation Paper Memory, at its Point Breeze studio.
Finally, Kelly-Strayhorn and its KSTMoves series continues with a new dark twist on the story of Pinocchio in the Pittsburgh premiere of Kyle Abraham/Abraham.in.Motion's Live! The Realest MC, Nov. 18 and19. And on Dec. 2 and 3 at the Kelly-Strayhorn, the Staycee Pearl Dance Project premieres Octavia, inspired by science-fiction writer Octavia Butler.