After spending a few weeks on the District 9 campaign trail, you'll hear the same ideas repeated over and over. And one of them, uttered by candidate Leah Kirkland at just about every event, sums up the district's plight:
"District 9," Kirkland says, "has lost its way."
Pick up a newspaper, or talk to residents, and it's hard not to agree.
Recent weeks have seen a spate of homicides in some District 9 communities (which include the East End neighborhoods of Homewood, Lincoln-Larimer, Lemington, East Hills and Point Breeze, and parts of East Liberty and Garfield). And while there has been considerable business development in East Liberty's Penn Circle, residents elsewhere want to know what's being done for them. According to a study by the University of Pittsburgh Center for Social and Urban Research, neighborhoods in the district are the city's poorest. They also have the highest unemployment rates, and the highest number of people aged 16-19 who are neither in school nor employed.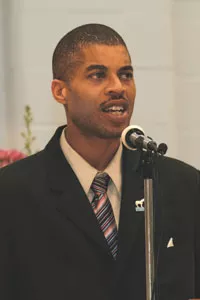 But the most immediate, and headline-grabbing, crisis is the recent indictment of incumbent City Councilor Twanda Carlisle, for allegedly diverting some $43,000 in city funds to friends -- and, ultimately, into her own bank account.
Carlisle has said repeatedly that she will not resign. But Rick Adams, co-convener of the Western Pennsylvania Black Political Assembly, worries that Carlisle's legal troubles "will certainly distract her attention away from serving her district." And if Carlisle is re-elected, it would leave the district without effective leadership "at a time when crucial issues affecting future economic and community development are being decided."
Seven Democratic challengers have stepped forward in hopes of replacing Carlisle. They include: Kirkland, a politically connected Democratic committee member from Lincoln-Lemington and daughter of a ward chairperson; the Rev. Ricky Burgess of Homewood, the endorsed Democrat in the race and pastor of the Nazarene Baptist Church; Ora Lee Carroll, executive Director of East Liberty Concerned Citizens; Eric S. Smith of East Hills, a placement counselor with a vocational school; Judith K. Ginyard, a real-estate broker and Air Force veteran from Lincoln-Lemington; William Anderson, a body-shop owner from Homewood; and school-board member Randall Taylor of North Point Breeze.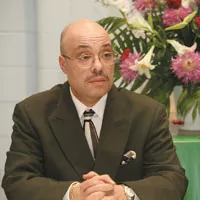 And although the winner of the Democratic primary is considered a virtual lock for the seat, in November, the nominee will face Republican challenger David Adams, the self-employed publisher of a neighborhood newsletter called The Conscience.
The crowded field suggests widespread disenchantment with Carlisle, though if the candidates split the vote, it could keep her in office.
A day after her indictment, Carlisle attended a candidates' forum, sponsored by the Black Political Empowerment Project, where to a crowd of more than 100 she pledged "more accountability in city government." She added, "We must work to make sure that every dollar that is spent in city council is accounted for." She pledged to take a careful look at the Urban Redevelopment Authority, a key development agency, and where it invests money in renewal efforts. "We have two council representatives on that panel and I will sit with them and make sure that our voices are heard," she said.
Carlisle did not respond to requests for an interview. Here's a breakdown of the platforms touted by her challengers, compiled through a combination of interviews and public statements at community forums.
William Anderson says the best way to help the community is knowing "what kinds of programs are on their way" in the district, and making sure resources are directed to the proper places. "I'm tired of hearing stories about what the neighborhood was, how it used to be," he says. "What I want to do is bring the community back, and the only way to get results is to get in there and kick the door down."
Rev. Ricky Burgess promises that within his first 100 days in office he will take "serious action" to reduce violence and create jobs. Burgess says he would implement a "Safe Neighborhood" program led by representatives from law enforcement, churches and other nonprofits. The plan will focus not just on prosecuting crime, but preventing it, and on reintegrating criminals into the community once they are released. Burgess also hopes to lead the community in compiling a list of development priorities districtwide, rather than focusing on one area. "If we have that comprehensive list, then we don't have people who are in the same boat fighting each other for development dollars," he says.
Community activist Ora Lee Carroll says Carlisle is innocent until proven guilty, but she adds that so many allegations have been made about her use of city funds that "at least a part of it has got to be true." Carroll says that families in the district are suffering from a lack of basic city services, and that both public safety and economic development in the district must improve.
Judith Ginyard says she will convene a community advisory board to help ensure that citizens have access to the city services they are entitled to. If elected, she says, she'll act as a facilitator to do what the community wants. "It's not solely going to be my decision when voting on legislation that affects the whole community. I will go back to this advisory board and ask, 'What are your thoughts on this?' We have to find ways to make government interactive so people can have a voice."
Leah Kirkland, who manages a wireless company, says her first step if elected will be to investigate nonprofits in the district receiving public funding. "We have all of these organizations sitting on every corner," she says. "I will inspect every last one of them to see what they are doing to help the district." If they aren't doing enough, she says, residents should urge donors to redirect their money to organizations "who are actually doing something good for the community. There are too many blank checks being written out there."
Eric S. Smith says the way to battle crime in District 9 is not to focus on youthful offenders in the neighborhoods, but to break up crime rings that are sending the drugs into the district from outside. However, he says, that doesn't mean police "approaching our kids and going paramilitary on them, and coming into our community thinking all black people are criminals. ... We have a civil-rights problem in Pittsburgh and we need to deal with it."
Randall Taylor says one of the first things he would do if elected is work toward "getting working families into affordable homes" with incentives for developers. Taylor says he will advocate for a living wage, requiring recipients of tax subsidies to pay workers a wage much higher than the state minimum. He also advocates for council action to increase racial diversity among "all-white, male police academy graduates."