Cinematic offerings at the multiplex will feel very, very familiar this summer. Adding a number to the title (or pretending you haven't,
Live Free or Die Hard
) is practically de rigueur. Let's count 'em off:
Part Two: Eli Roth spills more blood in Hostel: Part II (June 8); fan boys will be sharpening their skills to love or hate Fantastic Four: Rise of the Silver Surfer (June 15); and Daywatch, the flipside of the Russian vampire thriller Nightwatch, returns in June.
Comedies are rarely funny the second time 'round, but here's hoping. Funnyman Steve Carrell stars in Evan Almighty (June 22), the follow-up to the religious spoof Bruce Almighty. What's funnier than Daddy Day Care? -- Daddy Day Camp! (Aug. 10), starring Cuba Gooding Jr. and assorted toddlers. There will be more bumbling (and hopefully fewer giant pit-toilets) in Mr. Bean's Holiday (Aug. 31), the second outing from the rubbery-faced star Rowan Atkinson.
Part Three: Finishing up where Dead Man's Chest left us stranded is Pirates of the Caribbean: At World's End (May 25), returning with its familiar slate of actors -- and Keith Richards. It's also the same huge cast -- plus two fresh rollers, Al Pacino and Ellen Barkin -- in Steven Soderbergh's casino romp Ocean's Thirteen (June 8). Matt Damon the spy is back in The Bourne Ultimatum (Aug. 3), and so is top-notch director Paul Greengrass. Chris Tucker and Jackie Chan are still butting heads in Rush Hour 3 (Aug. 10).
Parts Four, Five and Beyond: Bruce Willis is back for a fourth time to thwart more terrorists in Live Free or Die Hard (June 25). Newcomer David Yates helms Harry Potter and the Order of the Phoenix (July 13), in which the boy wizard and Lord Voldemort kick it up a notch (it's part five). Rob Zombie brings Halloween early, on Aug. 31. They say it's a prequel, but to the rest of us it'll be the ninth iteration of this slasher classic.
They're not quite sequels, but Summer '07 holds plenty of remakes, updates and seen-it-before-somehows. Those things from outer space that turn into other things -- Transformers -- hit earth on July 4. After a billion TV episodes -- doh! -- it's The Simpsons Movie (July 27). The movie of the musical of the 1988 John Waters movie Hairspray finds John Travolta stepping into the late Divine's huge pumps on July 20. Washington , D.C., is the site of Invasion (Aug. 17), the fourth version of The Body Snatchers, starring Nicole Kidman and Daniel Craig.
Music dominates the bio-pics this season. The sad life of French chanteuse Edith Piaf, La Vie en Rose, warbles into theaters in June. Talk To Me (July 13) recounts the true story of an ex-con who became a Washington, D.C., deejay, in the 1960s; Don Cheadle's on the mic. And real-life singers and marrieds Marc Anthony and Jennifer Lopez portray salsa legend Hector Lavoe and his wife in El Cantante (Aug. 1).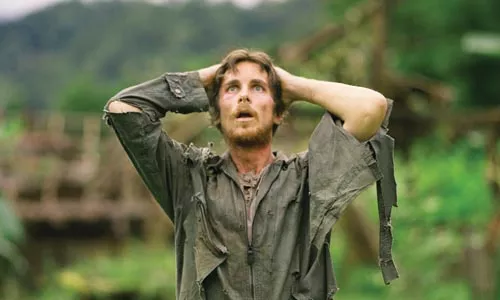 Grimmer aspects of history are also retold: September Dawn (June) relates an unpleasant bit of Mormon history, a massacre in southern Utah, in 1857; Jon Voight stars. Angelina Jolie portrays Marianne Pearl, widow of assassinated Wall Street Journal reporter Daniel Pearl, in Michael Winterbottom's A Mighty Heart (June 22). In Rescue Dawn (July 4), Werner Herzog revisits the harrowing survival of pilot Dieter Dengler, shot down over Vietnam during the war, and the subject of Herzog's 1997 documentary Little Dieter Needs to Fly.
For crime-and-suspense drama, see Mr. Brooks (June 1), which finds businessman Kevin Costner moonlighting as the "Thumbprint Killer." Ben Kingsley (last seen in The Sopranos turning down a role in Cleaver) turns up as a hitman in John Dahl's You Kill Me (June 27). John Cusack checks into the wrong room in the hotel-based supernatural thriller 1408 (June), and Lindsay Lohan is stalked by more than the paparazzi in I Know Who Killed Me (July 27).
Marriage, babies and family are bursting out all over summer's comedies. Guess what happens in Judd Apatow's brash new comedy Knocked Up (June 1)? License to Wed (July 4) finds The Office's John Krasinki gettin' hitched with Mandy Moore. Top chef Catherine Zeta-Jones inherits a 9-year-old (Abigail Breslin) in No Reservations (July 27). The Brothers Solomon (Aug. 31) work with a surrogate and some bio-chemistry hoping to produce an heir in Bob Odenkirk's comedy. And over in the same-sex smirking department, July 20 spotlights I Now Pronounce You Chuck & Larry, in which two macho firemen (Adam Sandler and Kevin James) get married for the benefits.
And speaking of kids ... Emma Roberts is the smartest girl on the block in this adaptation of the popular teen-sleuth series Nancy Drew (June 15). Pixar's new animated film, Ratatouille (June 29), will have the wee ones spouting a tricky French word; it's actually about a rat in a fancy restaurant. Alors! And there's hope for the whole family as more than a dozen movie stars, including Robert DeNiro, turn up in Matthew Vaughn's comic fantasy swashbuckler Stardust (Aug. 1)
Also on the horizon this season are lower-profile documentaries, and these are sure to make you feel worse, not better: June sees Sicko, Michael Moore's much-anticipated expose of the health-care industry, and Charles Ferguson's look at the ongoing Iraq war, the not-very-upbeat-sounding No End in Sight, in July.
As always, Pittsburgh Filmmakers offers a respite from summer's bombast, and never more so than with Into the Great Silence (June 8), a decidedly quiet documentary about life in a reclusive French monastery. Mafioso, opening June 15, depicts more combative Europeans; organized crime is the milieu for this dark 1962 Italian comedy. The struggles of a working-class family in Los Angeles are the subject of Charles Burnett's revived 1977 independent masterpiece Killer of Sheep (June 25).
Also at Filmmakers, a Seattle man sets for Los Angeles to meet filmmaker Werner Herzog -- on foot; Walking to Werner (July 27) tells his experience. On the slate for August: Lady Chatterley, newly adapted from the D.H. Lawrence novel, and Gypsy Caravan, a documentary that follows several Roma bands on tour in the U.S.
The warmer weather means all area drive-ins are open, and Pittsburghers can also walk in to several city parks for outdoor films: The Comcast Cinema in the Park series returns on June 6, with family faves including Charlotte's Web, Monster House and Akeelah and the Bee.
Summer is also when local venues stretch their wings and offer special presentations. The Oaks Theater in Oakmont kicks off its annual Moonlit Matinees series of cult favorites on May 26 with Alfred Hitchcock's 1963 classic The Birds.
In June, The Warhol hosts RKO Lost and Found, a series spotlighting six RKO films lost for years and now presented in new 35 mm prints. Among them, four pre-Code films, including the romantic comedy Double Harness (1933), and the medical drama A Man to Remember, unseen since its release in 1938. That's a 2008 summer film 79 years in the making -- and it doesn't even have a number in its title.