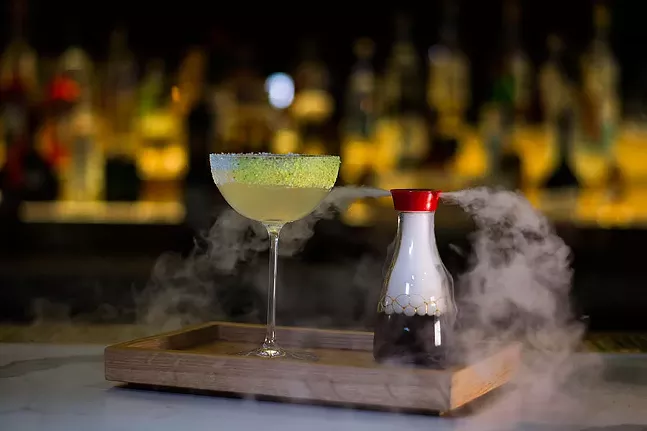 The road to opening Bridges & Bourbon was not easy.

The idea for Downtown's newest restaurant was born years before construction started. In their 20s, David Keating, founder, mixologist, and sommelier, and his original business partner, Scott Shaffer, discussed opening a restaurant. Without financial backing and experience, they parted ways, only to reconnect years later in Pittsburgh. In the Spring of 2018, the duo took their first steps towards building Bridges & Bourbon.
Keating and Shaffer purchased the space formerly occupied by Seviche on Penn Ave., planning to transform it into a modernist restaurant. They teamed up with James Beard-nominated star chef David Racicot, most recently of Poulet Bleu, to design a small plate-only menu. Surprises and setbacks — such as replacing half of the floor — delayed the opening.
This week, just over a year since they purchased the space, Bridges & Bourbon opened its doors. Keating describes the bar-first/restaurant-second eatery as a combination of "science, art, food, and beverage." It will offer a mix of modernist small plates, desserts, and drinks.
The space has been completely revamped into an elegant, intimate spot. It's modern without being pushy, with a laid-back vibe mirrored by the restaurant's affordable prices. The founders want Bridges & Bourbon to be a space for everyone, not somewhere to drop a month's paycheck.
Keating's bar looks like a gold-studded laboratory. Portholes, one-batch cocktail infusers (a drink that uses over 30 ingredients), sit next to bird-shaped custom-made glassware. He has a small army of carbonated cocktail shakers that, rather than diluting a drink with soda or sparkling wine, carbonate an entire recipe.
Keating designs and tests drinks, but also runs ideas past Racicot, who offers a different perspective. This results in something like Keating's sake sour, paired with a soy sauce fog — steam billowing straight from a sauce bottle — freeze-dried and salted edamame, and per the chef's suggestion, a fresh wasabi sugar.
Edible influence may be subtle in the sour, but in drinks like a shareable tiki-inspired drink featuring banana pudding, the partnership is tangible. Keating hints at a deconstructed absinthe, a series of bites and sips that allude to the spirit's flavor, and alcoholic cotton candy.
Bridges & Bourbon is built on an exploration of sight and taste. The duo, in a sense, is playfully tricking diners; what you see might not be what you get. Keating serves a drink out of a teapot with smoke billowing out of the spout. But instead of hot steam, it's ice cold.
Bridges & Bourbon is also Pittsburgh's first ZeroFoodprint restaurant, meaning they have implemented methods to offset the restaurant's carbon footprint. A quarter of every menu item's price is donated to a nonprofit working against climate change.
The menu will change seasonally and there are plans for Bridges & Bourbon to jump into a summer menu soon. There will be a selection of PA bourbon flights, local beers, and wine available in addition to the cocktail list.