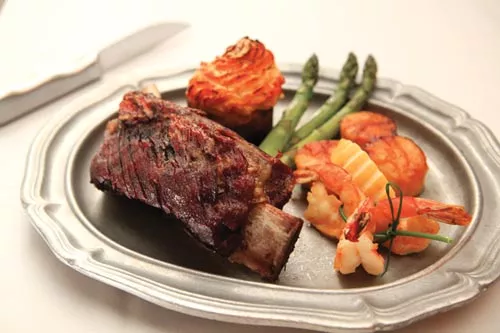 It's easy to forget that many of our named arteries -- Freeport Road, Braddock Avenue -- are holdovers from an era before street signs, when most roads were unnamed, and those that weren't tended to be called, simply, by where they took you. Thus Route 19's proper name, Washington Road, shouldn't just make you think of pretty storefronts in Mount Lebanon; it should remind you that you're heading toward Washington, the largest city in the county neighboring Allegheny.
Over time, suburban sprawl has largely erased the road's farm-to-market past. But one venerable brick farmhouse survives: a Greek Revival relic built in 1837 by William Quail, a prosperous farmer and stockbroker from County Down, in Northern Ireland. The Quail mansion's carriage house has been converted into a suite of quaint little "shoppes," while the house itself has been lovingly restored into a beautiful restaurant.
Palazzo 1837's authentic old-house architecture dictates a floorplan of numerous small dining rooms, each with a fireplace (non-working, alas), high ceilings, wood floors and gorgeous, gleaming moldings. A small back room, most likely the original kitchen, has been turned into the Tavern, an intimate watering hole that would give us an excellent excuse to take a break from rush hour, were our commutes in that direction.
As dinner guests, we perused a menu which, as the ristorante moniker suggests, has a heavy Italian accent. Mostly, the cuisine here is northern Italian, but with nods toward the risotto-loving south of Italy, as well as our own country's love of meat.
Unfortunately, we mistimed our visit and couldn't sample the Thursday special of "brontosaurus ribs" -- massive, slow-cooked beef bones that had our mouths watering even at a day's remove. Instead we started with a more traditionally Italian appetizer, fried calamari. The squid were floured, not breaded, but we still found the coating a bit heavy. Marinara sauce served alongside was authentically, astringently full of tomato flavor.
Of the distinctive salads, Jason chose the romaine wedge. If the retro vogue for a wedge of iceberg lettuce served with blue cheese and bacon is a bit played out, Palazzo's version reveals why it came back at all: Crisp but flavorful romaine provided a light base for the intense tang of gorgonzola, while a separate buttermilk dressing added zing and richness. Finally, crisped prosciutto completed the flavor profile with smoky saltiness and a bit of crunch. A Caesar salad was served, similarly, on a fan of whole Romaine leaves instead of a shredded bed of lettuce.
This sort of traditional, but carefully considered, dish proved to be a strength of Palazzo's kitchen. Farfalle rustica paired wild-boar sausage with wild mushrooms and a sherry sage cream sauce, creating a hearty dish that evoked an autumnal forest, but was perfectly refined. Housemade crepes substituted for noodles in the crepe lasagna. The switch created a more lush mouthfeel than traditional lasagna's blend of soft sauce and firmer pasta. The Bolognese on top was a trace disappointing, however, with a texture and flavor more akin to standard meat sauce than to the tender, multi-layered complexity created by Bolognese's all-day cooking.
Wild salmon arrabiatta featured perfectly rosy, pan-seared fish drizzled with a reserved amount of arrabiatta sauce, a tomato sauce heated with piquant red pepper flakes. Asiago cheese contributed nutty, creamy notes, and the mixed vegetables served alongside were colorful and tender-firm. The accompanying polenta, however, resembled a dry, crumby muffin more than the traditional moist cornmeal cake.
Jason had no complaints with his half rack of pork ribs. The sauce was sweet but with a flavor profile distinct from standard American-style barbecue; the sprig of rosemary on top hinted of herbal depth, while the meat itself was supple and succulent. The side of twice-baked potato was, charmingly, served in the potato skin, but not in the standard boat shape. Instead, it was halved and turned on end, so that Jason initially mistook it for a tall bowl.
Dessert is a must at a fine establishment such as this, and we chose buttermilk l'orange crème brûlée. The plush creaminess of the crème was set off beautifully by the addition of sweet yet citrusy orange, while buttermilk increased the dessert's dimensions still more with its characteristic hint of tang.
Despite the Meadows racetrack hovering incongruously next door, Palazzo 1837 is a gracious venue for enjoying some of the finest dining on the Washington Road.
Palazzo 1837 Ristorante
1445 Washington Road, North Strabane. 724-223-1837
Hours: Tue.-Sat. 11 a.m.-10 p.m.
Prices: Soups, salads and appetizers $5-15; entrees and pasta $15-35
Liquor: Full bar