Page's Dairy Mart
4112 E. Carson St., South Side. pagedairymart.net
Are you ready for some soft serve?
Page's Dairy Mart
returns for the season on Thu., March 9, bringing back all the ice cream treats that have delighted locals for several decades. Dates are subject to change so follow the
Page's Instagram
and other social media channels for updates.
Trace Brewing
4312 Main St., Bloomfield. tracebloomfield.com
Trace Brewing
enters its toddler years
with a two-year-anniversary bash. Happening on Sat., March 11 from 8 a.m.-11 p.m.,
the all-day event
will feature a bunch of new releases, including a limited-edition saison made in collaboration with the local urban flower farm
Sol Patch Garden
. Guests should also expect brunch from Black Sheep BBQ and lunch/dinner by Bridge City Brinery, as well as music by DJ Stealth-1.
Math will never taste as good as the deals going on during National Pi Day. Market Wagon, an online farmers market serving a 15-county region of Pennsylvania, Ohio, and West Virginia, will, on Tue., March 14, deliver sweet and savory pies from Pittsburgh bakers. Included are pies from CobblerWorld, mini pies from Primrose Farm, and hand pies from All Things Empanada.
A popular sandwich cart returns to Bloomfield this month. After being closed for the winter season, The Thyme Machine will reopen on Thu., March 16 with a whole new selection of homemade, limited-quantity breakfast sandwiches and more. Follow them on Instagram for more updates on times and menus.
The Vandal x Nine O'Clock Wines
4306 Butler St., Lawrenceville. thevandalpgh.com
Two Lawrenceville businesses,
The Vandal
restaurant, and the
Nine O'Clock Wines subscription service
, partnered to present a curated, three-course dinner. An Instagram post says the Thu., March 16 event will celebrate "a handful of beautiful natural wines by women winemakers" and feature a "coastal-inspired" menu with lots of seafood. Tickets cost $100. Reservations are limited and can be made through The Vandal's website or through OpenTable.
Whisper Nest
313 North Ave., Millvale. whispernestpgh.com
Whisper Nest has grown a reputation as a hip space combining an intimate, laid-back dive aesthetic with a commitment to vinyl. Now, a little over two years after opening, the bar will close. The owner of Whisper Nest
announced over Instagram
that April 1 will be the last day of operation. The owner also hinted to potential buyers with, "Business has been great and continues to grow, so hopefully, someone will want to buy the place and keep it something like it is today. I think there's a good opportunity here and an established loyal crowd."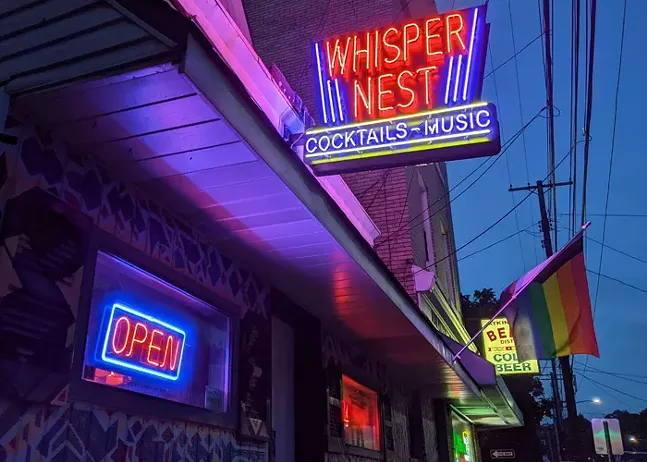 Caliente Pizza & Draft House
Multiple locations. worldsbestpizza.com
Running and pizza may seem like an unlikely combination unless you plan on carbo-loading to the max. Regardless, Caliente Pizza & Draft House was named the "Official Pizza" of The Pittsburgh Marathon. The local chain, which more recently launched locations in Acrisure Stadium and PPG Paints Arena, will celebrate the partnership with a brand-new pizza inspired by the race. The race-inspired pizza will be available at all seven Caliente locations throughout the month of May and leading up to the marathon on May 7.
Troubled youth interested in food and restaurant operations now have a resource in the newly opened Café Momentum. The nonprofit restaurant promises to "transform the lives" of young people exiting juvenile detention centers by "equipping them with life skills, education, and employment opportunities to help them achieve their full potential." The Downtown Pittsburgh location adds to a concept originally launched by CEO and founder, Chad Houser, in Dallas, Texas, and, according to the online menu, serves a variety of appetizers, entrees, salads, and sides ranging from a coffee-rubbed ribeye to buttered popcorn grits.
Piper's Pub
1828 E. Carson St., South Side. piperspub.com
The
Pittsburgh Independent reported
that, after closing indefinitely following the COVID-19 pandemic in March 2020, Piper's Pub will
operate during limited hours on Saturdays and Sundays for English Premiere League football matches. C
ans and bottles from local breweries are available (no drafts yet), as well as a "bare-bones brunch menu featuring boxtys, waffles, scotch eggs and sausage rolls."