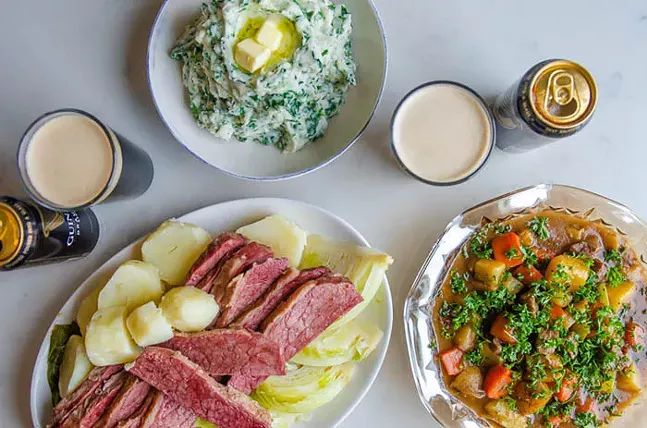 Mixtape x Soju
4907 Penn Ave., Garfield. mixtapepgh.com
Indulge, dance, and celebrate Fat Tuesday to the fullest with a party hosted by Mixtape and Soju. On Tue., Feb. 21 from 8-11 p.m., the venue and Shadyside restaurant join forces for a Vegan Mardi Gras Musical Pop-Up featuring all plant-based goodies, including deep-fried seitan po-boy sandwiches, veggie gumbo with dirty rice, and French beignets with Cookies 'n' Cream ice cream. Burn off some of those decadent, delicious calories by dancing to music by DJs Femi and Wade Anthony. Tickets are only $5 and are available on the
Mixtape website
.
Pittsburgh Winter Beerfest
1000 Fort Duquesne Blvd., Downtown. pittsburghbeerfest.com
Sample 400 local, regional, and hard-to-find craft beers from more than 130 breweries when Pittsburgh Winter Beerfest takes over the David L. Lawrence Convention Center. The weekend event, taking place from Fri., Febr. 24-Sat., Feb. 25, will also have karaoke, a silent disco, games, and more to enjoy. Proceeds from Beerfest will benefit Animal Rescue Partners and Biggies Bullies.
DiAnoia's Eatery
2549 Penn Ave., Strip District. dianoiaseatery.com
The Italian DiAnoia's Eatery goes Irish for a one-night-only event. On March 12 from 5-9 p.m., the restaurant will become Lunney's Eatery for a special St. Patrick's Day pop-up featuring a family-style dinner with corned beef and cabbage, Irish stew, potato leek soup, and, of course, Guinness. The menu also includes traditional Irish soda bread, Shepherd's pie, Colcannon mashed potatoes, and much more. Tickets are $65 per person.
Bierport
188 43rd St., Lawrenceville. bierport.com
Few things make winter as tolerable as Girl Scout cookie season. Enjoy some of your favorite flavors during the boozy Girl Scout Cookie Flight Night at Bierport. Happening March 16 at 8 p.m., the event will pair four popular types of Girl Scout cookies — Tagalongs, Samoas, Thin Mints, and Raspberry Rallys — with five-ounce pours. Tickets cost $19.99 and are
available on Eventbrite
.
Verona St. Paddy's Wagon
Multiple locations, Verona. innergroovebrewing.com
Skip a step in your raucous St. Patrick's Day adventure with a special bar crawl. Named after the police vehicle used to transport multiple offenders, the
Verona St. Paddy's Wagon
will take revelers on a trolley to various breweries in the borough. Taking place on March 17 from 6-9 p.m., the event includes stops at InnerGroove Brewing, Acclamation Brewing, and Cellar Works Brewing Co., where you can sample beer and food truck bites, and partake in a scavenger hunt. Reserve your seat now.
Azorean Cafe
4715 Liberty Ave., Bloomfield. azoreancafe.com
The Bloomfield business district along Liberty Avenue will possibly lose another restaurant.
WPXI reported
that Azorean Cafe
—
described in
a 2019 Pittsburgh City Paper review
as specializing in the "peasant-based" cooking style of the Azores, an archipelago just off the coast of Portugal
—
has gone up for sale. According to WPXI, owner Chef Elsa Santos is "relocating out of state and is looking for a buyer to either continue operating the cafe or utilize the space for a new venture."
Kennywood
4800 Kennywood Blvd., West Mifflin. kennywood.com
Kennywood announced that, as part of its upcoming 125-year anniversary celebration season, park guests can look forward to a fully renovated Pizza Warehouse restaurant. According to a release, the "popular park pizza parlor," which originally debuted in 1979, is undergoing a complete makeover that will give it a "flashy brick façade" and "refreshed interior." There will also be new tables on the patio, as well as a new menu, a "unique photo location," a "revamped ordering process," and new landscaping.