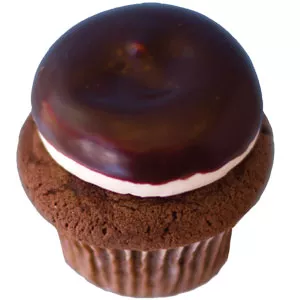 Love the idea of mixing liquor with dessert, but tired of alcohol-laced milkshakes? Now you have an alternative: Dozen Bakeshop's cocktail cupcakes.
After a temporary hiatus, Dozen Bakeshop re-opened its Lawrenceville and Oakland storefronts in September, under the new ownership of Doreen Valentine. As Valentine began reworking the menu, she realized she had a hidden gem -- cocktail cupcakes -- that needed a little more promotion.
The cupcakes were popular, but "They just weren't [available] daily," she says. "So I decided to rearrange the schedule so they are available every day." Valentine consulted with head baker Lindsey Headley, and now there is a cocktail cupcake on the menu every day except Sunday.
With the exception of the East End Stout (the locally-brewed beer is mixed into the malty batter), each cocktail cupcake is topped with alcohol-laced buttercream frosting. While Headley says she wanted to ensure the flavor of alcohol isn't overwhelming, she adds, "You want to taste it."
Some cupcakes are more successful than others at achieving the balance. The Jack and Coke tastes exactly like … a Jack and Coke. The Lemon Drop cupcake, meanwhile, actually highlights vodka even better than its sticky-sweet namesake shot. Other recipes, however, are still in need of refinement; the margarita cupcake, for example, lacks even a hint of tequila.
Valentine and Headley plan to rotate flavors seasonally, and special holiday "cocktails" are also in the works. You can expect an eggnog cupcake during the upcoming holidays, for example.
The cocktail cupcakes retail for the same price ($2.50) as Dozen's other flavors. But as with any good bar, there is a happy hour. Every day from 4-6 p.m., the price is reduced to $2.
Don't expect to get drunk on Dozen's cupcakes: The alcohol content is minimal. But while there are no legal restrictions placed on sales, the staff still won't sell them to kids.
"All the little girls wanted the pink [Cosmopolitan] cupcakes," Valentine says, "and I had to tell them they couldn't have it."