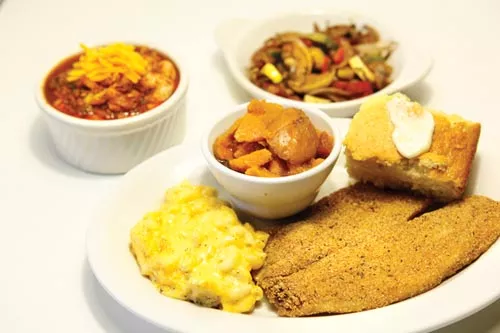 To walk into Carmi's Family Restaurant is to journey through layers of time -- not directly through a tunnel, as a sci-fi time-travel machine might drop you into an earlier epoch, but through eras nested one within the other, like a chronological Russian doll.
Carmi's is within the Allegheny West Historic District, a Victorian neighborhood whose brick sidewalks and gingerbread front porches paint a picture of life in the late 19th century. Carmi's building is a more recent intrusion into this streetscape, its faux half-timbering a sort of mid-century modern take on a medieval village tavern. If that doesn't give you temporal whiplash, wait till you step inside. There, it's back to the future -- or rather the kind-of-recent past, with décor that can be dated practically to the minute: We both guessed 1983.
But at the center of it all is timeless, classic soul food, served by chef Michael King without au courant updates or unnecessary artisanal flourishes. King has leveraged his catering business into a friendly neighborhood restaurant with an emphasis on traditional ingredients and preparations from the American South. We went for dinner, but Carmi's is open every day for breakfast too, because there's just no bad time of day for Belgian waffles and grits. (Wait, make ours cheese grits!)
Waffles and chicken, then, was a logical start to our meal. We've never understood the origin of this classic comfort-food combination. It certainly baffled our kids, who've been raised to identify waffles with syrup, fruit and quite possibly whipped cream. But when the waffles are so flavorful that even a toddler will devour them without these embellishments, you know you've hit on something good. The fried chicken was terrific, too, with a thick, heavily seasoned crust that provided plenty of crunch while keeping the meat within hot and juicy.
"Seasoned" hardly begins to describe the chicken-and-dumplings soup. When Jason makes chicken and dumplings, he uses a mild Pennsylvania Dutch recipe. Not so chef King, whose broth was fiery with pepper and filled with egg noodles as well as a dense, bready dumpling at the bottom of the bowl. The dumpling would have been too dense in a more delicate soup, but here, it was welcome ballast against the heat. Plenty of chicken and diced vegetables filled out the bowl.
Not everything at Carmi's was so robustly flavored. Angelique acted on an uncharacteristic craving for meatloaf, but at the sight of two thin slices of smooth, featureless loaf, she remembered why she rarely orders it out. Diner meatloaf is all too often densely packed, yet lacking in the flavor dimension that could be delivered by cooked onions or other not-so-secret ingredients. Carmi's meatloaf was respectable, with detectable bits of onion and finely diced carrot in the mix, but it lacked any real character or verve. Macaroni-and-cheese lived up to its pre-hipster-revival reputation as a bland noodle casserole, and the shredded cheese was not fully melted, though we give Carmi's props for using real cheese. Greens, studded with bits of smoked meat and served in a spicy, savory broth, were the most satisfying part of Angelique's meal.
Jason went with the spare-rib dinner ("grilled fresh daily -- when they're gone, they're gone"), two large bones plus two small ones from the end of the rack. We're not fans of thick, sweet barbecue sauce, but Carmi's sauce avoided being too cloying, and the smokiness of the meat, especially some of the near-charred edges, came through. The meat fell from the bones without being mushy, achieving a textural sweet spot that too few restaurants can hit. "Lumpy" mashed potatoes were actually plenty smooth, and delicious with gravy, but Jason's other side, red beans and rice, was the nadir of our meal. Red beans and rice is supposed to be a glorious combination of protein and starch, a Cajun meal in a pot, but Carmi's consisted of overly sticky rice studded with a few unseasoned beans that appeared to have been introduced at a surprisingly late juncture.
Our faith was restored by Carmi's shrimp and grits. This outstanding dish paired shrimp sautéed in spicy butter with cheddar-cheese grits, forming a rich, creamy slurry studded with sweet bites of meaty shrimp and colored red with cayenne. Its cornbread accompaniment did provoke one question, however: Why is it that, even in Southern-style restaurants, you can only get sweet, Northern-style cornbread? Traditional Southern cornbread, the kind that comes out of an iron skillet greased with bacon fat, is barely sweet at all, while cakey Northern cornbread could almost be dessert.
We think chef King's strengths lie in his most confidently seasoned (as opposed to spicy) dishes, which reminded us why regional Southern cooking is more widely loved than, say, boiled food from New England. But Carmi's offers Southern food for all tastes on the North Side.
Carmi's
917 Western Ave., North Side. 412-231-0100
Hours: Tue.-Sat. 7 a.m.-8 p.m.; Sun. 7 a.m.-3 p.m.
Prices: Soup, salad and sandwiches $4-9; entrees $10-15
Liquor: BYOB