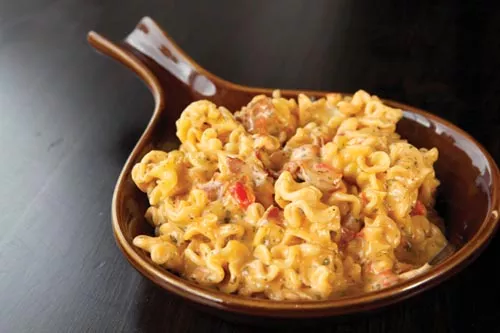 The local group B2 Restaurants has largely flown under the radar. Its portfolio began with Buffalo Blues (hence "B2"), an early arrival on what has become the trendiest, tastiest block of South Highland Avenue, and the Elbow Room, on Ellsworth Avenue. The Elbow Room was a neighborhood place that seemed more in tune with Shadyside's old guard of well-coiffed matrons and madras-clad weekend golfers than with the patrons of the gay bars that formed an increasingly large contingent of its neighbors. A few years back, B2 added Bites and Brews next door to the Elbow Room, offering a simple, successful menu of pizzas, sandwiches and beers.
Now, B2 is kicking it up a notch. It has relocated the Elbow Room to the former Max and Erma's spot on Walnut Street (you may not even have known there was one, it being up on a second floor). In newly freed-up space, B2 has expanded Bites and Brews into one of the Elbow Room's old dining rooms and created a new restaurant, called the 1947 Tavern (after the Room's founding date) in the other.
The Tavern's old-fashioned neon sign, elegantly understated interior and extensive bourbon selection suggest a retro theme, but the menu is refreshingly original. On the face of it, it's traditional: sandwiches, salads and mac-and-cheese, which has lately made a mysterious leap from bland, boring casserole of yesteryear to trendy, tarted-up hipster hot dish. Accordingly, the Tavern's macaroni is from the excellent local pasta-maker Fede, and it's offered with veggies, short rib or bacon. In a similar vein, the sandwiches are built around beef, ham, turkey and pork that are roasted in-house, thus combining two au courant foodie fashions -- artisanal preparations and comfort food -- in a single move. This deft updating of the Elbow Room's old reliance on comfort food was impressive.
As was the variety on the menu itself. Smoked kielbasa! Talleggio cheese on raisin bread with apricot-caper purée and tomato confit! Tavern fries with homemade pimento cheese and barbecue pork! All were sorely tempting, but we chose to explore variety in miniature with the Tavern's minis, like sliders made with cold cuts instead of burgers. Three small sandwiches were served on knot rolls (like all the Tavern's breads, from Allegro Hearth in Squirrel Hill) and filled, respectively, with beef, onions and horseradish; turkey, bacon and red peppers; and pork, Asian slaw and barbecue sauce.
Slaw and barbecue is a classic combination, and we especially liked how the almost-spicy slaw played against the slightly sweet sauce; the shreds of pork were suitably meaty and moist. Given the size of the roll, the beef sandwich could have used a bit more horseradish, but the meat was beautifully rosy. Smoky bacon and sweet peppers played up turkey's mild flavor.
We also wanted to sample those house-roasted meats naked, as it were, so we ordered the charcuterie plate, which included thin-sliced meats, pickled red onions, horseradish, mustard and baguette for make-your-own sandwich forays. Tasted on their own, the meats were good, but not revelatory. Perhaps the thinness of the slices masked that homemade hearty savor that makes turkey taste best the lunch after Thanksgiving, or that makes Easter Monday the best day of the year to brown-bag a ham sandwich. Thin slices are great for tenderness and for enveloping the taste buds with flavor, but to us, these cuts lived up to top-notch deli expectations, not to the visions of juicy carved roasts that danced in our heads.
But the mac-and-cheese! It exceeded every expectation we had, and then some. We tried the mac and bacon, made with the Tavern's homemade pimiento cheese instead of the traditional combo of aged Vermont cheddar and béchamel featured in the straight-up, veggie and short-rib versions. The pimiento cheese coated each noodle with a beautiful balance of sweet cream, vegetal bell pepper and sharp cheese cultures for a grown-up flavor that justified mac-and-cheese's rediscovery by the sophisticated set. Crunchy, salty-smoky bacon gave it texture and extra savory notes.
Finally, we tried a full-size French dip sandwich. This preparation is a natural for any place that roasts its own beef, and the Tavern's was quite good. In particular, the jus, all too often just something salty out of a can, stood out for effortless depth of beefy flavor. It's not on the menu, but we do suggest following Jason's lead and adding some of the pickled onions from the charcuterie plate -- their tang added another delicious dimension.
Speaking of dimensions, it's worth mentioning that 1947 is not about belly-busting portions. There's plenty of food -- it's not nouvelle cuisine -- but it's served with restraint; the French dip, for example, was closer to a "half size" hoagie than to a whole.
We applaud B2 for applying some original thinking to a well-worn restaurant category. 1947 Tavern gave us a sophisticated take on simple, satisfying food.
1947 Tavern
5744 Ellsworth Ave., Shadyside. 412-363-1947
Hours: Tue.-Sat. 4-11 p.m.
Prices: $8-14
Liquor: Full bar