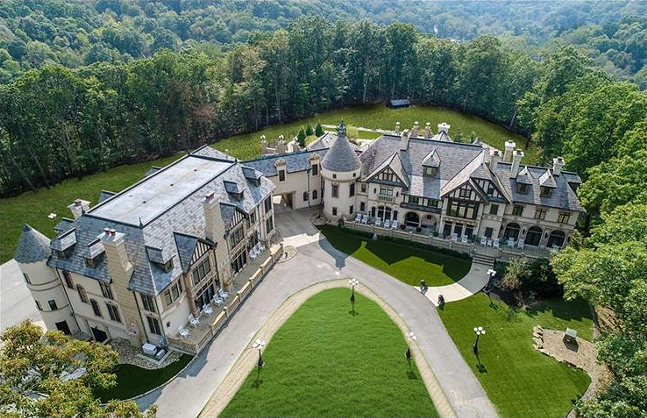 What do you do when you have too much money? In the case of Pittsburgh television and music personality T.J. Lubinsky you build the largest, most preposterously gaudy mansion ever.
Is there a weird pool? More bathrooms and bedrooms than any one family will ever use? Giant, gold-framed portraits of dead people? Check, check, and check.
And guess what – it's for sale. If you happen to have $3.5 million lying around, you could be the proud owner of Southwestern Pennsylvania's own
Queen of Versailles
house.
The
Berkshire Hathaway website
touts this as a "Private Gated Estate" located in Gibsonia on 6.8 acres of land. That cool $3.5 mil will buy you what is technically two connected residences — a Manor House with 12,969-square-feet of living space and a "Castle" with 10,278-square-feet for, you know, other stuff. It's also listed as a single-family home which, lol, okay.
The real estate agent's description reads, "I applaud the incredible vision which created this modern depiction & recreation of the lifestyle of the 17th century in England & France; it is far beyond my ability to describe." Indeed, because what can you really say about a place modeled after the mansion from the 1960s vampire soap opera
Dark Shadows
, and that features a replica of Bruce Wayne's study from the original
Batman
TV show that, according to a
TribLive article
, comes complete with a "sliding bookcase and Batpoles." No words would do justice to such class and luxury.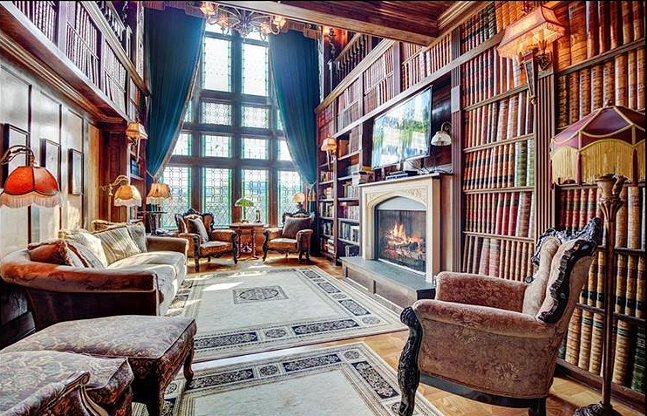 If you're worried that this estate isn't Pittsburgh enough, I'm sure a two-story, on-site replica of the Heinz Chapel and what appears to be a
Pirates-branded gym
will assuage your fears. (
Update: Lubinsky reached out to let the CP know the Pirates-branded gym is a virtual mock-up and not actually the current design
.)
What's most confounding is how Lubinsky managed to live out his extravagant nerd dreams on a PBS salary. He was the former director of on-air fundraising and production at WQED and did similar work for the WXEL PBS station in Florida. He also served as the DJ and on-air personality for the Pittsburgh oldies station, 104.7 The Beat, and 100.1 WJRZ in New Jersey, among others.
A quick bit of research revealed that in 1942, Lubinsky's grandfather founded Savoy Records, a New Jersey-based music label that would go on to have a huge influence on doo-wop music. Following in his family's footsteps, Lubinsky has produced tons of television programming about the history of doo-wop and other genres.
According to Wikipedia, he was also instrumental in bringing several episodes of the long-running British sci-fi show
Doctor Who
to the U.S., because of course he did.
But who among us has not dreamed of the absurd things we'd do with our doo-wop wealth? Personally, I would have recreated the set of an old Meat Loaf music video, complete with a motorcycle careening through a wall whenever I decided to act out the entirety of "I Would Do Anything For Love (But I Won't Do That)." (If you're wondering, yes, I would 100 percent be Meat Loaf in that scenario.)
So in conclusion, please contribute to my $3.5 million GoFundMe campaign to transform this tribute to Baroque Batman elegance into a Meat Loaf cosplay studio.