Editor's note: As 2019 comes to an end, I've asked
Pittsburgh City Paper'
s editorial staff to select their five favorite stories from this year. Relive staff writer Jordan Snowden's 2019 highlights below. — Lisa Cunningham
---
The Music Issue // June 19, 2019

Man, oh man, did I get a lot of slack for this issue.
"What are they wearing?"
"Women in Pittsburgh don't look like this!"
"They need to put more clothes."
People were so enamored with, so distracted by, the cover (a cover that my friends and I, who regularly attend shows, posed for) that they missed the great coverage on the inside. I didn't expect for five women, who were showing a little leg, to cause such a ruckus. And it hurt.
The Music Issue was my baby. Besides posing for the cover, I curated each story, I edited them, I wrote the intro, I wrote the feature story, and I hand-picked a diverse selection of additions and changes in the Pittsburgh music scene — a scene that is
thriving
. The
CP
staff covered things like unconventional music venues in the city and how local promoters are adjusting to the boom in the concert industry yet, it was lost in the male-gaze and traditional views of how women should present themselves.
But
The Music Issue
is something I'm extremely proud of. I hadn't even been at the paper a year at the point that this came out. And I will continue to stand behind it.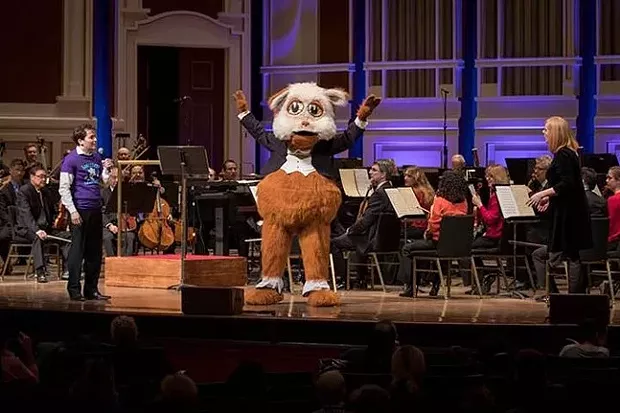 Q&A with Fiddlesticks // Oct. 16, 2019

It's not often you get to interview a
mascot
musical cat. This Q&A is one of my favorites because it's just pure fun — a healthy dose of positive content.
I had a blast coming up with questions to ask and Fiddlesticks gave amusing and engaging answers (I'm also 99.9% sure it's the first and only Fiddlestick interview out there). Like, did you know Fiddlestick lives in Heinz Hall? And his favorite food is macaroni and cheese? The editorial team was saying '
Fiddlesticks
' for days.
INEZ releases her debut album // Dec. 18, 2019

I never felt an emotional attachment to a story until this one. I finished the story almost a week before the paper came out, and I had butterflies in my stomach every day leading up to its release.
I was excited to share INEZ's journey, one that was riddled with loss and hardship yet resulted in a beautiful album about her process of maturing. But it wasn't just about her, it was about the strong Black women in her life that lifted her up when she was down. (This is a recurring theme in INEZ's life and the Pittsburgh music scene, which I
wrote about
earlier in the year.)
So I was excited, but also scared.
Did I give her story justice? Would others love it as much as I did? Am I doing my part to uplift the Black community?
I ran into local musician Clara Kent at an event a few weeks before. She thanked me for my support of the music scene and for helping give a voice to Black creatives that would otherwise be overlooked. "You don't know the impact you've had already," she said. "But remember, you don't need to do it all. You can't carry everyone on your back." Yet, I still constantly feel like I can do more. This story helped me believe in Clara's words. The love and support
INEZ
received was overwhelming.
I'm doing the best I can, with my words, and people are noticing.


Pittsburgh craft beer scene pairs well with local musicians // Oct. 9, 2019
&
A chat with Mumford & Sons' Winston Marshall
// March 13, 2019
This is a two-for-one pick (sorry Lisa), because — keeping in the same vein of learning about myself — these two articles both helped me grow as a writer.
The
beer piece
allowed me to realize I can try longer, newsier stories — it's my longest story to date. I mulled over all the information I gathered for hours, stressed and overwhelmed, wanting to throw in the towel every second of the way. But I f*cking finished it, and it was the cover story for the Oct. 9 issue.
For the
Mumford & Sons interview
, I barely got any sleep the night before. Me, a little writer from an alt-weekly, was interviewing a member of an internationally recognized band. But then as soon as I heard Winston Marshall's voice on the phone, the knot of nerves I had melted away. He was friendly and easygoing, and it didn't seem like an inconvenience to be talking to me. It gave me the confidence and reassurance that I could interview anyone.
Tipsy on kombucha, not bad // Feb. 6, 2019

I got drunk at work via one of my favorite beverages and then proceeded to not-soberly write it at my desk. 'Nuff said.