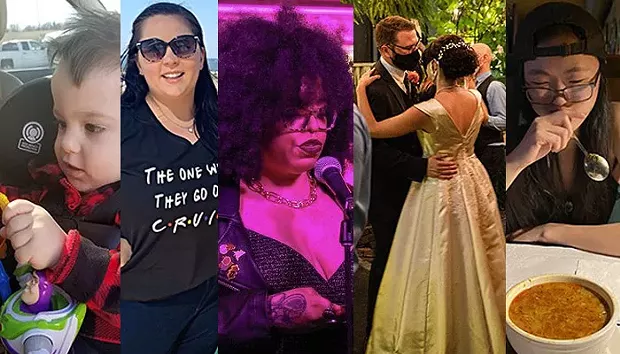 It was a year ago this week when the pandemic reached Pittsburgh, and everything began to get canceled. Like so many others on social media sharing memories of their "lasts" throughout the week,
Pittsburgh City Paper
staff members also found ourselves sharing stories on our office Slack about the last time we saw a movie in a theater, the last time we saw a concert, the last time we saw a friend IRL. And instead of just keeping them to ourselves, we thought we'd share our stories with you, which you can read below. Do you have a story of your own you'd like to share? Email it over to
info@pghcitypaper.com
. If we get enough submissions, we'll throw up another post next week and share some of our favorites!
Unmasked

by Hannah Lynn, staff writer

Last year, right before lockdown, I was taking a weekly fermentation class at the Irma Freeman Center for Imagination run by Ferment Pittsburgh. The first week, we learned to make fermented squash and and beets. We were sent home with jars to let sit for several days, or a few weeks, until they were done. The second week, we made kimchi. Everyone in the class was aware of the virus, and we all lined up to wash our hands, but no one had masks. When I walked home with my jar of kimchi I thought, "I don't know if I'll feel comfortable going to the class next week." And then when I got home, I learned that Tom Hanks had coronavirus at the exact same second that Sarah Palin was revealed to be a contestant on the
Masked Singer
. Weeks later, I opened the jars and was grateful I had them.
Toy Story

by Jasmine Hughes, advertising director

The "shutdown" seems so long ago that I literally had to stop and say, "What was going on in my life sans-pandemic?" Then it hit me. That's right, I just spent the last year of my life in the
Toy Story
COVID bubble. You see, that Sunday, we had just made a trip to the toy aisle to buy our son his first action figures. These weren't just any action figures, though; these were Woody and Buzz Lightyear! Jackson, my son, had just watched
Toy Story 4
and was obsessed with everything in the franchise. We were excited to be able to buy him his first toy that, in reality, he ever wanted. At only one and a half, most of the toys he had were just given strictly for development purposes. When buying those action figures and watching him play with them, we started talking about all the fun we would have that year taking him to the movies, Gateway Clipper character cruises, Disney on Ice, etc. Dreamers, I guess. Honestly, I am glad we had Woody and Buzz because working from home with a toddler during a pandemic was hard enough, and Buzz Lightyear got me through a lot of tough times.
Last Call

by Abbie Adams, art director

A small group of friends came over to answer the question, "What is the best shitty beer?" I labeled sets of Dixie cups with numbers and each person's name. We blind taste-tested, took notes, and reviewed our findings, each round getting fuzzier and louder than the last. Corona Light won.
As we drank, people shared stories of their past few days in the changing world. I imagine we talked about what might happen in the next two weeks. Maybe it was because of the pour after pour of beer, but that night is a warmly-lit memory. It would be the last time we shared our dining room table with friends, and I wish I would have known to hug them extra hard at the end of the night.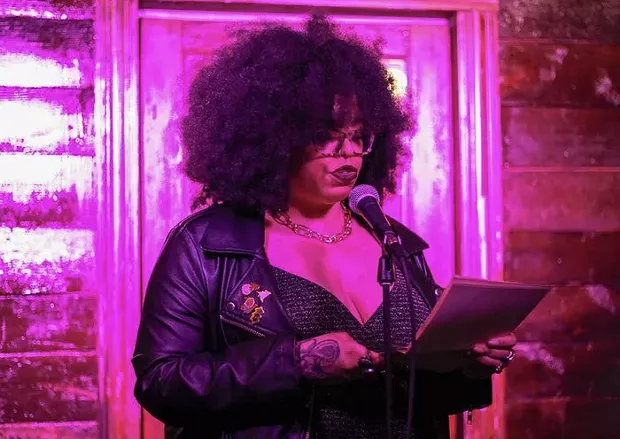 Till the World Ends

by Dani Janae, staff writer

One of the last things I did before COVID hit was perform some of my poems for Locals Only at Thunderbird. The show was organized by local drag and video artist Gia Fagnelli. Locals Only is a show that is curated to feature primarily Pittsburgh artists and creatives. Normally, I would perform a couple times a month, then take a couple months off to regroup, and I had a few more appearances lined up that got canceled or moved online. That night, I got the pleasure of meeting and seeing the artist Moody Ting perform on sax. When she opened playing Britney Spears, I knew I was in for a great night.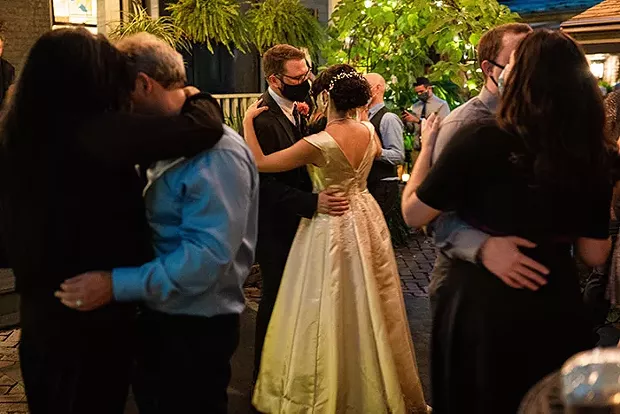 Here Comes the Groom

by Zack Durkin, advertising representative

Right before closures started to affect the world, my fiancé and I had just put down the final deposit on our wedding for May. Luckily, we were already planning a small intimate event. But when it was clear that restrictions were going to go far beyond the two-week period we had all originally anticipated, we knew we had to reschedule. We also knew we did not want to wait much longer, and since our venue was outside, we found a date that fell right in September. Our small group of guests came fashioned in masks, showered us in socially-distanced love, and gave us a hell of a party to remember before we shut ourselves back up for the rest of the pandemic.
Staying Paws-itive

by Amanda Waltz, senior staff writer

After we adopted our dog Villanelle in January 2020, my husband was so excited to take her out to a brewery. On the first warm day in mid-March, we took her to Grist House in Millvale. The place was packed. She was very nervous and shaky, but we wanted to socialize her with other dogs and people. One angelic dog whisperer pet her while she talked about her own rescue's struggles with anxiety. Not long after this, the shutdown happened, so Villanelle's socialization was put on hold. Instead, she has spent the last year bonding with us, aka sleeping on the couch for hours and begging for bites of food (she especially likes apples and carrots). Getting to know her and seeing her true personality come out has made this pandemic more bearable.
Don't Go, Bucs

by Owen Gabbey, advertising representative

Leading up to COVID, my main stresser was telling Pirates season ticket holders that there was nothing to worry about and that baseball games wouldn't be getting canceled. That aged poorly.
Other than that, about a week before the pandemic hit, I went to a Cleveland Cavaliers game with a bunch of friends. We somewhat strangely took a bus trip there with a bunch of college students (my friend had an in with a professor who was leading a group trip there; I don't know, still kind of confused on the details there). So my experience was public transportation, overcrowded restrooms, and arguing with a stadium employee who claimed I didn't pay for my chicken tenders. How much I'd give right now to be arguing with a stadium employee that claimed I didn't pay for my chicken tenders.
Up Hill Battles

by Kimberly Rooney, staff writer

The last weeks before quarantine were weeks of dissonance. I was starting a new job — my first full-time job after graduating — in a field relating to my undergraduate degrees, but I was letting go of the hundreds of hours I'd put into improving my milk aerating and latte art skills as a barista. I was meeting new coworkers and reconnecting with college friends, but I was trying to keep space for the friends I'd met through the coffee shop.
I was refuting every person I met who spread COVID-related conspiracy theories about China or repeated racist stereotypes, and I was walking without my headphones on as anti-Chinese attacks began. I was relearning how to ride a bike and even made it to the top of the Shady Avenue hill without shifting to a lower gear. I was checking my hometown on Johns Hopkins' COVID-19 map every day because there was no other way I could check on my birth parents' health. I was cherishing a last night out at the Cage with a friend because my life was changing, and I knew it would take a while to adjust.
Spring Brake

by Kaycee Orwig, photo intern

For me, the world started shutting down a year ago this week, when Pitt announced our move to online learning and the Pittsburgh Marathon announced its cancellation. It felt bizarre, as a less than a week prior I was in the Peterson Events Center photographing sweaty college wrestlers tussle on wrestling mats. Not a mask was in sight, but sure enough a week later, my spring break would turn into a half semester of virtual learning, and all of my college friends would move back to their respective homes. We didn't know what we were doing, and our professors sure as hell didn't, either. As an extrovert in a pandemic, the first month or two were rough, but I was lucky. I had a place to go home to, and a big family to support me. This past year, as crazy as it was, has been alright to me and has taught me a lot.
✖
i
All Aboard

by Nicki Mulvihill, advertising representative

The last thing I did before the world shut down was travel out of the country, which seems crazy to say now. A friend and I had booked a spontaneous 3-day cruise to the Bahamas (we had some extra vacation days and an itch to travel, so why not, right?) about a month prior to the shutdown, and the cruise itself sailed just over a week before things started to get canceled. To this day, I'm still shocked at how normal it all was: no masks, no temperature checks, and social distancing wasn't even a term in our vocabulary yet. I cringe now when I think about being jam-packed on a plane and on a cruise ship, unmasked, with thousands of people just days before lockdown. In hindsight, I'm glad I was able to go and enjoy tropical paradise for a few days before being stuck at home for a year.
Empty Court

by Jared Wickerham, staff photographer

At the end of February, beginning of March, I was photographing a couple of tennis tournaments that I've worked for over the last six years. The Oracle Challenger Series was wrapping up on a Sunday as the word about COVID-19 circulated, and the BNP Paribas Open was set to start the next day. Ball kids were given gloves to wear, and hundreds of hand sanitizer stations were ordered for the larger tournament when the first case was discovered in Orange County. The OCS tournament finished around 3 p.m. on Sun., March 8. A few hours later, it was confirmed that the BNP Paribas Open would be canceled due to COVID-19, not yet declared a pandemic. That tennis tournament ended up being the first major North American sporting event to cancel amidst growing coronavirus cases.
Intermission

by Lisa Cunningham, editor in chief

I had an unusually busy week a year ago, which in retrospect, feels like somehow I knew something was coming which pushed my normally shy and workaholic self out of the house and office to do so many things at once. And looking back at my Facebook memories, I'm grateful now to have those photos to remind me. On March 8, I went out to eat at Shaka in Federal Galley and then saw Prime Stage Theatre's play
The Outsiders
at the New Hazlett Theater with Barratou, my oldest and dearest Pittsburgh friend. (This is also the last time I've seen a friend outside of work since the pandemic began because I'm still going into the office at least several times a week and taking every precaution I can to stay safe. An entire
year
since I've last hung out with a friend!)
On the following day, I was thrilled to get to see the inspirational "Me Too" activist Tarana Burke in person at the August Wilson African American Cultural Center, a talk moderated by Pittsburgh's own brilliant Deesha Philyaw. But it was on March 10 while watching the musical
The Band's Visit
at The Benedum Center that I knew things were about to change. Even though the play was a delight, I can still remember being painfully aware of every single audience members' cough that occurred in the crowded theater during the show. Two days after I published
my review
on our site, PNC Broadway was forced to cancel the rest of the performances because of the pandemic, and the Benedum Center sadly hasn't been able to reopen since. Fingers crossed, I'll get back there soon.