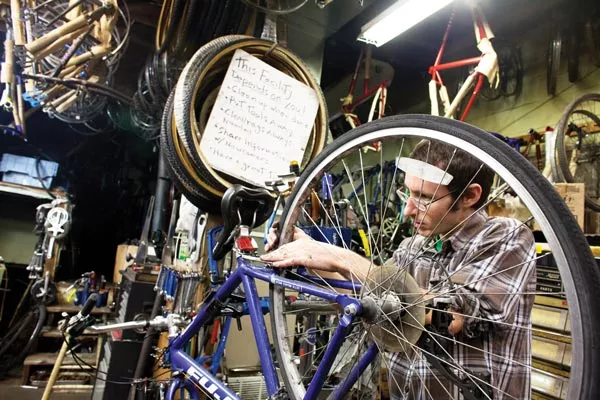 Kraynick's Bike Shop 5003 Penn Ave
Garfield
412-361-0888
Two signs bookend the front and back of Kraynick's Bike Shop, in Garfield. Hanging over the front counter is a laminated quote about the power of a positive attitude — something owner Jerry Kraynick calls "required reading." In the back workroom, meanwhile, a cardboard sign declares, "This facility depends on you." Underneath is a list of instructions: Clean up after yourself, put the tools away, and "have a great time."
So it is at Kraynick's, a sort of interactive bike shop where Kraynick will fix your bike or teach you to fix it yourself for free. It's become an institution in the city's bike scene, the kind of place where if you spend enough time, you'll likely walk out with something more than a fixed-up ride.
"You'll see college kids, a homeless person and an M.D.," Kraynick says. "The only reason they're back there at the same time is the bicycle. It works very well that they're all interacting together."
Kraynick learned bike repair from his father, and bought the Garfield building 36 years ago. He has his own work station in the middle of the store, which is cluttered with wheels and rims, tubes and tires, and what Kraynick estimates are a "few thousand" drawers containing derailleur bolts and screws and miscellaneous parts.
Patrons often just wheel their bike through the front door, nodding to Kraynick on their way to the back room, where they have access to bike stands and tools. Volunteer mechanics pop in and out, and customers have access to the parts, paying Kraynick for what they use. "It's an honor system," Kraynick says.
"Your riding is enhanced because if something goes wrong, you know you can handle it," he adds. And the shop "is self-perpetuating. I try to get people to help each other so I can come in and turn the lights on."
"People offer us money and we don't take it," says longtime volunteer John Napolitano. "We say, 'Take what we've shown you and show it the next person.' It's a contradictory business model."
Because Kraynick owns the building himself and is its sole employee, the overhead is low — which is why he believes the part-business/part-community-bike-school model works. He makes the money from parts, which he sells used and new. When he needs services, Kraynick tries bartering as a means of keeping costs down and ensuring the store remains accessible to everyone. Napolitano, for example, fixed the building's roof — and Kraynick even bartered for anesthesia when he needed hernia surgery. Around Christmas, he and his volunteers repair and rebuild used bikes to donate for kids.
Kraynick isn't sure how long he'll stay at the helm of his shop, but he's not ready to leave just yet.
"I say, 'One day I want to retire,'" he says. "'But I can't do it until everyone knows how to change a flat.'"