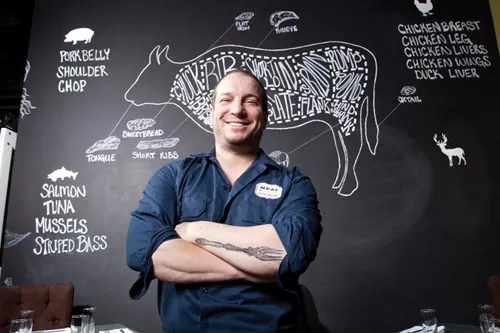 Meat & Potatoes
649 Penn Ave., Downtown
412-325-7007 or www.meatandpotatoespgh.com
As its name suggests, chef Richard DeShantz's Downtown restaurant is a tribute to simplicity — and to the things that stay the same, even as dining habits continue to change.
"I really wanted a neighborhood place," says DeShantz, who also owns the upscale Nine on Nine restaurant, located a few blocks away. "I wanted to reach out to the community with simple food done by a chef."
DeShantz opened Meat & Potatoes in July 2011, and he's already expanding the restaurant's dining room. He currently offers dinner nightly, and brunch on the weekends.
The restaurant's name, he says, reflects the kind of comfortable meal Pittsburghers can relate to, and a simplicity that chefs can embrace.
Make no mistake: The restaurant showcases meat. The dinner menu includes a variety of selections designed to appeal to carnivores: ribeye steak; a bone-marrow appetizer; ribs; tacos with smoked brisket and pepper-jack apple slaw; and the "three little pigs" sandwich with pork Milanese, ham, bacon, Swiss cheese and a fried farm egg. The walls are adorned with various steers' heads, plus a chalkboard drawing displaying the outline of a cow and various cuts used by the restaurant.
But there's plenty for the non-red-meat eater as well, including dishes like pumpkin ravioli, a porcini-crusted monkfish and risotto with lobster. In any case, DeShantz says, Meat & Potatoes is as much about the overall vibe as it is about the food.
"I wanted a fun place. It's a little loud, it's a little crowded," he says. But DeShantz's restaurant is just as appropriate for an older couple after a theater show as it is to a cadre of young professionals at happy hour. The bar offerings include absinthe and drinks classified as pre-and-post Prohibition.
"If you want to belly up to the bar, have an $11 burger and get a Pabst Blue Ribbon, you can do that," DeShantz says. "But if you want to sit in the cafe and have paté, you can do that too."
The bar sits in the center of the room, and you'll find no tablecloths here — only tables of exposed wood and marble. The lack of pretension extends throughout: Mason jars are deployed as candle holders, vehicles for desserts and more. DeShantz designed, and built, most everything himself. The DIY mentality informs his approach to the food and drink, too: He ages his own whiskey; makes syrups, bitters and mixers for the bar; smokes his own meats; and even makes his own bacon.
DeShantz notes that Pittsburghers are becoming "more passionate about food" as tastes and the city's culinary landscape changes. But while keeping pace with those shifts, he also stays grounded by showcasing simple ingredients whenever he can.
"Food is evolving," he says. "But simplicity is going to stand the test of time."