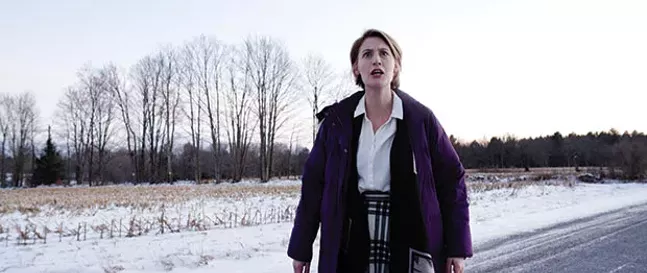 A story as old as time: You accidentally shoot and kill your best friend with an antique revolver, so you move to rural Ohio with your boyfriend to take a teaching job, where the dead, still-blood-covered best friend comes back in ghost form to haunt and help you, while dipping his toes in the local theater scene.
That's the storyline at the heart of [Blank] My Life: Goodbye New York, Hello Hell, a surreal comedy webseries created by Carnegie Mellon alum and Pittsburgh-area actor Alex Spieth.
This is technically the third season of the show, though if you're familiar with the first two outings of BML, you'll notice a distinct change in the latest one. What started as a collection of vignettes, tracing the life of a twentysomething New Yorker dealing with some very twentysomething New Yorkerish issues, is now something far more fleshed-out and chronological.
The pivot, says Spieth, was due to a rough breakup, but also an overall desire to bring BML out of the lowly world of "webseries" and into something that could be taken a little more seriously. She now prefers the term "series."
"If you talk about making a short film, there seems to be more reverence, and even a 'pilot' is better," Spieth wrote in an email to City Paper. "Even though the quality and viewership may be on par, the term 'webseries' is hip and flimsy."
So "series" it is.
Aside from Spieth's Pittsburgh connection, previous seasons have leaned heavily on local talent, including Fuller House's Adam Hagenbuch (CMU '13), Pittsburgh mainstays Randy Kovitz and Laurie Klatscher, and CMU professor Gregory Lehane.
Goodbye New York, Hello Hell — shot in Pittsburgh in January 2018 and due out this fall — may sound like it travels at least some well-trodden material (leaving New York, grief, small towns, zombie BFFs). But if the previous seasons are any indication, the writing, acting and production will lift the material into something novel. Dark, surreal comedy is not rare these days, but based on the trailer (small sample size, granted), this outing of BML looks like it'll strike a nice balance of serious and silly, dipping into absurdity while keeping its feet on the ground.
"Consciously, I was writing to give the [cast and crew] the most opportunity for fun, and subconsciously, I was writing about heartbreak," Spieth wrote to CP. "All of a sudden (in 10 days), I had a new script about a girl being haunted by the ghost of the best friend she has recently killed. And, like God on the seventh day, I knew it was good."
[Blank] My Life: Goodbye New York, Hello Hell debuts fall 2018. www.blankmylifetheseries.com