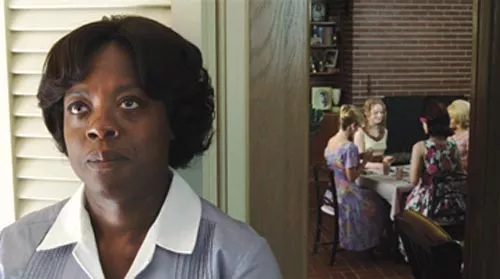 If you loved Kathryn Stockett's mega-selling novel about the fraught relationships between white women and their black maids in early 1960s Mississippi, you will likely love -- or at least like -- this big-screen adaptation. At nearly two-and-half hours, Tate Taylor's dramedy faithfully renders the key narrative, in which recent college graduate Skeeter (Emma Stone) secretly compiles an account of the various injustices and miseries that the black women who work for her family, and the families of her friends, endure with little recourse. Skeeter's primary confidante is Aibilene, portrayed by Viola Davis, who is the real star of this film, easily trumping Stone's unsure performance.
But I was hardly swept away. I found that where the book had just a whiff of fantasy, the film is glossy and simplistic almost to the point of distraction. Characters in this ensemble piece have been reduced to one-note caricatures (Sassy Maid, Mean Queen Bee, Plain-Spoken Oldster), and thus any emotional involvement is unlikely. Other scenes are played rigorously for laughs: There's more vulgar vomit and poop jokes in this "Southern charmer" than you'd guess. Thus, the film see-saws from broadly drawn humiliation to comic bit, all of which feels more TV-movie-ready than rooted in reality.
Ultimately, by falling back on stereotypes, buttressed by colorful costumes and a whole handbag full of deliberated drawled accents, it's hard for a viewer to take any of this seriously. The Help's wistful revisionist thinking just ends up highlighting a shallowness in which centuries of social, economic and racial injustice get resolved and wrapped up in a shiny book cover. But if you prefer a feel-good version of Jim Crow Mississippi to the uglier and more complex reality, enjoy this pretty soap opera.