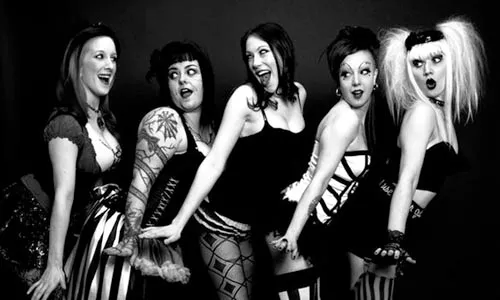 The Bridge City Bombshells are so confident that they can dance to anything -- from hair metal to "The Star Spangled Banner" -- that they once did a show called "The Bridge City Bombshells Can Dance to Anything." They can also dance as anything, notably scantily clad vampires and genuinely creepy zombies.
This puts things in perspective when Bombshells founder Elizabeth Couteau says that performing to jazz -- as they will during Friday's Bang! Bang! Speakeasy Burlesque -- takes troupe members out of their comfort zone.
The show, part of the Bombshells' monthly stint at Belvedere's, features live accompaniment by local blues/jazz favorites The Olga Watkins Band, and is the 2-year-old troupe's first time performing to live music.
It's hard to imagine aptly named dancer Macabre Noir being frazzled by much of anything, but she admits that working with a live band is nerve-wracking. As for the musical style, "We're all modern girls, we listen to modern music," she says. "You have to really dig into jazz. You have to reach back in time and find an old-fashioned version of yourself in that music."
Burlesque encompasses a wide variety of comical and ribald entertainment dating to the 16th century, but the burlesque revival of the past 15 years harkens to 1950s-era dancers like Lili St. Cyr and Gypsy Rose Lee, who performed with live jazz bands. "We're carrying a torch," says Noir. "We're an alternative troupe, but we always like to show that we're capable of traditional burlesque."
Calling the Olga Watkins Band "traditional" kinda goes to show how untraditional the Bombshells are. The band ranges from jazz standards and originals to jazzed-up Rush covers. For Bang! Bang!, the troupe selected tunes by Chaka Khan and Stevie Ray Vaughn from the band's covers list.
Watkins, who links her interest in burlesque to her background in musical theater, appreciates it as a classic form of entertainment adaptable for a wide audience. "It's an alternative to the type of things that are typically offered in the Cultural District." And it's a nice break from the band's diet of concerts, festivals and "nothing that involves partially naked women," Watkins laughs. "The guys are pretty excited about it."
THE BRIDGE CITY BOMBSHELLS PRESENT BANG! BANG! SPEAKEASY BURLESQUE 9 p.m. Friday, March 25. Belvedere's, 4016 Butler St., Lawrenceville. $10. 412-687-2555