Where to begin with Benjamin Lay? Maybe the fact that history has overlooked such a fascinating figure, a man before his time, an 18th-century abolitionist whose fiery opposition to slavery rivaled that of later, more famous advocates like John Brown.
As the book The Fearless Benjamin Lay: The Quaker Dwarf Who Became the First Revolutionary Abolitionist by Marcus Rediker demonstrates, his legacy most likely fell victim to those in charge of writing history in the first place, leaders and record-keepers intent on painting him as an unhinged menace to the status quo. This is, after all, a man dismissed for the extreme antics he used to shame Quakers into denouncing slavery, which ranged from kidnapping to stabbing a Bible filled with "blood."
Luckily, Marcus Rediker, an author and University of Pittsburgh professor whose expertise covers early American and Atlantic maritime history, with a particular focus the slave trade, felt obligated to honor Lay in a 224-page biography.
Rediker traces Lay's life from his 1682 birth in Essex, England to the travels and experiences that would combine his religious beliefs with not only abolitionism, but vegetarianism and animal rights (he walked everywhere because he "opposed the exploitation of horses"), decrying the death penalty, and women's rights. As a sailor and merchant, Lay settled briefly in Barbados, where he bore witness to a horror show of enslavement and indentured servitude that would inform much of his activism.
Lay and his wife, Sarah, would then settle in Philadelphia, where he added to his unusual mythos by taking to a "cave-like dwelling" and producing All Slave-Keepers That Keep the Innocent in Bondage, Apostates, an anti-slavery book published in 1738 by statesman Benjamin Franklin.
Anyone going into The Fearless Benjamin Lay should be prepared for a thorough, dense look at not only Lay, but the influences that shaped him, primarily Quakerism. Readers will not find a narrative-driven, Erik Larson-type work that takes liberties with history for entertainment purposes. Nor does Rediker need to resort to such creative measures – he has the story of the "Quaker comet," a radical unafraid to demand freedom for all people even when his own rights were threatened (as outlined in the book, Lay's fellow Quakers even tried to prevent him from marrying as punishment for his actions).
Rediker seems acutely aware of the impact Lay's story could have in a time of political discord and social upheaval. The book was published in 2017, almost a year after the election of former United States President Donald Trump, whose influence has resulted in explicit, continuing attacks against human rights and democracy. As a synopsis from the book's publisher Beacon Press none-too-subtly suggests, we need someone like Lay, a "forceful and prescient visionary, who speaks to us across the ages and whose innovative approach to activism is a gift, transforming how we consider the past and how we might imagine the future."

---
The Fearless Benjamin Lay: The Quaker Dwarf Who Became the First Revolutionary Abolitionist
by Marcus Rediker.
beacon.org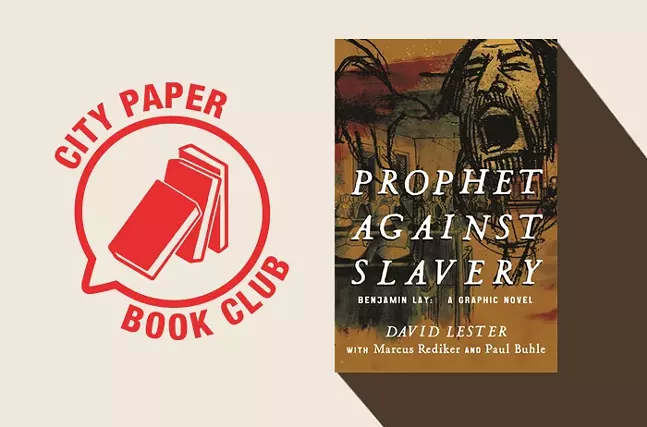 It would be wrong to call any works on slavery an easy read, but for those who want to explore Benjamin Lay's story in a shorter, slightly more digestible way than Marcus Rediker's epic tale,
The Fearless Benjamin Lay
, David Lester's companion graphic novel
Prophet Against Slavery
should be first on your list.
But while it's a quick read, calling the graphic novel easily digestible would be inaccurate, as the trials and tribulations of Lay could be even harder to face in visual form. The story of Lay, a dwarf and a hunchback named the "prophet against slavery" for trying to turn Quakers against the inhumane practice, is illustrated throughout this novel in bold, emotive, black-and-white images.
Lester's line art of a man hanging with blood dripping onto a large puddle beneath him is somehow even more unnerving in black-and-white than if depicted in color. The graphic novelist's stark strokes define pain with scribbled lines accenting faces stretched and worn from crying out in fear. Smears of gray ink show passionate movement. A long journey is shown by including just a small single frame on the corner of a page.
There are also things a graphic novel can do that a text-only one cannot. A scene where Lay yells out his famous lines, "No justice, no peace!" is illustrated brilliantly with voice bubbles growing in size down the vertical page, ending in large, explosive text that escapes the lines of the text box.
The text itself was adapted from Rediker's book, and Rediker writes the afterword, noting that Lester "brought to life an unusual historical figure."
He's right. While Lay was a small man, Lester succeeds in depicting him as being larger than life.

---
Prophet Against Slavery
by David Lester.
beacon.org
October Selection:
Reluctant Immortals by Gwendolyn Kiste
Spend your October with Reluctant Immortals, the new spooky novel by Gwendolyn Kiste. The Pittsburgh-based, Bram Stoker Award-winning author tests the bounds of gothic horror fiction and history by placing the victimized heroines of Dracula and Jane Eyre in 1967 Haight-Ashbury, where they "band together to combat the toxic men bent on destroying their lives."

---
Reluctant Immortals
by Gwendolyn Kiste.
simonandschuster.com