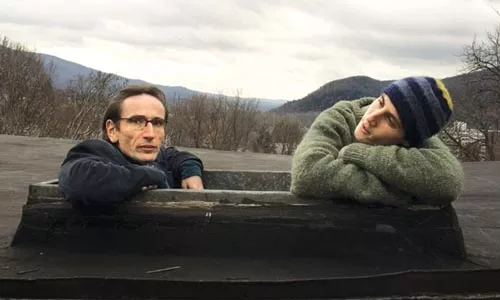 The Books were greeted by a chorus of critical acclaim upon the release of their third studio album, 2005's Lost and Safe (Tomlab). Known for collage-like compositions that explore the intersection between acoustic and electronic instrumentation, the New York duo has seen their work gain broader appeal in recent years, extending beyond the experimental and avant-garde circles they've called home since their inception. Which is perhaps surprising, considering they haven't released a studio album in four years.
In addition to cello, guitar, mandolin and banjo -- staples on their earlier albums -- guitarist/vocalist Nick Zammuto and cellist Paul de Jong used Lost and Safe as a platform to expand the range of their collage-based sound. Incorporating everything from a set of tuned plastic drain-pipes to a vintage Hohner clavinet, they went to great lengths to find the right sound for each song.
Zammuto and de Jong have remained busy since, tending to growing families, touring in support of albums and EPs, and pursuing solo projects -- a hectic schedule that has hindered work on a fourth studio album. Following the release of 2006's Music for a French Elevator (commissioned by France's Ministry of Culture for actual use in the ministry's elevator), the pair took a break from recording.
"Essentially we started having children, and that's enough to shake up any plans for the future," Zammuto said in an April 2009 interview with the Boston Globe.
But now, with a firm handle on the balance between family life and a career in music, Zammuto and de Jong are performing in select U.S. cities to preview new music from their forthcoming -- and still untitled -- album. Accompanying the music will be video culled from found footage, edited to interact with the new music in a live setting.
While the pair remains somewhat secretive about the direction of their new album, they have mentioned picking up self-help and hypnotherapy cassettes at Salvation Army and Goodwill stores while on tour. In the same Boston Globe interview, Zammuto talked about how the search for found sound informs their process.
"It's a great kind of meditative exercise because you really get to see American culture from this very strange perspective," he explained. "It's not the mainstream that we're looking at, it's the fringes -- things that are trying to be the mainstream but somehow just never really got there."
The Books with Lymbyc Systym. 8 p.m. Wed., Sept. 16. Andy Warhol Museum, 117 Sandusky St., North Side. $15. 412-237-8300 or www.warhol.org