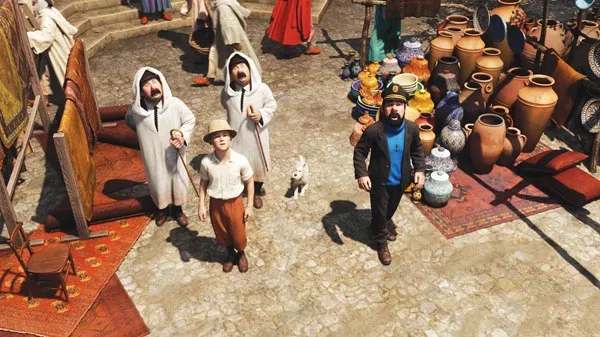 In some respects, I'm not the right person to review this film, a motion-capture-animated 3-D version of the classic graphic novels created by the Belgian artist known as Hergé. As a kid, I read and re-read these tales of the young reporter; I still own them. Would a film version, especially one directed by Steven Speilberg -- whose family films I often find irritating -- just annoy me?
This big-budget action film is a mash-up of three books -- The Crab With the Golden Claws, The Secret of the Unicorn and Red Rackham's Treasure -- re-arranged to provide one linear story. Despite the juggling, the film is fairly faithful to the source material (the plentiful whiskey has been left in, but the opium is out), and Spielberg is clearly a fan. (Other fans of Tintin will find all sorts of in-jokes and nods within the film.)
In the film, Tintin (voiced by Jamie Bell) joins forces with Captain Haddock (Andy Serkis) to find a pirate's lost treasure before the bad guy does. The adventure runs the gamut from flea markets to Middle Eastern souks, from a modern-day freighter to a 17th-century pirate battle. 
While I respected Speilberg's attention to detail, I didn't care for the frantic action scenes, which felt wholly contemporary. (Faster, louder!) The books are full of brawls and chases, but they're processed via a few panels, and not with Tom-and-Jerry craziness underscored with booming music and sound effects. Some of Tintin's vintage charm has been traded for what keeps today's audiences enthralled at the megaplex.
And it works. The kids at my screening sat still, and laughed and cheered as was appropriate. Considering that most were unfamiliar with Tintin and his crew of ancillary characters, the fast-paced film, with its fairly detail-oriented plot, still kept 'em engaged. And the animation is a top-notch as you'd expect from a perfectionist like Spielberg, though I find the half-real, half-cartoon aspect of the characters distracting, with their doll-like skin and too-bright, if dead, eyes. 
Yes, I'm a crank, muttering over my beloved childhood books and nit-picking. Tintin is a bright, colorful, rollicking film -- with a reporter for a hero, no less! -- and should entertain the whole family. The film screens in 3-D at select theaters, but as with most digital animation, it should look just fine in the cheaper 2-D.