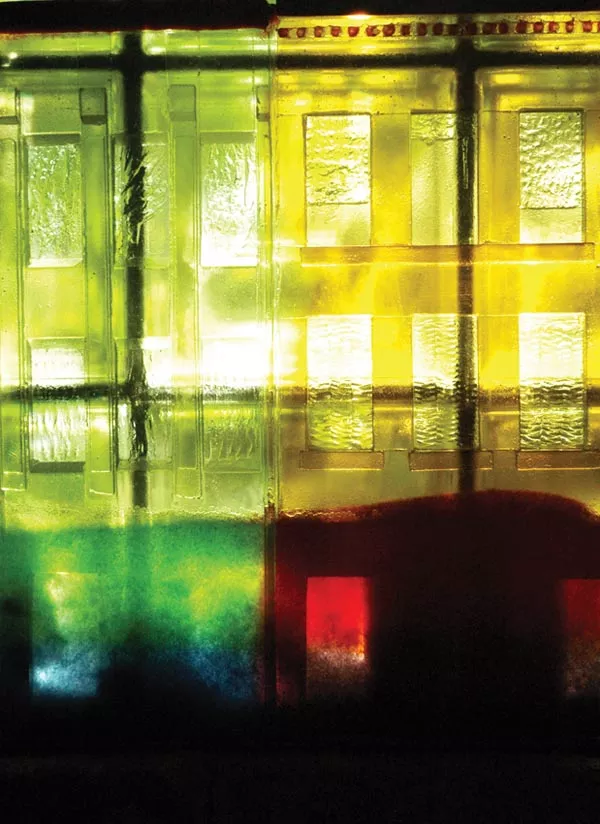 For a show marking Pittsburgh Glass Center's decennial, visiting artists Gwylene Gallimard and Jean Marie Mauclet asked community members about the impact of arts-based redevelopment along Penn Avenue in Friendship, Bloomfield and Garfield. Gentrification can be cruel, the artists acknowledge in a press release. But along Penn, they say, "gentrification is a gentle process in which neighborhoods are growing in quality, value and people."
That happy configuration is not, of course, all there is to the story when a poor, largely African-American neighborhood abuts a busy "arts corridor." And press release notwithstanding, it's not all there is to Ten More Years on Penn, either.
The first thing you see in the show is a raw-edged wall tapestry, hand-painted with fretful testimony from a community-group board member, asking, "Could I be gentrifying; displacing people from their home? ... Is there a way to practice a kinder gentler form of gentrification?" The text notes how gentrifying neighborhoods tend to expunge Kentucky Fried Chicken outlets ... and adduces the boarded-up KFC sitting right across Penn from the Glass Center.
Much of the exhibit simply but artfully evokes the neighborhood. A series of dollhouse-scale buildings replicating chunks of Penn employ abstract imagery but also concrete references to landmarks like the "Bride" mural and long-time businesses.
Yet unquiet undertones abound. Take the artwork representing the Quiet Storm café. It's surrounded by large, billboard-like forms, vibrantly colored but blocking visual and even physical access to the building, suggesting that not everyone feels welcome there. The work is one of several adorned with a form like bubbling lava — a shape that conjures change of a not necessarily benevolent variety.
Most notable is a bridge sculpture: a delicate glass form resting on a badly rusted steel frame. Can "art," this work seems to ask, endure without solid community support?
Gentrification is inherently controversial. It pairs pleasure that neglected communities are being revivified with concern that local residents didn't have much say in how redevelopment happened.
Ten More Years tenders sparks of hope. Beneath an epic wall-drawing of the Glass Center itself sits a large, table-like sculpture bearing a world map, and glass tablets marked with short statements. "It takes teamwork to do glass," one reads. "Art is a community builder and glass may be the leader of the pack."