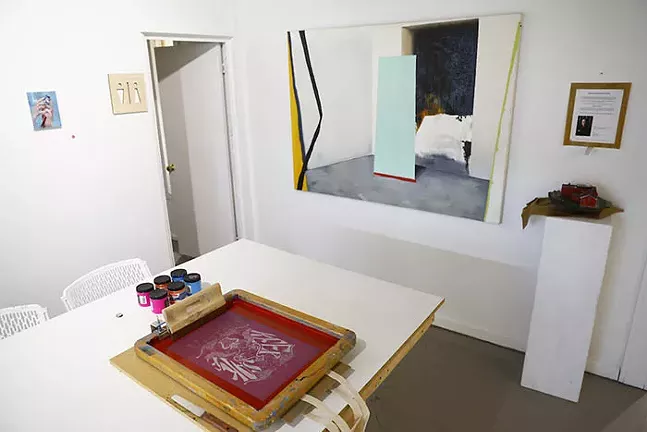 Tucked away down a side street in McKees Rocks sits an unassuming bluish-gray building, the former site of the Linder's Furniture company. Passersby might shrug it off as just another abandoned industrial space, as characterless as the neighboring storage facility with its towering neon sign shining against the winter darkness.

Inside, artists work day and night in cozy, sectioned-off studios. On entering, I'm immediately greeted by the sight of a painter busily working on his latest canvas, a pair of wireless earbuds shielding him from distraction.
The most recent iteration of Radiant Hall, a coworking concept specifically designed to offer affordable studio space for working artists, has seen numerous occupants since opening in November 2020. It still has yet to make use out of its entirety of the massive, multi-floor facility. Once fully completed, the venue will offer more than 40 studio spaces varying in size and offered at six-month or month-to-month rental rates starting at $175.
Remnants of the space's upscale furniture past pop up intermittently during a tour led by Radiant Hall's managing director Shanae Phillips, studio director Ramon Riley, and his 10-year-old rescue Pomeranian, Remy. A large unoccupied studio temporarily houses duplicate, finely upholstered chairs. An enormous, circular glass coffee table sits in the yet unfinished second floor, where one room promises a future bar area and another room is laid out in a labyrinth of unfinished cubicle-like studios.
As Phillips explains, Radiant Hall also offers residency programs for "people who are underrepresented in the studios" and need-based assistance for renters "having financial difficulties."
"We don't want to kick people out," she adds. "For professional artists, it's a very unpredictable career to have, you don't always have steady income streams. So we try to be as flexible as possible."
Also available are a common area, a kitchenette, a classroom, a gallery, and a project space with a loading door and spray booth. In the basement are resources for artists working in mediums like wood and ceramics, which require more involved tools like lathes and kilns.
If Remy's presence did not already make it apparent, artists are also permitted to bring dogs to the space — one studio I view even has a dog bed and toys.
The move to McKees Rocks expands on an idea launched in 2012 by artist and building manager Ryan Lammie, who opened two other Radiant Halls in Lawrenceville and Homewood. After a brief stint in Nova Place on the North Side, the third location was moved to McKees Rocks.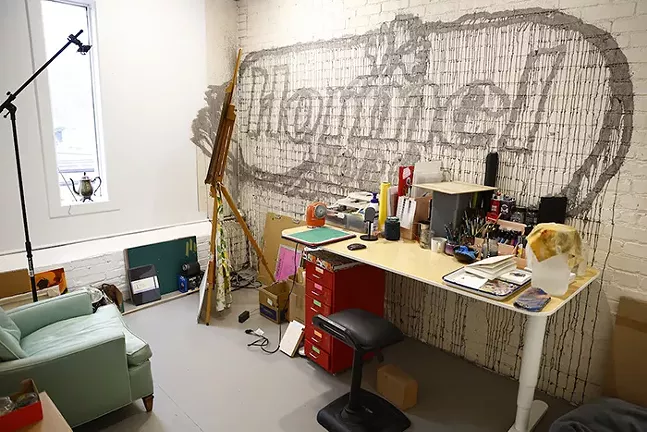 In total, all three Radiant Halls will offer more than 100 studios.
Phillips says that Lammie, who served as Radiant Hall's executive director until November 2021 (Marina Balko has since been appointed to the role), spent years looking for a third place that would provide enough square footage at an affordable price range. She adds that the Lammie family now owns the McKees Rocks location and serves as its landlord.
The nonprofit organization has the stated goal of "encouraging artistic collaboration and comradery," something that stretches beyond the venue into the surrounding community. Ishara Henry, senior creative for the Black-led, McKees Rocks-based BlackteaBrownsuga Network, recently joined Radiant Hall's board. She also rents one of the McKees Rocks studios under her own artistic venture, Visuals by Ishara.
"I think there's like a culture among artists that's really embracing and inviting and inclusive that you don't really get in all spaces," says Henry, who previously produced an installation for the organization's October 2022 Radiant Ball: A Night in the Studio fundraiser. "And that's always something that I think has resonated with me and made me want to be a part of this."
Henry says that, as someone who works in McKees Rocks, she sees "lots of opportunities for overlap and collaboration."
"From what I've been told, [Radiant Hall] is looking for ways to be more engaged with the community, but also engage the youth in the spaces in different ways, and that's something I'm very interested in, too."
Riley, a painter who occupies one of the McKees Rocks studios, says that for artists, having a readily available place to work can really make a difference. "I'm a public school teacher during the day, so when I go home, I'm done," he laughs. "So definitely having a separate place is motivating."
More importantly, he believes that, beyond allowing artists to fully immerse themselves in their work, Radiant Hall provides a supportive environment where the region's creative community can gather, network, and possibly collaborate.
"Ultimately my responsibility as studio director is to be that person who helps to create that community and kind of maintain that community," says Riley. "There's a variety of artists here, from the novice to the very experienced, and the ultimate goal and purpose is that everyone grows. And we try to foster that."
---
Radiant Hall.
734 Thompson Ave., McKees Rocks. radianthall.org/mckees-rocks-studios