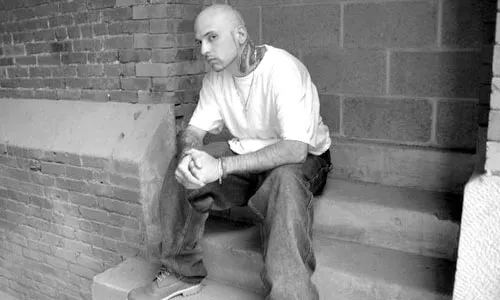 From the base of his shaved skull almost to his fingertips, ink cascades down the wiry frame of Penn Hills emcee Damien Voxx. "They're all meaningful in one way or another," he says, and points out a few choice tattoos. "There go a mic right there, that's a microphone. There's 'Sinner' on the forearm -- you know what that's about. And like, 'Forgive Me' right here, with a cross on my chest." On his upper arm is his latest, spelling out "To the Grave I Hustle -- 412."
But while Voxx got his first tat at age 13, he's a little newer to the rap game. He debuted last year with the full-length Real Life Shit: gritty, emotional autobiography. "I never wrote that with the intention to put it on CDs, to sell it," he says. "It was just me doing it to vent."
That the record got made at all -- and has been receiving airplay on college radio -- owes much to "Good Will" Holt, Voxx's producer, strategist and foil. While Voxx emphasizes "this is what kept me alive, I swear to God," the soft-spoken Holt is likely to discuss plans for promotion and marketing -- and keeping the duo independent. "Right now we're just trying to build the buzz," Holt says. "We want to make sure our shit will sell before we start getting other people's money involved with it."
Holt is the one, for example, who enrolled in a recording school a couple of years ago to hone his skills, and who, in February, networked at a producers' conference put on by G-Unit Records. "I got to meet all kinds of producers from all over the country and all over the world," he says. "Definitely got mad demos out."
It's all just laying the groundwork for Speakers Don't Lie, a mixtape the two are currently recording at Holt's studio. They say it picks up where Real Life Shit left off, while showing development.
"I think the main question after hearing that first album, after giving it some time, cats are thinking 'what's the next one going to be?'" Voxx says. "You can only rap so many tracks about being broke, all this other shit. I think I definitely answered that question thoroughly!" he says with a laugh. While Voxx continues to mine bereavement and struggle for Speakers Don't Lie, he promises more live instrumentation, "a lot more punchlines, a little more mainstream."
Until that mix drops, Voxx and Holt are doing all they can to get the word out, whether that's playing a barbecue in Boyce Park, or the Pyramid Club in Manhattan, or a live show on WPTS. And of course building the buzz in Pittsburgh.
"I feel like we're being more accepted into what's going on in Pittsburgh," Holt says. Voxx nods. "We started doing shows at the Hkan," says Voxx, "and the cats that was doing shit there was pretty much who we was working with, developing relationships not only for shows but for tracks. Pretty much just about our asking 'em, honestly. We never really had much trouble with that."
Damien Voxx at Party in the Park. 1-8 p.m. Sat., June 16. With Wiz Khalifa, Basick Sickness, Priceless Fam, Enigma PGH Boyz, Steel Gifted, B Flames, Hands Down, Draztyk & Real Deal, Incyte, Broken Wingz, J. James, BZE & Oab, K Maize, Blender and Kydkahlil. Vietnam Veterans Pavilion, Schenley Park, Oakland. Free. All ages. www.basicksickness.com