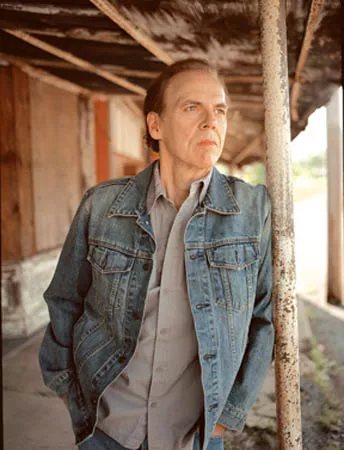 John Hiatt, whose songs have been recorded by everyone from Mandy Moore to Iggy Pop and Willie Nelson, recently released his 20th album, Dirty Jeans and Mudslide Hymns.
The song "Damn This Town" expresses feelings of angst over small-town life. It seems a lot of people with that kind of background have a love/hate relationship with it.
I draw from my own life, but that's a character. That's not me. This guy is a fictional character, a made-up cat and he obviously is a victim of his own resentment … I had that riff [and] after three or four days of punching around with it, that line sorta popped out. "I killed my brother in a poker game. Damn this town. I am leaving," and I thought, "Hooray, here we go. That's a story worth telling right there."
Of all the covers that have been done of your songs, do you have any favorites?
So many favorites, it would take an hour to list them. I'm thinking of Buddy Guy, "Feels like Rain." Of course, Bonnie Raitt's "Thing Called Love" is great. I love the way Bob Dylan did "The Usual" for that film [Hearts of Fire]. He captured the essence of the song and of course it was a great thrill. Willie Nelson did a great "The Most Unoriginal Sin." Eric [Clapton] and B.B. [King] doing "Riding with the King." Of course, that was fantastic.
Were there any you thought were just awful?
[Laughs]. No, when someone cuts one of your songs it's like someone saying something nice about one of your kids.
JOHN HIATT AND THE COMBO with BIG HEAD TODD AND THE MONSTERS. 7:30 p.m. Thu., Sept. 8. Carnegie Library Music Hall, 510 E. 10th St., Homestead. $45-59. All ages. 412-462-3444