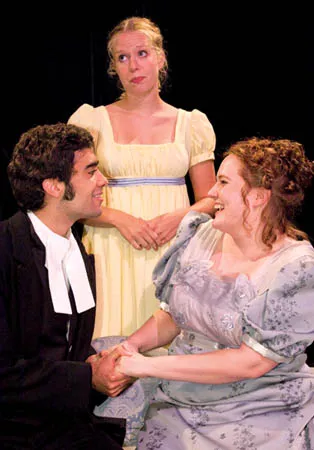 The problem with Jane Austen (and it's a problem all writers should have) isn't just that her characters or plots are so interesting. It's that much of the joy she creates comes from the insight and comedy of the novel's unspecified narrator.
I should say that this becomes a problem when her work is adapted for the theater: How do you get Austen's voice onstage? Most adaptations I've seen have so heavily relied on a live narrator that the production felt like someone reading the book, with occasional scenes acted out.
So hats off to Michael Bloom for his adaptation of Austen's Emma, premiering locally at Little Lake Theatre. The narration is sparse, almost nonexistent, but the few bits Bloom keeps position the emotional context of the story front and center.
In AustenLand, there is serious debate as to whether Emma or Pride and Prejudice is her best work. I'm not taking sides, but I do love this sly comedy about a young lady with such a high regard of herself she spends her days plotting the lives of others … and is always disastrously wrong. (In addition to a few film and BBC adaptations, the story was rethought into the very funny movie Clueless.)
Jenny Malarkey is all charm and winning impetuosity as the muddled title character. She makes Emma's meddling -- which could be odious -- the function of a young woman with less sense than sensibility. (If I can coin a phrase.)
An interesting facet of Bloom's adaptation is that he focuses less on Emma's surprise infatuation with Mr. Knightly (although Nick Murosky is quite dashing in the role) and more on Emma's female relationships. That gives Natalie Kindler, as Harriet; Debra Humphrey, as Miss Bates; Ariel Leasure, as Jane Fairfax; and Juliette Mariani, as Mrs. Weston a chance to really guide the evening. (But the guys contribute strongly as well.)
Director Jena Oberg is preoccupied with defining the many places against which the story plays out, which occasions a few too many elaborate set changes. But she does a great job with her actors, keeping them honest, bright and on task.
Emma continues through Sept. 3. Little Lake Theatre, 500 Lakeside Drive South (off Route 19), Canonsburg. 724-745-6300 or www.littlelaketheatre.org