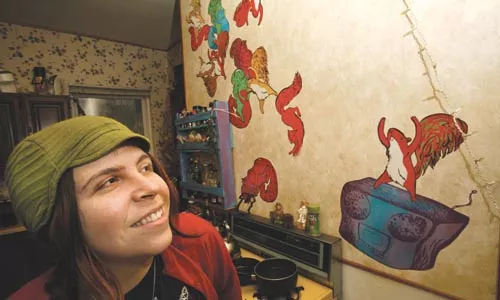 Those looking to get their ya-ya's out on a Saturday night aren't usually considering the role of public versus private space in American cultural life, nor the impact of gender identification on their ability to shake the proverbial booty. But for Mary Tremonte, a.k.a. DJ Mary Mack, backing up your good times with good ideas isn't a party foul -- it's a subtle, but important, part of the nightlife.
In other words, to skew the words of one of America's great politico-cultural philosophers: Free your ass, my fellow countrymen, and your mind shall follow.
And it seems to work. Tremonte has gone from throwing on a few platters at her own house parties to being one of the city's most ubiquitous DJs, hosting her monthly Operation Sappho parties and filling innumerable guest slots at venues such as Belvedere's and the Brillobox. And what's more, she's done it all without sacrificing a musical and social ethic that few DJs -- but lots of partygoers -- share.
In 2001, after graduating from Carnegie Mellon University, Tremonte moved to Germany, where Cologne's underground cultural scene captured her imagination. Tremonte had spent her college years DJing for CMU's radio station, WRCT, and when friends in Cologne were playing records at local venues, she'd join in with a selection or two. At the time, Cologne was bristling with positive musical tension, but it was another side of the city that put Mary on her path to the wheels of steel.
"My friends there were very involved in autonomous spaces," says Tremonte. "I'm really interested in those kinds of spaces, where it feels like the people that go really own them, and it just feels good to go there."
After returning from Germany to her D.C.-area hometown, Tremonte received exciting news from Pittsburgh: The Mr. Roboto Project, the collectively operated Wilkinsburg venue she had been a part of during college, was expanding into a larger building. "Roboto II" proved short-lived, but lasted long enough to lure Tremonte back to town. She hoped to spearhead its art-gallery component, and to get back on the air at WRCT.
It wasn't long before those two interests -- DJing and self-governed venue space -- found common ground.
"For years, I was only going to see live music -- I would never go to see DJs," says Tremonte. "We were always just about live music. There's really been a perceptible shift in the last three to four years in the city. First, it was house shows [by punk bands]. Then house dance parties, and then it moved to more public spaces -- bars and such." Now, she notes, "there are a lot of dance nights in Pittsburgh."
That punk, live-band ethos shows up in DJ Mary Mack's set lists. While a few standards, like New Order and Joy Division, creep into just about every dance set she plays, Tremonte's true love is the more obscure post-punk of the late '70s and early '80s, when punk bands were "trying different things -- trying anything, really." She spins groups such as Gang of Four and Delta 5, Pylon and the B-52s, the Slits and Bow Wow Wow, which made the punk sound into danceable music, and vice-versa, with an emphasis on women artists.
Tremonte's first efforts at DJing came by default. At her own benefit house parties, for causes ranging from a friend's surgery to Mountain Justice Summer (an anti-mountaintop removal campaign), she jumped on board the DJ roster just to keep things moving. After long-into-the-night conversations about the lack of alternative queer parties in Pittsburgh, Tremonte found her calling, like all good things in Pittsburgh, at the place where Flashdance and the Steelers meet.
"I'd had this idea for months of doing a Flashdance-themed party," says Tremonte. A warehouse space became available, and "A World Made of Steel" was born. "It was just after the Steelers won the Super Bowl. It all just came together. I feel like that was the best [party] I'd ever done, and it was after that [then-Brillobox bartender] Sarah Claire approached me about doing a monthly lesbian-themed party."
Operation Sappho -- Tremonte and Sarah Claire's resultant monthly event -- recently celebrated its one-year anniversary. Despite two venue changes, it's going strong on third Saturdays at Remedy, in Lawrenceville. It's the culmination of Tremonte's nightlife interests: queer-oriented but straights-welcome, unforgiving in its musical eclecticism, and most of all, fulfilling a perceived gap in Pittsburgh's good-times scene.
"There was a lot of stuff out there for more mainstream lesbians and gays," says Tremonte, "playing certain kinds of dance music and Top 40. We're interested in making something intergenerational, and in making a [party] space where everyone feels welcome to come and dance."
Operation Sappho: Fire and Ice, featuring DJs Mary Mack, D. May and The Baglady. 10 p.m. Sat., Dec. 15 (continues monthly on third Saturdays). Remedy, 5121 Butler St., Lawrenceville. $4 ($3 "if dressed in fire or ice"). 21 and over. 412-781-6771