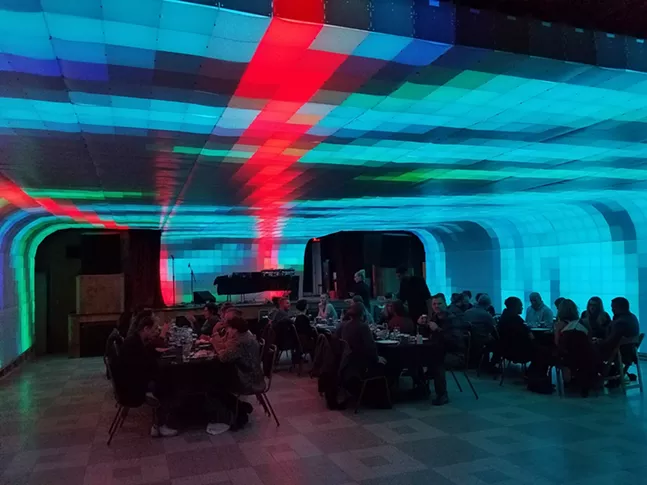 Spirit is hosting a Friendsgiving like no other on Thu., Nov 21, with a "mind-altering, not-so-traditional" four-course dinner under the pulsing lights of Ian Brill's VAULT light installation. All of the proceeds are going to Spirit's Rooftop Garden Project.
Preparing the food for the night is Millvale's Duncan Street chefs/owners Kendyl Ryan and Dan Rodriguez, and Spirit's Dave Rath and John Thomas, along with desserts from Lawrenceville scratch pastry kitchen, Piebird, and Sugar Spell Scoops, a vegan craft cashew-based ice cream store in Sharpsburg. Allegheny Wine Mixer, Spring Hill Brewing, and Nicole Battle of Angel's Envy Whiskey are curating drink pairings for the evening, with the option to choose alcoholic or non-alcoholic beverages. Vegan and vegetarian options are available upon request.
In addition to the food is music from Jon David Russell, Pissy Mattress as Dawn Tawnya, Alex Korshin, and jb.arnes + OOTM.
Spirit hopes to complete the rooftop garden by June 2020. The garden will span 5,000 square feet and will include "2,000 square feet of solar panels for on-site renewable power generation, 1,000 square feet of green space to grow food for Spirit and [its] neighbors, a 50-person Event Space that doubles as an educational area, and 5,000 square feet of insulated roofing from better energy efficiency and to help dampen noise levels."
Tickets for Spirit's Friendsgiving are $85. For the rooftop project, Spirit has set a goal of $51,535, of which they have raised $13,558. To learn more about the garden, check out their project on ioby.org.