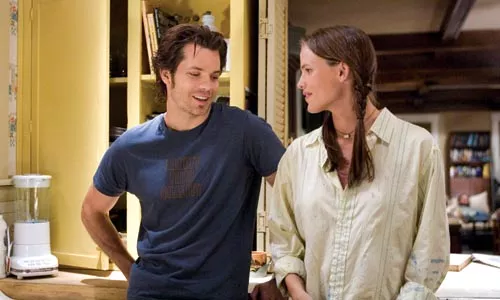 Director-writer Susannah Grant swears Catch and Release isn't a typical romantic comedy. In the press notes, she says, "It isn't a drama and it isn't a comedy ... but a lot of both." Allow me to add that whatever hybrid it wants to be, it just isn't very good. Catch has the usual faults: poorly developed characters; underacting, overacting and no acting; predictable outcomes; and plot twists that require serious suspension of knowledge about how life actually works. And what's more, Catch sticks like dried fish guts to the tired rules of a rom-com.
We begin with Silly Movie Names: There's our heroine, Gray (Jennifer Garner); her just-deceased fiancé, Grady; and his best pal, Fritz (Timothy Olyphant). Toute suite, we get Bump in the Road No. 1, whereby some mystifying financial circumstances require Gray to move into Grady's Funky Old House. Also living there, his old pals: uptight Dennis (Sam Jaeger), overgrown kid Sam (Kevin Smith), and prickly Fritz, who's on hiatus from doing something fabulous in the movie biz (because Somebody Always Works in Media).
This potential roundelay is set in an Adorable Location -- Boulder, Colo., which Catch makes look insufferable: a Whole Foods/REI company-town, with hordes of over-accessorized outdoorsy types, roving Deadhead minstrels and exotic produce airlifted in for the Candlelit Dinner and Shopping at Farmers' Market scenes.
Been Hurt, No More Time for Love: Gray soon learns Grady wasn't quite the man she thought he was. She finds solace with the Goofy Best Friend, has a Goofy Job at Real Corporate Entity On Board for Free Promotion; Sam, the boozy, over-eating house fool, cops a paycheck raiding Bartlett's Quotations for pithy sayings to print on packets of Celestial Seasonings tea. Meanwhile, Fritz, i.e., Mr. Right Who Looks So Wrong, skulks about, slowly revealing his Sensitive Arty Side.
Bump in the Road No. 2: There's another woman! Just when you think Garner couldn't do any more mugging in lieu of acting, along comes facial-tic queen Juliette Lewis, the Ditzy But Good-Hearted Weirdo. Undaunted, everybody goes on Sunny Picnic in the Pristine Wilderness, until ...
Some Unintended Stupid Things Get Said, and everybody's auras get out of whack. Props are thrown, doors are slammed, and When It Matters, Gray refuses to voice her True Feelings. Finally, after two hours, we're rewarded with three by-the-book endings: the Group Hug; the Unexpected But Oh So Perfect New Romance; and the Lover's Rush by Train, Plane or Automobile, Hoping It's Not Too Late.
In these dull mid-winter days, you might well be tempted to cast a line for a sun-dappled romantic dramedy. But with the same old junk fish sure to bite, why bother going fishing at all?