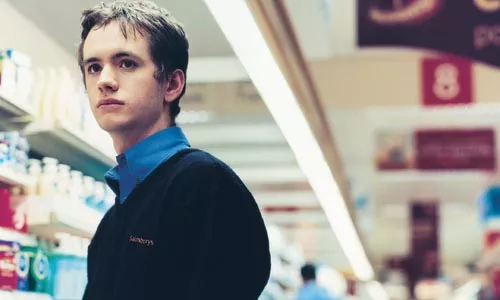 Romantic comedies are prevalent and popular. We may not all meet cute, enjoy sublime dances in inclement weather and reunite in dash-to-the-train-station nail-biter, but we understand the thrill of finding the right love-match and having an exciting courtship.

The other thing nearly everybody spends a lifetime obsessing and fretting over is work. And yet, until recently, hardly any filmmaker tackled the subject -- even though most of us spend more time slogging through bad jobs than bad dates. But in the past decade, starting with 1999's genre-defining Office Space and tripping through work-related sitcoms, the fluorescent-lit drone is getting some cinematic respect.

Thus I was pleased to discover "Cashback," an 18-minute short film by young English writer-director Sean Ellis, which turned up on an anthology of 2005 Oscar-nominated shorts. A wry, deadpan comedy, it follows the banal travails of an art student as he toils on the graveyard shift at a supermarket: the ennui, the idiotic co-workers, the fatuous boss and the off-kilter experience of being in a normal place at the wrong time.

The protagonist is reflective, working out fixes for the tyranny of time. One is a trade: I give them eight hours, he reasons, and they give me money -- cashback. Another involves imagining he can freeze time, thus allowing him to indulge in his heart's desire -- undressing women, lovingly studying every curve and transferring this beauty to his sketchbook. (A remarkable number of gorgeous women patronize this supermarket after midnight.)

Now, Ellis has beefed up his short into a feature-length film, also titled Cashback, available on DVD. I was disappointed that the additional material -- essentially book-ends for the original short -- tilt more toward romance than work. The defining quandary of the short was time and the desperate search for beauty and meaning within its limitations; in the feature film, love matters most.

Yet viewers shouldn't be dissuaded: As offbeat romantic comedies go, Cashback is a worthy addition to the canon from a promising filmmaker. For a low-budget quickie, Ellis does lovely work, delivering a crisp, beautifully framed film while incorporating clever bits such as in-camera editing, and perhaps the loveliest visual joke ever involving a burst bag of frozen peas

The DVD also includes the original short, so viewers can decide whether cinema needs more workplace films, more quirky romance, or both.