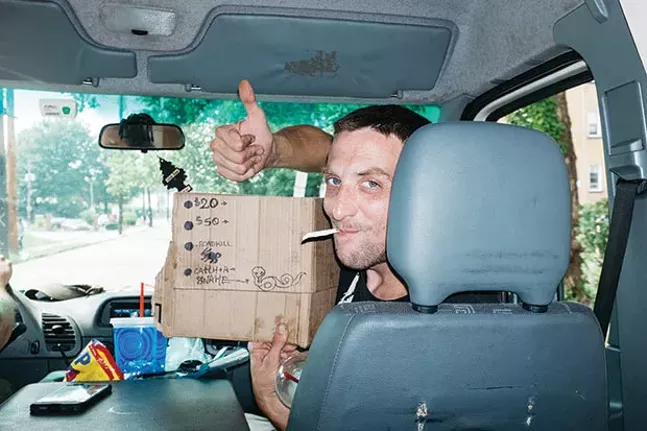 Mikey "Tha Pants" Felice, a legend in the Pittsburgh punk community, died at age 36 on April 15 following a brief illness. Nearly two decades ago, Felice founded Rally Ally, a music venue in Latrobe, Pa., with his best friend Chris Goodman. Rally Ally hosted bands like Caustic Christ, Crucial Unit and more.
After Rally Ally closed, Felice continued to book shows around Pittsburgh, particularly at Belvedere's in Lawrenceville, which he lovingly referred to as "Lawlessville." He booked bands like Toxic Holocaust, Resistant Culture and The Vibrators among countless others, and he was known for his distinct flyers.
More than just being a legendary promoter, Felice had a magnetic personality. He was a welcoming figure and taught many of Pittsburgh's punks about the music and culture that became their life, and he often provided a family for punks who needed it.
One of those punks is Ashlee Hagan, who met Felice when she was 16. When she needed a place to live, he welcomed her into his own home on Centre Avenue. "A lot of times people are under the impression that punks are mean, but Mikey wasn't a mean punk. He was someone who wanted you to know everything that he knew about punk, and that's what I think is so special about him," says Hagan. "It was this automatic open arms, no questions asked policy."
In an email exchange with City Paper, Goodman emphasized the kind of loving positivity that Felice embodied.
"Mikey was the most relentlessly positive person you'd ever meet. We both battled some demons. Some readers know what I'm talking about. Some of the same ones a lot of the time but Mikey never gave up hope. There were times when we literally had nothing between us but no matter what he never would let me get down," Goodman wrote.
"Many people know the familiar image of his head popping out of a dumpster with this huge grin like he'd hit oil," Goodman wrote. "When I think about his smile it kills me. His back teeth touched but his front didn't. He had jaw problems, but it created this beautiful huge toothy smile."
On Thu., April 26, friends and family of Felice gathered for a punk show at Belvedere's to talk about his legacy and share some of their favorite stories of him while raising money to cover funeral costs. Two whole hours of the event were dedicated to story sharing.
"I want people to remember him their unique way. Everyone he crossed paths with has a story that's similar to others but uniquely their own. He touched every single soul he came across. You felt lucky to know him," Goodman wrote. "He was a legend in his own right."