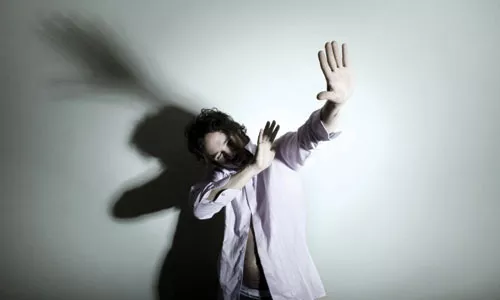 Before speaking with Broken Social Scene co-founder Kevin Drew, I didn't realize that sane people in their early 30s actually said things like, "I recommend following your heart in general, across the board." But despite his elliptical, feel-good pronouncements -- and lyrics to match -- I suspect Drew is actually fairly shrewd. Witness his first solo album, Spirit If ... released under the moniker, "Broken Social Scene Presents: Kevin Drew." Not only does that name trade in the brand recognition and goodwill the Toronto collective has amassed over the years, but the album also features many of the Social Scene's members and musical trademarks: lush indie-pop orchestration matched with cacophonous fury, tender moments contrasted with unintelligible yelps, sweet nothings marred with expletives.
Your album art contains a count of how often certain words are used in the songs. Why use "kids" so often?
There's a number of reasons. It's just that topic that you have in your life, when you can see that as things are growing older, Peter Pan is slowly dying. You're slowly feeling responsibility, and maybe wanting kids, or putting kids in this world, or not just living for yourself. The isolation of selfishness and all that stuff was kind of the topic I was singing about [in the song] "Safety Bricks." Just saying, "I still want kids, even though it's a fucking crazy time. I still want them and I still want to be able to have a beautiful home and want to be able to split in a car with my love any time that I want to." And it was almost a mantra that I put out there when I wrote that tune.
That's your rock 'n' roll dream?
Well, I've always been battling what we do here. I'm a very loud person, but I'm also very aware of the stereotypical deaths that happen within this lifestyle.
Is that why you sing about wanting to be "a stereotype with a plan"?
I love that you said that. Well, it means trying to have a normal life. Trying to be a stereotype of something grounded and something responsible, something mature, and something you can hold onto in your hands. That song was kind of a ramble. Most of the songs on this record, I didn't really write any lyrics, and just gave these rants.
Is making up lyrics on the spot your usual practice?
Some songs I did have the lyrics for, on this record and some with the Social Scene, but I really do like the improv, seeing where your brain is at that moment. I like that I didn't sit down with my brain and a pen and try to sort out what was going to be said, and how to be crafty about it. I am actually looking forward to focusing more and concentrating more on things, putting a little more time into things before they become permanent or immortal. But with this one, it didn't need to be that way -- it was going to be mainly rants!
"Lucky Ones" really stands out -- it has a Fleetwood Mac feel towards the end, a lush '70s feel.
We really were really trying hard to make it into a big anthemic song. Trying to fit the thing into a radio edit has been driving me nuts. It's tough out there. They always try to fit things into the mold, and sometimes it works, sometimes it doesn't.
The label wants it to sound like other "successful" songs?
For me, I've always said that I'm making music not for people who listen to music, but for the music listeners. And I've tried very hard to stay along that line, because I'm such a music listener myself, and I find there's a lot of loyalty in that.
I'm missing that distinction ... Music listeners are what?
You know, fans. Music fans. People who follow around and are constantly discovering new bands, new songs. I was always a record-store kid -- I'd go into a record store and walk out with six, seven records every time, just trying to find good songs and good band. That's how I grew up. ... To go out and find bands, and follow certain members of the bands around and go and buy records. That's what I was really happy about Social Scene, was that we kinda became that way, where you could go find a bunch of bands through one band, or find us through another band. We were always always linked together, so I liked that.
Kevin Drew with Arthur & Yu. 8 p.m. Sat., Nov. 10 (doors at 7 p.m.). Weigand Gymnasium, University Center, CMU campus, Oakland. $12 (free with CMU ID). All ages. www.activitiesboard.org