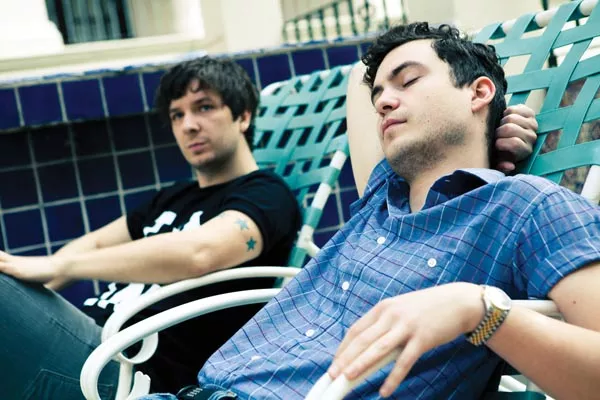 1,2,3's Nic Snyder and Josh Sickels have played together for some time; they went to middle school together in Irwin and played in other bands before the two-piece came to be. So their first album as 1,2,3 was a declarative statement not about the type of band they hope to be, but about the band they are.
"When I'm writing for an album, it helps that I have a lyrical anchor, something to focus on," says Snyder. "For New Heaven, it was about something bigger: a spiritual confusion, but being young and broke at the same time."
New Heaven was essentially an album in the works for the better part of a decade, but it doesn't have the feel of an odds-and-ends collection. Snyder has patched together a mosaic of songs that filters the shuffling insouciance of a country troubadour, the falsetto  bombast of a glam-rock god and the wide-eyed innocence of AM pop radio through a lens of innovative, contemporary indie-rock ambition. Many of the LP's tracks touch all of these sounds at once.
On album-opener "Work," 1,2,3 manages to weave Snyder's rangy, soulful vocals through two chugging guitar lines and Sickels' shit-kicking percussion, without overwhelming the mix. The cavernous production gives the song the perfect amount of stripped-down edge. "Wave Pool," the album's complicated centerpiece, starts off as a wistful country tune before slipping into Spectoresque power-pop for the bridge and chorus. All of this is followed by a gritty, anthemic guitar breakdown two-and-a-half minutes in, which sounds like a different track entirely, until it crashes into the last, huge, spiraling chorus.
The rest of the album falls in line with Snyder's eclectic but cohesive songwriting tastes, even with the nine-year gap between the oldest and newest tracks. (Snyder wrote the rambling country tune "Sorry Soldier" on a fiddle when he was 19, and the slow-burning "20,000 Blades" in the weeks leading up to the album's recording in the summer of 2010.) A handful of other tracks, like "Confetti" and "Riding Coach," were composed in the waning hours of Snyder and Sickels' former band, The Takeover UK, the messy dissolution of which prompted the genesis of 1,2,3.
"The Takeover UK wasn't like the typical 'four guys get together and start a band' situation. We were determined to make it our full-time job," says Sickels, "It was the only thing we were good at."
The Takeover UK eventually gained momentum after being signed to Rykodisc Records in 2006, and recording its debut album Running With the Wasters in 2007. Unfortunately, thanks to a floundering record industry and a change of ownership at Rykodisc, Takeover ended up being outliers on the band roster. Running With the Wasters sat on the shelf for two years, and in 2009 was finally released with little fanfare.
"Rykodisc admitted they didn't know how to market a power-pop band who sang about drugs and alcohol, but when the album finally got released, we were relieved," Sickels says. "We had some people interested in re-releasing the album, but that would mean touring on it for another year, basically sitting on the same batch of songs for three years. We knew it was time to move on."
"Creatively, it was crushing my soul," adds Snyder. "I had a big stockpile of songs and I just couldn't deal with [touring behind Running With the Wasters for another year]."
Of course, it was obvious to Snyder that songs like "Confetti" and "Riding Coach" were already moving away from the slick power-pop sheen of Takeover. In late 2009, he decided to strike out on his own for a new project, enlisting Sickels to join him. 
"It was a no-brainer for me," says Sickels. "We've been playing in bands for years; I learned how to play drums in his garage, and I always preferred the songs he wrote for [The Takeover UK]. There was a poisonous cloud hanging over that band, it was always one step forward, three steps back. I was convinced there had to be something else."
By the fall of 2009, the duo was recording the "Confetti" single, with B-side "Can't Bribe God," for Ooh La La records in Brooklyn. It was released in early 2010, and with the help of a pretty solid blog push, U.K. publishing company Imagen almost immediately noticed the band. 1,2,3's small batch of songs were soon being showcased all over England to heavy-hitting labels like Rough Trade and XL. 
After a short tour in England, the band released the single "Going Away Party" through taste-making boutique label Chess Club. Frenchkiss Records — the Brooklyn label that's home to indie-rock royalty like Passion Pit, The Antlers and The Hold Steady — courted Sickels and Snyder when they returned stateside, signing them based on their two singles alone.
"It was seriously like one of those cheesy 'It happened so fast' stories," says Snyder. "We were always hustling to get stuff done with [The Takeover UK], but with 1,2,3 it just kind of happened. We were just trying to make music we were proud of, and it all came together."
By late 2010, Sickels and Snyder found themselves in a New York music studio with famed record producer Nicolas Vehrnes (Les Savy Fav, The Dirty Projectors, Spoon). They were putting together a batch of tracks (culled from the dozens Snyder had in his catalog) for what would eventually be New Heaven. By the time they were done recording the debut album in early 2011, Snyder already found himself writing songs for their next release. 
Since the album-release show for New Heaven, at the Shop in Bloomfield last July, 1,2,3 has been busier than ever. The band continued its national tour (now backed by guitarist Mike Yamamoto and bassist Chad Monticue), punctuated with a visit to New York City's CMJ Music Festival in October. It then released a raw Misfits cover EP for free on Halloween and put out the "Scared, But Not That Scared" single with two unreleased B-sides. It's currently polishing off a free album of lullabies Snyder wrote for his sister's baby girl. (Sickels describes the album as "opiate music," conjuring comparisons to Spiritualized's seminal Ladies and Gentlemen We Are Floating in Space).
With all of those projects in the rearview, Snyder and Sickels will turn their attention to writing and recording their second release, the tentatively titled Big Weather, which they plan to make into a sprawling "natural disaster/horror" concept double album, hoping to get into the studio by the end of the summer. 
They say you have your entire life to write your first album, and only nine months to write your second, but for 1,2,3, the sophomore slump doesn't seem likely. Sickels and Snyder are determined to be prolific. And by relishing the opportunity to move in different directions, further and further away from their musical past (where some projects seemed determined to remain in stasis), 1,2,3 will always be surprising themselves. 
"I like writing songs that sound like nothing I've ever heard before. I get a kick out of that," says Snyder. "I'm 27 years old. I've been writing songs for 10 years, and my tastes change quickly. I got a chance to clear out the cobwebs of my back catalog with New Heaven and the subsequent B-sides. Now, we're starting to make new music, so it's really getting fun."
1,2,3 with MEETING OF IMPORTANT PEOPLE. 10 p.m. Sat., Jan. 7. Brillobox, 4104 Penn Ave., Bloomfield. $7. 412-621-4900 or www.brillobox.net