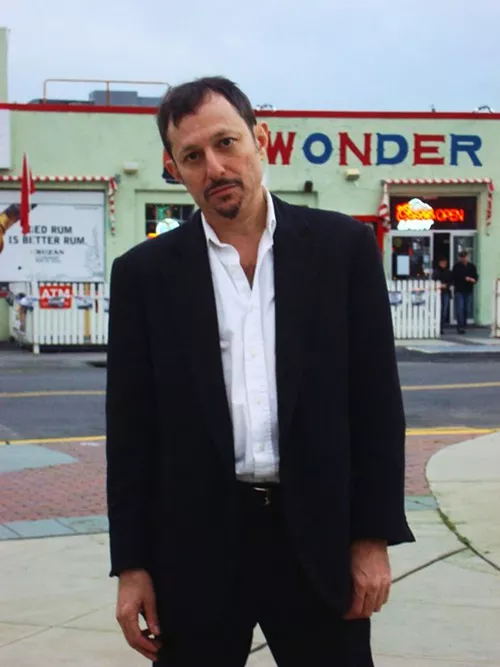 In the paper that comes out today, we ran a short version of my interview with Reid Paley, the onetime leader of Pittsburgh's The Five, who's now best known for his work with his eponymous trio and with Paley and Francis, his duo with Black Francis of The Pixies. Here's a less-abridged version of our talk. The show at Club Cafe on Tue., Feb. 12 is now sold out; see below for other dates on the tour.
What was the impetus for this short tour?

Oh, I don't know what's going on — it's not my tour! It's Charles' tour. I think he's going to be doing a little bit of recording in Nashville, and we might do some as well.
Have you been doing more writing together as a pair? I understand that the last record was written very quickly, before recording.

Yeah — we just spent three short days here writing, then — we normally don't break it up like that, but this time we came up with the music together, then kind of split the lyrics. We each took five, then came back to Nashville to put it together. Which I think is a good thing. To be able to do something that I think is good, that quickly. It's not like we weren't paying attention, nor were we hurried. We're just motherfuckers. We're fast. I realize we live in a world where, engineers, in a studio, if you walk in and intend to play a song all the way through, they kind of look up and their eyes start to glow. Generally, people go in, [makes guitar-riff sound], loop that, it sounds like crap. I'm not a Luddite, and I'm not anti-digital, but one of the problems with digital is that it's kind of reduced music — Jaron Lanier said that — the reason vinyl sounds so great is it's a physical process. There are grooves, there are squiggles in the grooves, the vibration is picked up and amplified, and you're hearing a thing. It's like life; it's how your eyes see things. Whereas digital is kind of like watching a movie, where your eyes are extrapolating between the 24 frames per second. Music is now a series of beeps, if you look at it closely.
But yeah, we did it pretty quick, not because we don't care; not because we're being arrogant; because sometimes there's not much time allotted and you do what you can and sometimes it works.
Was there trepidation about being two guys known as strong songwriters, working together in this way?

I think collaborating is a pretty difficult thing. Sometimes it works, sometimes it doesn't. We've known each other for ages; we actually started writing together about 10 years ago. It started as a lark; we threw together a song. We had telephone conversations; we'd sit there and play for each other over the phone. And that was a song he recorded on Honeycomb, called "Another Velvet Nightmare." And we wrote a number of songs together. It's just a thing — whenever he's got time. He's got certain other commitments, in terms of family and … another band. He does a lot of stuff. When there's time, we do this stuff. This time, we'll see what we can write on the way down to Nashville.