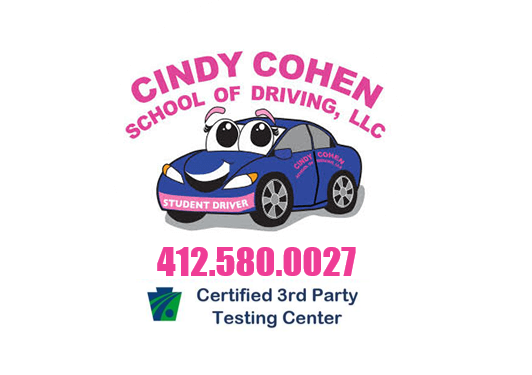 Hate waiting at the DMV? Ditch the lines and take your Driver's Exam at the Cindy Cohen School of Driving.
PennDOT has authorized a limited number of non-DMV locations to conduct PA Driver's Exams. Cindy Cohen School of Driving is one of the very few approved Third-Party Testing Centers in southwestern Pennsylvania and the only one in the City of Pittsburgh. Now, instead of having to schedule an exam weeks ahead of time and then go to a PennDoT Driver's License Center, you can schedule your exam as little as 48 hours ahead of time with CCSoD.
The road tests begin and end in the parking lot of CCSoD's 3131 West Carson Street testing site. Exam routes are comparable to those of the state test centers. CCSoD examiners have been qualified, approved, and verified by PennDOT, and tests are conducted and scored according to PennDoT standards. The testing center serves anyone with a valid Pennsylvania learner's permit.
Besides the driver's exam, Cindy Cohen School of Driving also offers lessons for new drivers, previously-licensed adults, and internationally-licensed drivers. In the past eight years over 30,000 drivers have learned safe driving techniques from CCSoD. For lessons the school accepts most valid state learner's permits. The school can also teach international drivers.
Behind-the-wheel lessons place a student on the road with an approved Pennsylvania driving instructor, licensed through the Department of Education. CCSoD instructors are recognized for their technical expertise and dedication to safety, as well as for fostering a positive learning environment which helps inexperienced drivers overcome the nervousness that often accompanies learning to drive. Driving lessons are generally two hours long and cost $150 per lesson. Lessons can include basic vehicle control, specific maneuvers (such as three-point turns and parallel parking), defensive driving practices, and more advanced topics (lane-changing and merging, highway driving, adverse conditions, etc). Students can sign up for one or as many lessons as necessary to become a safe, confident driver.
CCSOD is client-driven, offering individualized instruction catering to pupil-specific skills and needs. The number of lessons necessary to reach an acceptable level of driving proficiency varies for each client, depending on experience, aptitude, and other factors. They offer brush-up lessons for licensed or permitted drivers who may have severe driving anxiety. They have transformed many fearful individuals into confident, safe drivers. The school offers a practice test to prepare clients for the driver's license exam at CCSOD. Senior observations are offered to help those suffering from illness or injury to continue driving safely. There is also an online driver's education course available through the CCSoD website,
www.drivingbuythebest.com
.
Thanks to Cindy Cohen and her staff, new drivers are hitting the roads confidently and safely, through a quick and friendly process. Take lessons and/or schedule your driver's exam today by visiting
www.drivingbuythebest.com
or calling (412) 580-0027.