Stage productions with great pedigrees don't always turn out great. But
ABBEY: In The Red
did. This world-premiere dance work with live music gorgeously evoked the life and music of its inspiration, jazz singer Abbey Lincoln.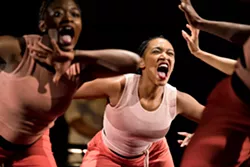 The production was a blending of some top-notch, all-local talent. Choreographer Staycee Pearl guided seven dancers from her
STAYCEE PEARL dance project
(plus guest performers from Pittsburgh's Legacy Arts Project) through several numbers, all new interpretations of classic Lincoln tracks as arranged by composer and reeds player Ben Opie, and played by a six-piece ensemble including vocalist Anqwenique Wingfield. The musical direction was by Soy Sos (a.k.a. Herman Pearl), who contributed electronics and light percussion.
As seen this past Saturday night, at the August Wilson Center, the show began with a silent tableau centering on Wingfield in a striking gown by costume designer Tereneh Mosley and fabulous headdress by artist Atticus Adams. (Mosley and Adams also contributed the textiles and sculptural elements that dressed the set.) Wingfield and the band launched into a foreboding version of Lincoln's blues "Driva Man," shortly joined onstage by the dancers.
That was followed by group works set to the joyous "Freedom Day" and the contemplative "Straight Ahead" and other solo and group works set to tunes including "Garvey's Ghost" and "African Lady." The work was mostly drawn from Lincoln's 1960s output, known for its lyrics referencing the civil-rights struggle, and for what Pearl has called its avant-garde sound. (You can download the soundtrack
here
.) The choreography included jazz and traditional African dance, and a good bit of ballet. Featured dancers included LaTrea Rembert and Chandra Tanel.
Here's Steve Sucato's
preview article
on the show for
City Paper
.
Saturday's performance concluded a three-show premiere run. But you can catch excerpts of
ABBEY
as soon as June 7, when SPdp performs on the main stage at the Three Rivers Arts Festival, in a
set
including its terrific work
FLOWERZ
(from earlier this year); a similar program follows on June 8, at Pittsburgh Ballet Theatre. Both performances are part of a showcase by
Tracks
.
The program later goes on the road, with performances scheduled in Cambridge, Mass., and Newport, R.I.